It's almost Christmas time and many couples are already planning their spring or summer wedding, with a significant majority choosing to have it abroad for many different reasons. If you are one of them and want to have a dream, fairytale-like wedding at an exotic destination showered by sun and Mother Nature's unparalleled beauties, then expect to be spoilt for choice! Of course, we all know that the sooner you get down to planning the details, the more you will save yourself the frustration and stress from last-minute obstacles you never knew you may bump into. To help you make the best decisions when planning a wedding abroad, we asked expert wedding planners for some tips. Here is what they have told us so you can make sure everything is perfect from start to finish!
1.Think of Budget & Guests
Given that the venue is a vital part of every wedding, it's always best to carry out a venue list. But, to be able to choose the perfect venue for your wedding, it is important to have a rough idea of the number of guests you want to attend the wedding and, of course, the wedding budget. Watch out for hire fees. For some venues, the price per head is included in these fees while others charge it separately.
2. Decide on the Location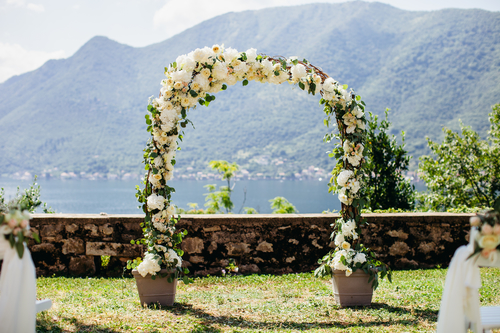 If you know where you want to get married, then it's fine. But, if you are not yet sure, try to narrow down your options by researching a bit. Some of the most favourite destinations to say the I Dos are Costa Rica, Dominican Republic, Florida Keys, Spain, Italy, Greece (particularly the Aegean islands), Tahiti, and Thailand. However, only YOU know where your heart belongs; so, if you have fallen in love with, say, a picturesque lagoon city like Port Grimaud in France or a citadel high in the Andes Mountains, then do go for it.

3. Check Legalities
Perhaps this is the most important thing you should focus on. It is a pity to have planned and organized everything to the last detail and run to an unpleasant surprise because you have not checked out the legalities. This is because, for some countries, such as Spain and France, you will need to be a resident for a particular period of time to get married there. So visit your country's embassy website and do your homework.
4. Visit Venues
Try to visit a few possible venues in the area you have selected. You can organize a weekend visit and try to look for many different types of venues, from vineyards and beaches to villas, gardens, and hotels. That will allow you to get a good taste of the various options available. If you want to have the ceremony in a different location than the reception, you will have to find two different venues. Also, consider whether you will need a reception venue that also offers accommodation.
Notes:
1. As you will probably have only one chance to visit the venues, feel free to ask as many questions as necessary to make you feel comfortable (you can write them down before you go down there). Whatever you do, don't leave the place unless everything is crystal clear inside you.
2. If you have chosen an outdoor venue, check whether they have a backup plan in case the weather gets bad. This applies to both your ceremony and reception venue. The weather is more reliable abroad, particularly in Europe, but you never know!
5. Hire a Local Wedding Planner
Hiring a reputable local wedding planner will be a great relief as you can benefit from their expertise and local knowledge. You can have them come along with you when you are seeing wedding venues and help make the best decision. A professional wedding planner will be able to set the scene for you once you visit a location and see how the big day would work. Plus, they can help you with other wedding services you may need in the area and act as a translator if you and the locals speak a different language!
6. Consider Guest Requirements & Accessibility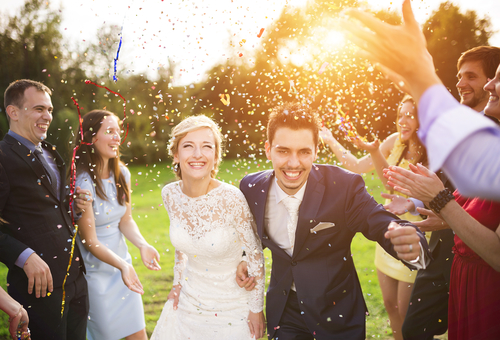 When selecting a venue, you should also consider your guests' needs. For example, if you are expecting a lot of elderly relatives, it might be better to choose a venue that doesn't have a lot of steps. Also, if you will be having lots of kids, better stay away from one that has a pool. Just think about how each place you visit could work for your guests.
Another thing is how one can get to the selected place. Nowadays, it is much cheaper and easier to reach most destinations abroad. However, you will need to look at the nearest airports and which airlines service them. Are there good public transport links to take your guests to the chosen venue or will they need to hire a car? Maybe you would like to make transportation arrangements to get your guests to the venue and back to the airport or to the different wedding venues you have chosen (or the hotel).
 7. Book Early
It is paramount to be stress-free and not feel you need to make a decision on the spot when trying to choose your wedding venue. We suggest booking early if you want a weekend wedding abroad (some venues get booked 12 months in advance). However, there is nothing stopping you from having your dream wedding on a weekday, where your options are definitely more (and may cost you less, too!).
Bottom line, don't be pressured into doing anything. Give yourself some time to enjoy the sun with your other half when you visit the potential wedding location and make a decision when you feel everything is right!
8. Choosing the Perfect Wedding Dress
Although there are no special rules that apply when selecting a bridal gown for a wedding abroad, deciding to get married overseas does give you more options in regards the type of wedding dress you can wear.Why? Because you can be a whole lot more creative and adventurous than if you had a wedding in your homeland. So, yes, a knee-length wedding dress and bare feet may be all you need for the perfect beach wedding while a more traditional, lacy dress could fit beautifully with the gorgeous surroundings of a French vineyard. But, that's really up to you to decide. Anything from a simple, sleek, and sophisticated bridal gown designed around the selected destination to something more traditional will be perfect, as long as it makes you feel comfortable, sensational and beautiful, and if it is practical to transport to the chosen destination and wear.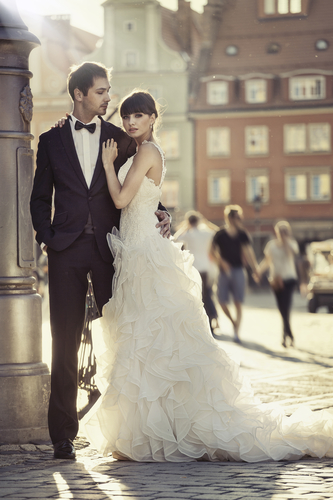 Notes:
Always consider the climate of the host country and choose fabrics that suit that climate (or ask your wedding dress designer or shop for some help with it). It is important you can wear your bridal gown quickly and effortlessly and not sweat or freeze in it.
Speak with your wedding dress designer (or shop) and ask them for some alterations to make the garment more practical.
9. The Right Fabric for your Wedding Dress
Everything has to do with the climate of the host country. As you need to wear the wedding dress and not let it wear you, especially if the climate is hot, it's critical to think of the fabric and design, as well as where and when you will be wearing the dress.
I) Hot Climates
For warmer, more tropical climates, natural fabrics such as silk are great options as they are lightweight and breathe so they won't make you sweat too much. That is if you want a traditional or formal wedding dress, of course. However, natural fabrics crease easily when in humid and hot environments so if you are expecting to do a lot of sitting down before the wedding photos are taken (i.e. have to drive to get to the venue), it's best to mix fabrics to make the dress harder to crease. That said, the style of your dress could dictate the most suitable fabric.
Or you could plan ahead! For example, if you are wearing a traditional wedding dress with sleeves, prevent sweat-staining by having underarm shields. Another good idea is to dress in an air-conditioned place, especially if you have a tight-fitting bodice so you can fasten it more easily. Also, make sure you have removed your bra well in advance before you wear a backless or strapless bridal gown. Pressure marks from straps are certainly not flattering.
Finally, apply fake tan (if you want) the day before and let sunblock (apply before you wear the dress) dry completely before you dress. Choose a less greasy product. Undeniably, stains from makeup, sunblock, and moisturizers are the worst you could have on your bridal gown.
ii) Cold Climates
Many couples want to get married and then have a great skiing experience! This is when your wedding dress will have to adapt to the cold, even though chances are you will only spend a minor amount of time in cooler temps. This is why it's best to ask your wedding gown designer or a seamstress to make the insulating part of the dress removable and, of course, warm.
Again, natural fabrics are excellent options that can keep you warm and make you feel cozy in your dress, especially if layered together. Double-layer wool, silk velvet, and silk are some of the fabrics you could consider.
Notes:
If fabrics such as duchess satin contact water (i.e. in case it rains), they stain

badly

. So, if there is even the

slightest

chance to rain, better be prepared and not rest on the best man to remember to bring an umbrella!

Don't worry

if

your wedding dress is less practical than it should

probably

have been. A good seamstress or tailor will know how to adapt it to the climate of the host country and have some great ideas about how to make it work for you.

Just choose one you really trust or one that is considered an expert in the kind of alterations you need.
1

0. Transporting your Wedding Dress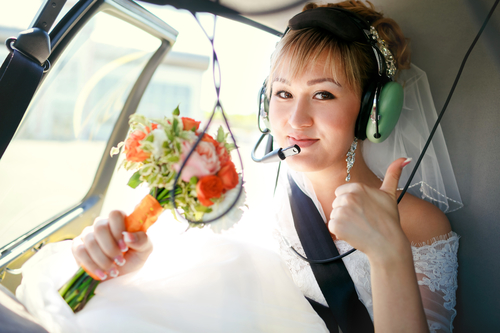 One of the biggest concerns is how to transport the wedding dress to the wedding destination safely and intact. Makes sense as the wedding dress is one of the most expensive (if not THE most expensive) item of clothing you will even get yourself. So, letting it out of sight is painful for most brides. Imagine the agony if it has to make two journeys to reach its final destination!
To stay on the safe side and save yourself from having cold sweats, take the dress on board the plane yourself as hand luggage to avoid the risk of damage or, even worse, loss. Most airlines will let you take it with you as hand luggage but do check their policy first to make sure (you can contact them directly). Depending on what you get from them, you can also decide about whether it's best to keep it in a storage box or a plastic cover. Ask for your dress designer's (or the wedding dress shop) advice.
Notes:
M

ajor airline carriers have hanging space in the wardrobe of the first class cabin. If there is free space, they will hang the dress there. Budget carriers, though, don't have that space so you may need to put your dress in the lockers over your head.

Find a local dry cleaner (make sure they are trust

ed

pros –

check online reviews or word of mouth feedback

) to steam the dress if it becomes a bit creased during transportation. Some hotels also offer such services too so check with your hotel.

But

, don't be surprised if you notice the creases come out by themselves in more humid and warmer climates!
At the end of the day, all that matters is that you, your other half, and your loved ones share the most wonderful moments on your wedding day. Give yourself the time needed to organize everything and prevent over-stressing with last-minute tasks that could have been taken care of much earlier. Even better, trust a wedding planner to take off some of the burden of planning a wedding abroad and help you find the best solutions for a perfect one.
And, if you have some really great photos of you in that beautiful wedding dress or additional handy tips for soon-to-be brides, all eyes are on you! Please feel free to share your comments below!