Yeap, it is the time of the year when we close chapters and start new ones in the book of life. Many of you are planning your Spring and Summer wedding already (yeee!). And, we all know that the sooner you get things out of the way, the more time you will have to enjoy one of the best times of your life as a woman.
Although planning a wedding is undeniably exciting, is also carries a lot of stress at the same time. You have to schedule and organize everything to the last detail, from the wedding reception room, invitations, and flowers to what food the guests will eat and, of course, which wedding dress best reflects who you are as a person. To save you the worries and release some of the pressure, here are some tips, as well as do's and dont's that can help you not only choose the bridal gown of your dreams, but also have a clear plan to get you down the aisle looking absolutely gorgeous and relaxed!
First Things First…
Some General Tips to Help Choose the Perfect Wedding Dress
1. Location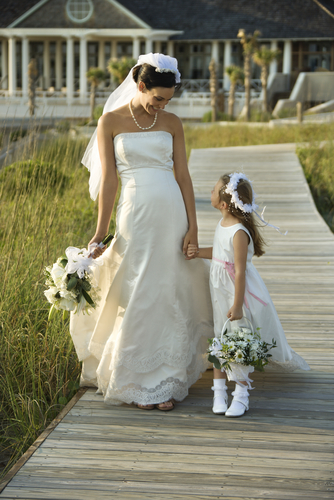 Once you decide on the place and time the wedding will take place, start making a list of the wedding dresses that will be appropriate for that place and time. This will help you rule out some types of gowns and make your final choice a lot easier. For example, for a beach wedding, ball dresses with dramatic embellishments and long tails are instantly out. Are you saying the I Do's in a church os cathedral? Better turn your back on wedding dresses that you could easily wear at a cocktail party (i.e. too short slip gowns). As for fabrics, organdy and linen and both great for warm weathers while brocade and velvet are more appropriate for winter. Truth be told, there is no such rule that says you can't wear velvet in summer or linen in winter. However, a sweating bride in a velvet wedding dress amidst summer is not a pretty sight or the dream come true. You get the idea. It's all about what makes YOU feel comfortable wearing, and staggering to look at!
2. Set your Budget (And Stick to it!)
In most cases, a wedding ensemble accounts for 10%-20% of the wedding cost overall. This includes accessories, such as veils and also undergarments. Now, if you add shipping fees, potential alterations it might need, and professional steaming or pressing the gown may require once it arrives, and you could tack on a few hundred to a few thousand dollars more. It's important to keep all these factors in mind when you set your budget. So, before the salesperson begins to show you any gowns, let them know of your budget. That way, you avoid being heartbroken from a fab dress brought to you that you cannot afford.
You may also consider gently worn dresses. About once in every 6 months, many salons hold big sales to clear out discontinued samples (sizes 6-10 most of the times) while some boutiques also offer discounts if you buy a wedding dress from their trunk shows. So, make sure you register for these shows or sign up for designers' mailing lists on the web.
Finally, before you deposit the money requested (usually 50% of the overall cost of the dress), first check the contract with your wedding consultant.
3. Start Shopping Early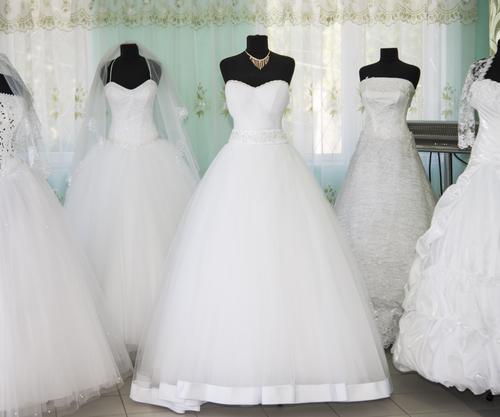 If you are getting a manufacturer make your wedding dress, they will need, at least, 4 months to have it ready. Too elaborate bridal gown take longer than that. Add another couple of months needed back and forth to complete the alterations, and it is clear that you have to begin shopping a good 6 to 9 months before the wedding. This will also save you money because if you leave everything to the last minute, chances are the shop that will be required to deliver a rush order will ask for an additional fee. Plus, if you end up short on time, your choices will probably be more limited than if you had half a year ahead of you.
3. Do your Homework
As you will hear much about the different shades of white and things like basque waist, do some research before you begin looking for the ideal wedding dress. Bridal magazines, as well as the Net, of course, will give you lots of information about the lexicon, silhouettes, fabrics, and more so you get a better idea of what you are looking for. If you see a dress you like, clip the picture or download and print it and start a folder. Include notes of what details you find interesting and bring all that with you when it's time to go gown hunting!
Before you go to the store, make sure you ask them:
Which designers they carry

Whether you need to schedule an appointment before you go

Price range of their wedding gowns

If they also sell accessories.

Whether they employ an in-house seamstress or tailor to provide alterations if necessary.
Once you get these answered, choose a time of a weekday when you are not too rushed* and visit just a couple of stores at a time. Seeing too many dresses in a day will not only exhaust you, but chances are you will forget most of what you have seen. Since you won't be allowed to take any pictures of the dresses you liked before purchase, it is a good idea to keep notes of their description and other details you fancied on them. Needless to say, if the boutique allows it, do bring your camera and take a few snaps of each dress you wear. Just make sure you ask them if you can do that solely for decision-making purposes.
*If you can, schedule your wedding dress appointment early in the day to get fresh and energetic bridal store staff that can give your wedding consultant full attention as the store won't be that crowded. Plus, they are not yet exhausted by dealing with the demands and concerns of a thousand clients!
4. Try it On Even if it Doesn't Look Like 100% your Style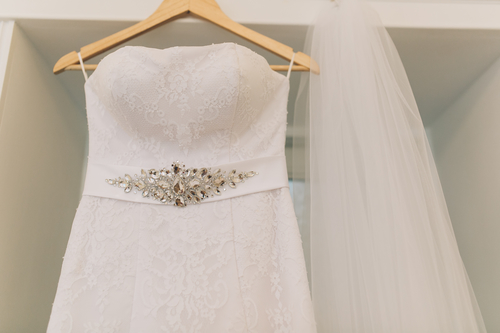 Wedding dress shopping is pretty much like shopping for shoes. You see a pair, and it is love at first sight. But, there is no guarantee that it will look just as great (as you thought) on you while a pair that was not to your liking at first may be absolutely gorgeous once you slip your feet into it. Same goes with some wedding dresses. They may not look like much on the hanger, but if an experienced salesperson suggests you wear it, you might be in for a big (pleasant) surprise! So, don't reject a gown too easily before you give it a try (unless you are 100% sure you won't feel YOU when you wear it). Of course, this has nothing to do with allowing yourself to be talked into buying a wedding dress that you still don't like after wearing it. It's just being open minded and resist snap judgment. Once a wedding dress is on a woman's body, it magically takes a different shape and look than what it had on the hanger.
5. Make Each Fitting Count
Rule #1 when shopping for a wedding dress is "Take anything you will wear with you". Perhaps a special piece of jewelry or your grandmother's gloves, and the underwear you will be wearing at the wedding, such as a strapless bra or bustier. Don't forget the shoes. It will save you a couple of fitting appointments if you bring them with you and the length of the dress is set appropriately from the first time. Another good idea is to have your hair pretty much done to the style you will wear at the wedding, so you have an idea of your bridal appearance as a whole.
Speaking of fittings, you will probably need 2-3 of them to adjust the dress. However, if you feel the gown needs a few more tweaks, do tell the store. Maybe the straps don't stay up as you would like or the seams pucker. Or maybe you can't lift your arms easily.
As for backup, there is no reason to take a crowd with you. Too many opinions might confuse you and, most importantly, frustrate you. Take a couple of trusted confidantes that you know will be honest with you and know your style. On your final fitting, also bring someone to help you into the gown.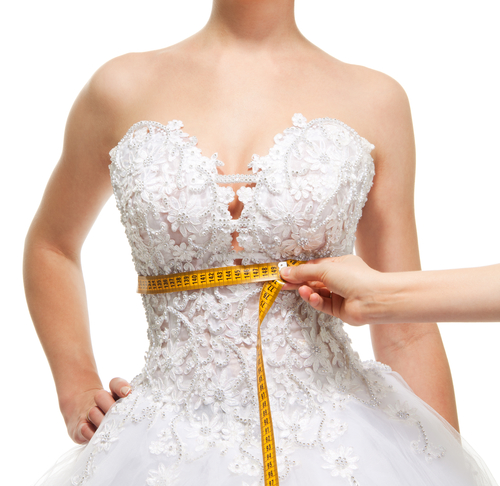 6. Choose your Bra Wisely
There is no doubt that well-fitting undergarments, especially the bra, will make things so much easier for you when searching for the dream wedding dress. Go to a lingerie shop or a department store that has a bra fitting expert and get a new bra that fits you perfectly.
Choosing a Wedding Dress For Your Body Type
Details can make a difference between a good and great bridal gown. But, before you go crazy with details, first figure out the silhouette that flatters you the most. You don't need to buy a dress just because its style is trendy at the moment. Just find one that highlights your best body parts and makes you look lavishing; one that you feel glamorous in; one that has a timeless feel to it (with both traditional and modern elements); one that makes you feel like a better version of yourself!
1. Pear-Shaped Silhouette
A classic A-line skirt that flares out from your waist down is ideal for you as it highlights your beautiful (and slender) mid-section and draws attention away from the thighs and hips. For even more flattering results, choose sturdier fabrics that don't cling, such as taffeta or satin. Another great option is a V neckline or a spaghetti-strap bodice that will send focus on your upper body.
Don't be afraid that an A-line dress will look too formal for you. It can be easily dressed down if you just choose to make it from, for example, raw-silk shantung or another casual fabric.
2. Apple-Shaped Silhouette
Trumpet dress styles are out because they emphasize your widest body area and cover your more slender legs. Instead, a dress with a bodice that has lots of texture and details is more slenderizing and will create a corset-like effect, especially if it (the dress) cinches in at your waistline (preferably the smallest point on it) and then flares gradually into an A shape. As for the neckline, opt for deep V ones, so you prevent focus from going toward the horizontal.
3. Straight-Line Silhouette
In this case, you need curves added to your body. Camouflage the lack of hips by choosing a floor-length ball gown that cinches in at your waist, preferably made from charmeuse. To highlight a small bust, give volume to the area with a bodice that has some ruching.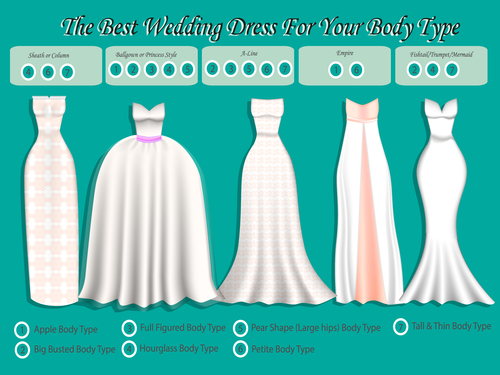 4. Busty & Small Chested Ladies
Avoid wearing a strapless wedding dress that goes completely straight all across as it will call attention to your chest. The same applies to bodices with fabrics that have a sheen to them, such as silk or satin. Of course, this doesn't mean that you can't enjoy the look of a strapless bridal gown. Just choose one with a sweetheart neckline or any other type that slightly dips along the neckline. Ideally, though, a scooped neckline will not only display your cleavage but also open up your face, allowing for your makeup and hairdo to impress.
Small-chested women, on the other hand, can benefit a great deal from some extra fabric (i.e. ruched bodice and lightly padded halter styles), which will help create the illusion of a more curvy body. As for undergarments, and given that many wedding dresses are either backless or strapless, try self-adhesive silicone bra cups to help provide a nice boost.

5. Plus-Size Silhouettes
A floor-length Empire dress that plays up your shape (not too loose) is perfect for you. Make sure the fabric has absolutely no pleating (to avoid looking like maternity dress), no chest seam, and that it starts slightly under the bust and then gradually flares into an A-line. Suggested fabrics are those that provide structure, such as satin instead of too flowy ones. However, if you are more into more romantic looks, which require airier fabrics, have a dress with a stiffer base and feel free to adorn it with tulle or another embroidery.
6.

Tall

Silhouette
Statuesque women look breathtaking in dresses that emphasize their natural shape and reflect their longer proportions (see a lower waistline or above-wrist gloves). Don't feel you need to wear something too elaborate, though. Better stick to simpler styles and refrain from opting for rosettes and ruffles as they don't complement your figure.
7. Petite Silhouette
Modified A-line, sheath, and trumpet dresses with a waistline above the waist (otherwise your legs will seem way too short) will help make you appear longer. Calf-length skirts, as well as ball gowns, are out of the question because they make your legs look short and also make you appear that you got lost in all that volume respectively.
You may choose whichever fabric you like as long as you keep away from huge bows or other overly large details. Finally, ensure any details on the dress are solely found on the bodice and not the skirt to help draw attention upward.
I

MPORTANT NOTE:
All wedding dresses run 2-3 sizes LARGER than your regular size. So, get your head around that and don't freak out about the sizing of the gown you are wearing. Instead, pay attention to how it fits, rather than what you read on the label. If the dress makes you feel beautiful, comfortable, and confident, and also allows you to move as freely as you wish, then you know it is the right one for you!
What is your dream wedding dress like? Have you found it yet? Have other tips to help to-be-brides land on their perfect wedding dress? Do share with us!