Bridesmaids play a quintessential role in most weddings and the importance of them cannot be overstated. Not only do these women have to fully be there to support the bride emotionally, but they also have to look great on the wedding day. They can't look too good though, because the golden rule of weddings is to not outshine the bride!
Accomplishing this task can be a pretty hefty feat and one that will be remembered for years to come thanks to wedding day photos. It's pretty safe to say that the majority of us have seen wedding pictures where all the bridesmaids are wearing the same style dress and it simply just doesn't work for some body types.
If you are a soon-to-be bride and would like to give your bridesmaids the dress they truly deserve, you've come to the right place. Here's your ultimate 101 guide on how to find bridesmaid dresses that suit your friends' body types.
The Rectangle Shape
A rectangle shaped body type is often described as appearing "athletic" since the hips and waist are around the same size. The trick to dressing this body type in a flattering way is to focus on defining the waist.
Adding a sash or ribbon to your bridesmaid's dress is a great way to create a cinching effect on the waist. To add more volume to your friends upper half, choose a dress with either an off the shoulder, boat neck, or U shape neckline.
The Pear Shape
Pear shaped bridesmaids have petite upper bodies and hold most of their weight on their hips and thighs. A-line dresses are perfect for a pear shape since this style of dress doesn't add any extra volume to their bottom half.
In terms of the top half of the dress, it is best to opt for either a V-neck or a halter neck. V-neck tops elongate the neck and accentuate the waist while halter tops draw attention to delicate arms and shoulders.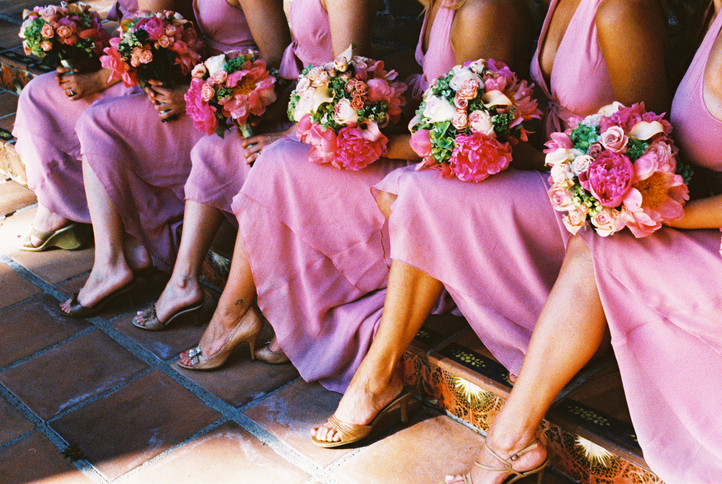 The Inverted Triangle Shape
This body shape is used to describe those who have shoulders that are wider than their hips. Typically, this bridesmaid's upper half will be slightly larger than her lower half and she'll have lovely, lean legs.
The most flattering neckline for the inverted triangle shape is a deep V-neck since it balances out broad shoulders and creates the illusion of a longer neck. The bottom half of this bridesmaids gown should be a bit more voluminous to distribute her proportions more evenly. Since this body type is known for having great legs, don't rule out letting your bridesmaid sport a shorter skirt!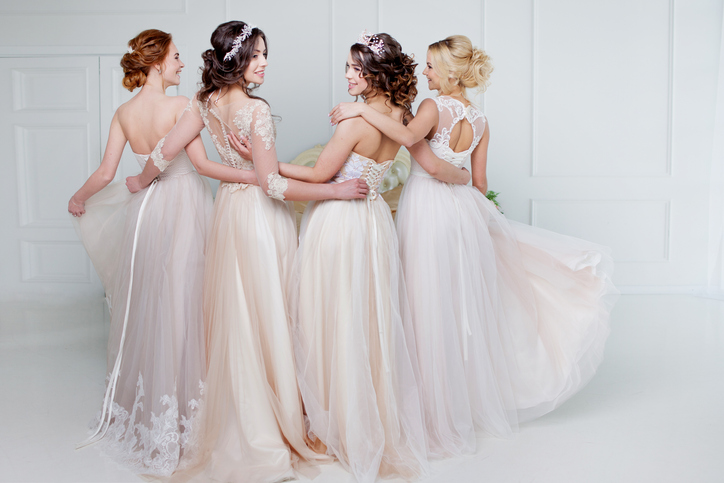 The Apple Shape
If your bridesmaid carries most of her weight up top and her waist is wider than her shoulders and hips, she meets the criteria for an apple shaped body. This body type looks best when the lower body is filled out by a bit of extra material. Wrap and empire cut dresses are pretty safe options that help to create the perfect silhouette.
It's usually best to stay far away from strapless dresses for apple shaped bodies since they tend to need some extra support. Instead, go for a scoop-neck or crossover neckline, both of which are supportive and flattering.
The Hourglass Shape
Individuals with an hourglass shape tend to have shoulders and hips that are around the same size and a well-defined waist. This body type has a little more flexibility when it comes to what looks good.
One shouldered, V-neck, and sweetheart necklines all work well on an hourglass-shaped body. Depending on personal preference, a bridesmaid with this shape can rock either a structured or loose fitting dress. All that really matters is that you accentuate your bridesmaids best asset – her waist!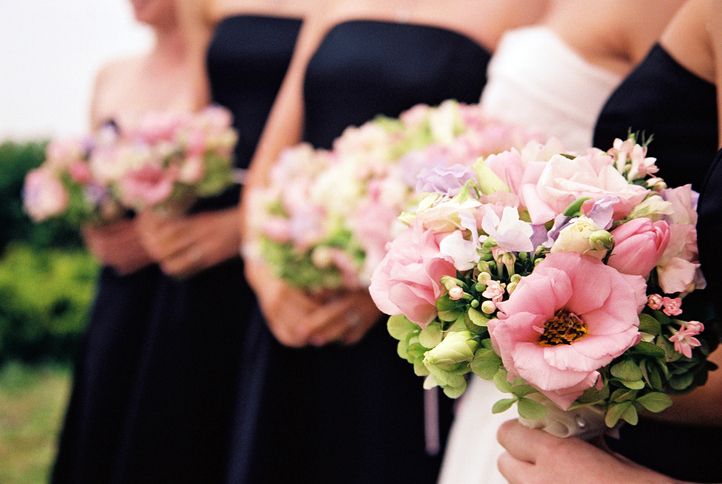 Using these guidelines, all your bridesmaids will look their absolute best on your wedding day and thank you for it! And if they need their gorgeous gowns cleaned once the big day is over, Love Your Dress is the place to go.
We are Canada's largest specialty cleaning centre and our facility offers both wedding dress cleaning and gown cleaning services. Love Your Dress the ultimate one-stop-shop for all your dress cleaning needs. Contact us today and we'll make sure you and your bridesmaids are both taken care of!