Saying yes to a wedding dress is a big deal for every bride, and it makes the fact that you're getting married all the more real. Settling on the perfect gown provides a much-needed sense of relief during the wedding planning process, but with that said, there's still plenty to consider once you've picked it out. Besides the standard wedding dress alterations that are required, you also need to think ahead to your after-party and whether or not your dress needs to be bustled.
If you're a pro-bustle bride that's looking to reap the benefits of this alteration on your wedding day, you've come to the right place. Here's everything you need to know about how to bustle a wedding dress!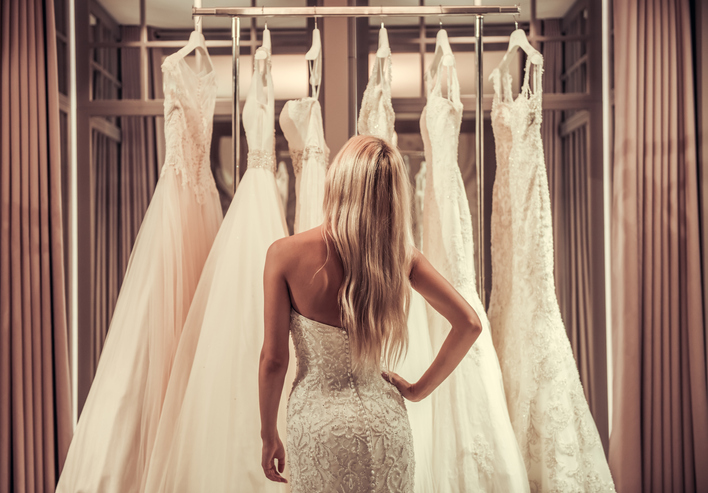 What Is a Bustle?
A bustle is a way to gather up a train and make it even with your hemline so that your wedding dress doesn't drag on the floor. This can be accomplished via ribbons, buttons, hooks, or by sewing your gown. When a wedding dress is bustled, the back of the dress has added dimensions and folds that not only look beautiful but also make it more practical to wear throughout the big day.
Why a Bustle is a Good Idea
Most wedding dresses come without bustles, but getting one will make all the difference on your wedding day. By doing something as simple as pulling up the back of your dress, you'll be able to move around comfortably, dance the night away, and enjoy the rest of your wedding without any inhibitions. Bustling your wedding dress is also a great way to ensure your dress won't be stepped on and ruined during your post-ceremony festivities.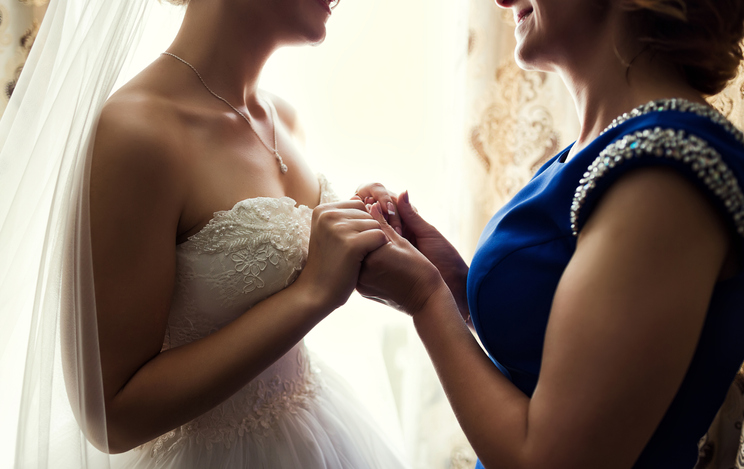 How to Add a Bustle to Your Wedding Dress
There's more than one way to bustle a wedding dress, and depending on the style you've chosen, some bustle types are better than others. Here's how to accomplish different types of wedding dress bustles:
The Over (or American) Bustle
The over bustle is a method of gathering up and fastening the train over top of the dress. This results in beautiful cascading folds that suit gowns with long trains and ball gowns. Buttons, hooks, or eyes can be sewn into your wedding dress to accomplish this elegant style.
The Under (or French) Bustle
For A-line, sheath, trumpet, mermaid, or intricately detailed gowns, the under bustle is an ideal choice. This bustle picks up the train of the gown and tucks it under the silhouette, making the skirt puffy and full. A hidden ribbon under the train of your gown will need to be tied together to create the under bustle, which your bridesmaid can help with.
The Ballroom Bustle
If you don't want your wedding dress to look like it has a bustle but also don't want to risk tripping over your train, the ballroom bustle is for you. A ballroom bustle makes a dress appear as if it was always floor-length and also disguises the train by securing it underneath the skirt. This type of bustle should be done by a professional, and it's on the pricier side since multiple bustle points need to be sewn around the bodice. As its name suggests, this bustle works best for ball gowns.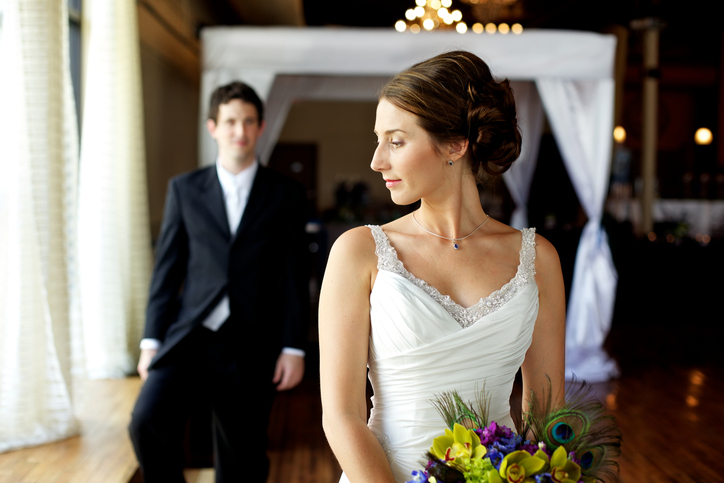 The Victorian (or Royal) Bustle
The Victorian bustle has become increasingly popular as of late in part due to the elaborate and eye-catching shape it creates. To achieve this style, a seamstress will affix fabric down the center of a train, which creates a ruching effect. A lot of fabric needs to be pulled together to create this eye-catching look, so it's best to opt for a Victorian bustle if you have a full ball gown or a very long train.
The Bow Bustle
A bow bustle is a good option if you'd like to add an extra bit of oomph to your A-line wedding gown at the after-party. It works the same way as an over bustle does, but instead of being secured with buttons, hooks, or eyes, a ribbon or sash is used to hold it in place.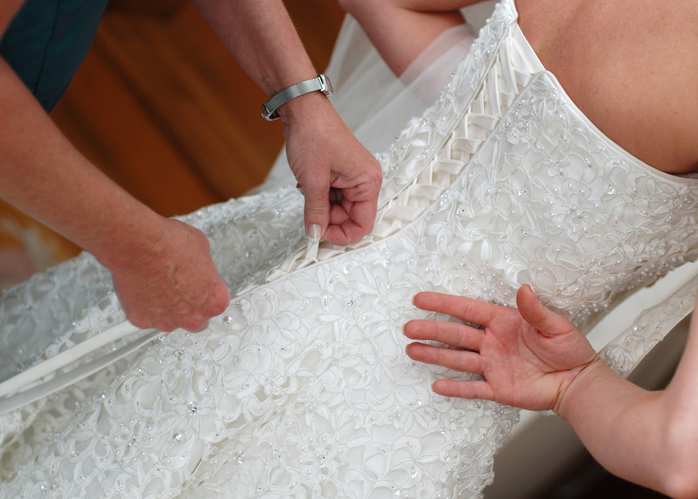 Whatever bustle style you decide to go with on your big day, Love Your Dress can help you pull it off flawlessly. With over 30 years of dress alteration experience, our experienced and talented tailors are capable of modifying your wedding dress according to your exact specifications. Contact us today to get a free quote on our wedding dress alteration, wedding dress cleaning, and wedding dress preservation services.