Been invited to a beach ceremony comes with feelings of both excitement and stress. What a great vacation opportunity, right? Plus, you get to spend some fun time with friends and family, too. But, when it comes to wedding attire and what on earth you are supposed to wear to a beach wedding, things might get tricky and somewhat confusing. Relax. There are some ground rules that you can follow to look gorgeous, feel comfortable (and remain like that throughout the duration of the ceremony, and long after), and be formal enough for this type of wedding! Ready to nail your beach wedding outfit? Here are some tips for you and your other half!
1. Fabrics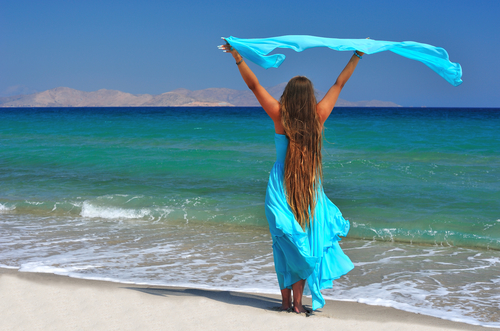 Light fabrics are ideal for beach weddings, especially those that don't cling to the body. Prefer materials like organza, linen, and chiffon, although lace and cotton blends are also excellent, light fabric options that give a luxurious feel. Plus, they will help you stay cool under the sun. What we need to avoid no matter what is sweat marks on the front or back of a gown.
As for the design of the dress, try not to opt for a piece that's either too loose and short because you run the risk of inadvertently flashing guests with the first gust of wind.
For Men: A linen button down shirt and linen pants is a superb combination for him. If your sweetheart wants to wear a suit, it should be something lightweight, say a linen or cotton suit, that's comfortable and loose fitting without losing its semi-formal look.
Note: Since nobody knows what Mother Nature has in stock for us, a beach wedding can be pretty unpredictable when it comes to weather conditions. From breezy and warm, a heat wave might creep up, leaving you sweating in your dress, or even a storm. The best way to get around this issue is to come prepared.
2. Colors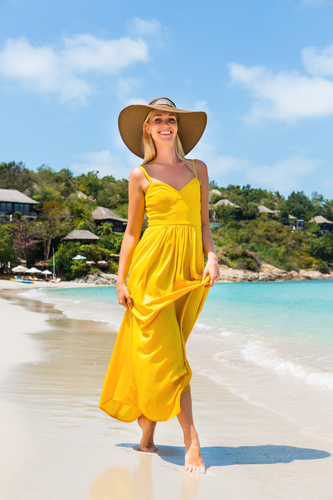 The gold standard is bright and light colors when you are choosing a dress for a beach wedding. A good idea is to check if the bride has a color scheme that she would like her guests to adhere to. In this case, consider the selected color palette and try to find shades that complement your skin tone. That said, it goes without a saying that black attire looks uber chic. However, on a hot, summer day it will also conduct heat and make you feel as if you are being cooked. Unless the wedding ceremony is at late evening hours when the sun has set, it might be best to stick to bright hues.
To escape the difficult decision, you can get inspiration from the turf around you. Mimicking the wonderful tropical tones with your wedding outfit is an excellent idea. Colors like terra cotta, aquamarine, tangerine, fuchsia, turquoise, and sunflower are all appropriate and unique tones. You may also opt for stripes, polka dots, and bold flower prints. In general, wearing print or pattern is more than welcomed at summer/beach weddings. Now, if the reception or ceremony takes place in the late evening hours, remember to bring a lightweight, sheer shawl to protect yourself from the cool breeze moving from the coast. Throw it around your shoulders and you are done!
For Men: Beige or white pants paired with a bright colored linen jacket or shirt will look amazing and keep your other half feel and look cool. However, for semi-formal weddings (see below), wearing a cream or tan colored linen suit will also be fantastic attire.
3.

Formality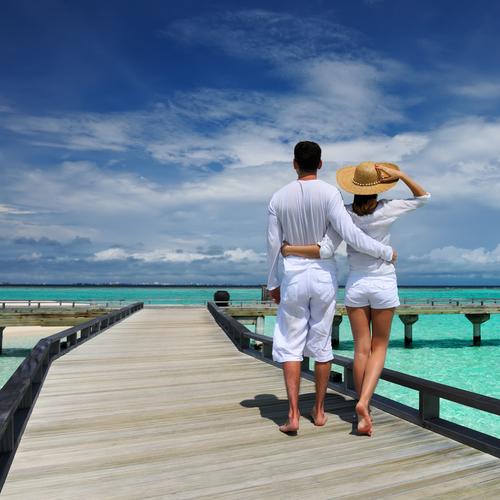 Take a closer look at the invitation and you will probably find out the level of formality expected for the beach wedding. Although most beach weddings are usually casual, there are also bridegrooms that wish their wedding to be on the semi-formal or formal side.
So, if you are invited to a:
CASUAL beach wedding, make sure you don't get caught in an outfit that's too casual. However, something as simple as a sundress for you definitely fits the occasion. For men, linen or khaki shirt and knee-length shorts (not shorter under no circumstances) is also appropriate. And, since casual beach weddings are mostly held in daylight, you can as well wear your fav flip-flops. That said, there are also beach weddings so casual and laid back that guests are even going barefoot!
SEMI-FORMAL beach wedding, you will most likely attend an evening ceremony and reception right after. In this case, although you can still wear something breezy and light, a cocktail dress made of a dressy material, such as organza, chiffon or lace is the most appropriate choice. The same applies to tea-length gowns, which are also comfortable options that don't drag in the sand. That aside, such gowns can easily transition so beautifully to a reception venue held at an ocean front hotel or restaurant. As for men, their attire should involve a button down, seersucker/linen/khaki pants, and a sport coat.
FORMAL beach wedding, you are probably invited to an evening wedding ceremony that's followed by a reception that involves lots of dancing, dinner, and a cocktail hour. For this reason, a light colored button down shirt with ¾ length or short sleeves for the gents and loose-fitting floor-length gowns that can be swept across the sand so you can attend the seaside reception are excellent choices. Also, most men think that they should wear a tie to attend a formal beach wedding. This is not necessary at all. Wearing a tie can make your man feel overheated in tropical climates and somewhat restricted. The only case he could consider wearing a tie is when the ceremony and reception are being held on a yacht or in a resort near the beach.
Other things on your list to check for an awe-inspiring beach wedding appearance are:
1. Shoes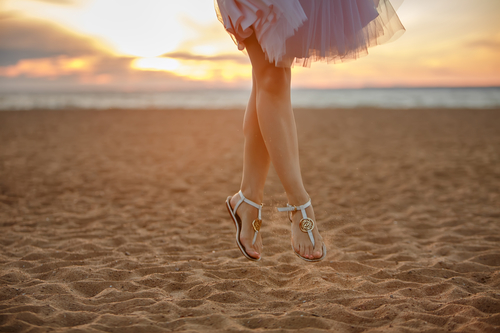 If you are on the dressier side, both sandals and flip-flops are great options that you can easily slip on and off. If you think that there is no point busting your head deciding on proper footwear to walk in the sand, better reconsider! The truth is that the shoes you will wear at a beach wedding should be well thought of. Although you could attend a beach wedding ceremony barefoot, packing an extra pair of shoes is more than welcome. If, for example, the reception is at an indoor location or the ceremony is near a boardwalk, you will want to have something protecting your feet and making you look elegant and comfortable at the same time (i.e. dressy ballet flats or gladiator sandals). Wedges and super high heels should better be avoided as they will make walking a real burden. Now if you are invited to a formal beach wedding and want to introduce the diva inside you with a pair of stilettos, make sure you bring an extra pair to change into before the wedding reception. And, don't forget to get a pedi if you are planning to wear open toe shoes!
For Men: Light-colored boat shoes or loafers, as well as sandals and flip-flops, are all appropriate for casual beach weddings. However, the first two options also make great picks for semi-formal beach weddings, too.
2

.

Accessories
Beach wedding looks do not demand heavily accessorized outfits. But, nobody can stop you from having fun with a pair of bejeweled earrings or bangles. The secret is not to overdo it. A piece of jewelry and a small cross body purse or clutch will be perfect. Another marvelous idea for those that are considering to fashion a pulled-back hairdo is a fancy hair clip or headscarf that will decidedly add to your style! Also, a wrap or light jacket is a must-have if you want to protect yourself from the evening cool ocean or sea breeze.
3. Hair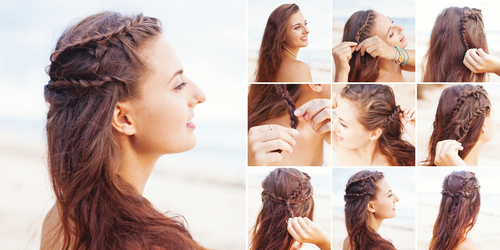 We all want our hair and makeup to be picture-perfect no matter the occasion. Now, when it comes to hair, one of the worst things that can happen is frizzy, flyaway hairs sticking to your lipstick and getting in your face, ruining your look with the slightest gust of wind. If you don't fancy an updo that will keep your long hair in place no matter what, you can certainly invest on pretty bobby pins or clips. So, pin that naughty hair back! For shorter hair, you could consider a sleek, beach-appropriate look!
4.

Makeup
It goes without saying that heavy makeup will be very difficult to maintain under the hot summer sun and the rising temps. So, a beach wedding is probably not the best time to wear a smoky eye and a dark lipstick, because the heat will soon make the foundation smudge or run.
Wearing waterproof mascara and having a makeup setting spray in your purse will help maintain and refresh your natural makeup, which can still flatter you without being over the top loud or overshadowing the bride's look. You can make a statement with modest amounts of foundation and a beach-perfect dewy look. A coral or pale pink lipstick can complete the look beautifully while you could also opt for a pastel eyeliner, too.
Ready to rock the next beach wedding you are invited too?
Did we miss something? Have more tips for girls attending a beach wedding some time soon? Pass your wisdom on to others!