Finding a summer dress comes rather easy. Finding a piece that is feminine, pretty, sexy or edgy and flattering at the same time can be quite a challenge. No matter what you are looking for, be it a classic or a more fashion-forward silhouette, it is paramount to consider styles that do not obscure the beautiful shape you have. There are styles that look great on all figures while others fall more gracefully on particular physiques. Now, if you are not sure where to start and which type of summer dress best complements your body, we give you a handy guide that you could look into. We did the same with your winter dresses and now it is time to complete the list with your summery outfits too!
Stylistic Advice
1. Go for Florals
One of the biggest fashion misconceptions is that prints are unflattering and can only be worn by specific body types and shapes. This is a huge myth that has been busted. In fact, prints (especially digital floral prints that give the appearance a fresh look) and patterns can not only look fab but even help minimize problem areas too. It all depends on the design of the dress. For example, a multi-coloured floral design with contrasting shades of bright, summery shades, such as turquoise, purple, and candy pink can complement a curvy body rather than highlight any pain points. And, to help create an even more feminine figure, you can always opt for a frock with faux wrap draping that smoothes, hides imperfections, and adds style to the overall look.

Tips:
In general, bright colours help liven up any ensemble. Also, draping usually gives off a sophisticated vibe and flatters all body types. Combining draping with bright shades adds a twist of fun. If you want a more fashion-forward contrast, you may consider wearing such dresses with suede pumps in vibrant hues, such as red.

A floral-printed maxi dress is a great option for the beach. However, it can also be dressed up for more casual occasions or a night out.

Dresses with Hawaiian prints are in this summer. If you choose a piece with a cinched waist and pleated skirt, then chances are you will look amazing regardless of your body type.
2. Choose your Battles
When you want to minimize any parts of your body that make you feel a bit self-conscious, there are two things you can do (1) try the best you can to hide that particular part or (2) turn focus on a part of your body that you absolutely love. The first option will increase the negativity you already feel about your body while the second will help increase your body confidence. It is all about the brain and what emotions you feed it with.
If you decide to highlight the best parts of your body, we are with you and here is a trick to help achieve that. A universally flattering body part (if not THE most flattering, along with the clavicle) is the shoulders. Choosing to wear a two-tone dress that features beautiful cut-outs which turn eyes on the shoulders is a great move. For a more modern appearance that combines elegance and sharpness select a dress whose colourblock is minimal and clean. Want an edgy appeal? Pair the dress with jewelry in silver tones.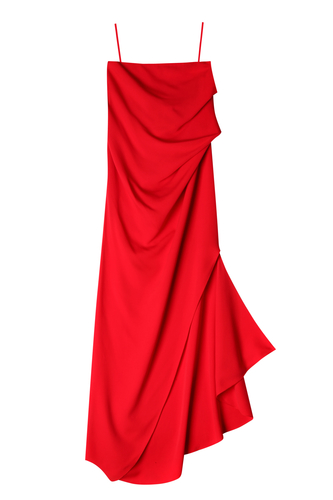 3. Form-Fitting Please!
A form-fitting dress is a staple piece that every woman should have in her wardrobe. Structured dresses gently embrace the female body and help emphasize the figure. Choose pieces that favour the female body (i.e. with seamed detailing at the waist) which reveal and highlight the 2nd most flattering part of the body, the clavicle (i.e. cowl-neck feature). You may also add a buckled leather belt and complete the outfit with pewter caged sandals that give a more fashion-forward edge.
4. The Peplum Revival
The peplum trend is having a strong comeback and will most likely become the favourite piece of many women around the globe. How couldn't it? It did a fantastic job for women in the late 1800s and looks great on all silhouettes and ages, from grown up divas to young and sporty ladies. The peplum whittles down the waist and highlights the hips. You can start with a black lace dress that features a mini-peplum that doesn't overwhelm or distract the frame. Depending on the design of the lace, the dress can be worn at both a casual and formal occasion.
Tip: If you need to whittle down the middle section even further, just add a studded belt right above the peplum or mini-peplum. It will help accentuate the figure more. However, bear in mind that peplum dresses are a bit difficult to spot clean due to their particular style. If you find yourself trying to get rid of spills or stains, you can let us do the dirty work for you. We know exactly what each type of dress and fabric needs to look its best so just contact us!
5. Taking Chambray to an Upper Level
A well-crafted A-line cut can take a plain chambray a long way. Paired with dapper ruffles and matching bow sash will give a nostalgic vintage feel to the appearance while also create a womanly shape. The look can be complemented by patent leather pumps and, why not, netted stockings!
Tip: To elongate your frame and distract from your midsection, work delicate ruffles vertically.
6. Fit & Flared Revolution
Fit and flared are among the most complimentary dress silhouettes you can choose to look incredibly chic and beautifully-figured. These superbly ladylike dresses incorporate a full skirt and a body-skimming bodice that help create the perfect hourglass shape; a shape that favours every type of frame. Further enhance the smallest part of your midsection with a wide belt. Finally, garden prints can give a more retro style. If you want to add a modern edge, simply pair the dress with metallic sandals.
Best Dress Style Ideas Per Body Type
1. Tall Figures
Retro-inspired dresses look amazing on tall ladies, especially if the dress features a just-above-the-knee hemline that keeps the figure from looking ungraceful and lanky. Plus, if you have impressive legs, this type of dress will help show them off the best way ever (see 6-foot Taylor Swift, for example).
2. Petite Frames
Petite forms can be greatly flattered by a dress with a mid-thigh hemline. Ethereal chiffon print designs also flatter beautiful women with a smaller physique.
3. Pear-Shaped
A print dress with a tulip skirt that glides over the hips is an excellent option for pear-shaped figures. Opting for dresses with a loose, flowy skirt is a great idea if you want to hide a little extra volume in the hips while looking ultra feminine. However, if you want the master of illusion in your armory, then get a twofer dress. And, to distract the eyes from the bottom area, choose a top with a pop of colour, and preferably sheer fabric, and a bottom in darker shades to make sure all attention is drawn up. The same applies to dresses fitted at the waist that fall more voluminous down to the hem. Drapery asymmetrical styles, as well as fit-and-flare dresses and pleated skirts (stitched down), are also matches made in heaven.
In general, any style that follows your natural A-line shape will give you an exquisite and particularly pleasing outcome.
4. Curvy Shapes or Hourglass Figures
Prefer clingy sheath dresses with a defined waist. A peplum will also look great on you and so will a shirt dress as they are both comfy and quite roomy. If you want to make a summer shirt dress look more girlish, just add a tie at the waist; this will instantly help create a little shape. For your appearances at the beach, we suggest a ruched-top sundress to turn all eyes on you!
5. Full-Figured Body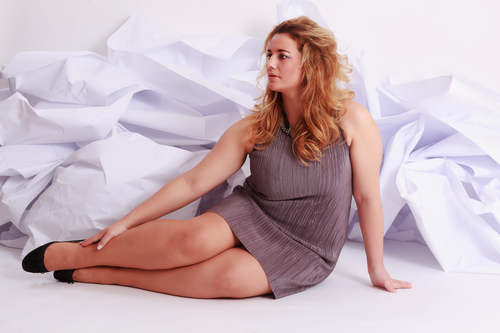 Dare to flatter your womanly form with a gorgeous high-waist print dress. Just make sure it comes with a full skirt for a more summery, carefree appearance. However, please note that not all plus-sized ladies are the exact same shape. For that reason, it is always best to select a silhouette that suits your figure. You will also find out that inside-out darts at the bodice help create the illusion of a smoother frame and a smaller waist too.
6. Boyish Frames
Frilly tiers look fab on narrow frames. A-line dresses are excellent alternatives that can also create the same effect for your boyish figure. Ruffles that are strategically placed in your chest area and vibrant chevron stripes are your valuable helpers if you want to create curves in all the right places.
7. Athletic
A well-muscled physique can get some nice curves with tie-waist dresses (see Pipa Middleton) and faux-wrap pieces.
8. Top Heavy
Dresses with a classic halter neckline are all you need to emphasize your best features and create a balanced look. Prefer dresses that come with adjustable neck-ties or you could try out shoulder cut-outs for sexier looks. Also, dresses with a blousy top do a great job accommodating a larger bust.