Is winter really synonymous to outfits dominated by jeans and sweaters only? For the rest of us that just love wearing dresses, does this mean that we should forget about them until the change of the season and the coming of rising temps? Absolutely not. In fact, there are many stylish ways to wear a dress, even a summer or spring one, and accomplish that same girlish summer charm in the heart of winter. Below are some ideas to tackle seasonal dressing without putting away your favourite dresses until spring. However, feel free to play with styles, colours, and patterns and take these ideas to any other level you fancy. Just don't keep us out of all that fun. Do share your tips and tricks in the comments below! Enjoy!
1. Layers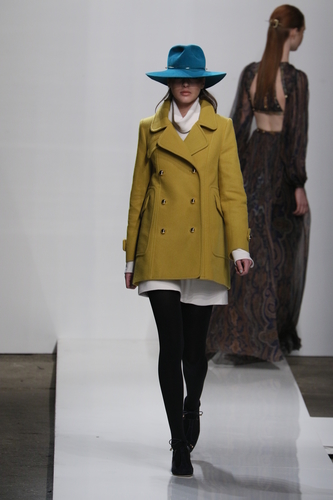 Much is said about layering and its effect on women's style. Since it's winter and there is nothing fun in hanging out in below zero temps in outfits that either make you freeze you to death or make any motion of your limbs a struggle, wearing layers should be done with your comfort in mind. A good idea is to wear a sleeveless over a button down shirt (always with thick tights) and add a warm vest or a fitted sweater. That way, you can make the dress look like a skirt. Then, you can add knee socks and high boots to complete the outfit. For a little extra warmth, add a fur vest and put it over another layer to make sure you won't feel chilly. If you feel that the outfit looks too bulky, simply add a belt.
The detail to note here is that the dress and the sweater or the vest should hit around the same length before you put on an extra layer (the coat). As for the coat's length, we leave it up to you.
2. Pants
Some of you might say it seems too fashion. But, wearing loosely fit pants under a dress, and a pair of heat tech leggings under it, is actually a pretty good combination. Just make sure the trousers and the dress have the same drape. For example, match a pair of fluid pants with a silky dress. To balance the entire look, opt for a little pointed flat and a cropped length pant.
Of course, many of you don't want to part your favourite skinny jeans. We feel you. In this case, why not wearing a draped dress over your black jeans and a turtleneck (and perhaps a sweater too) this cold winter day?
Speaking of dresses and turtlenecks, a slim-fitting turtleneck under a loose-fitting, midi-length dress with thick leggings or tights and high boots is another great alternative for those that do not want to play with too fashion outfits.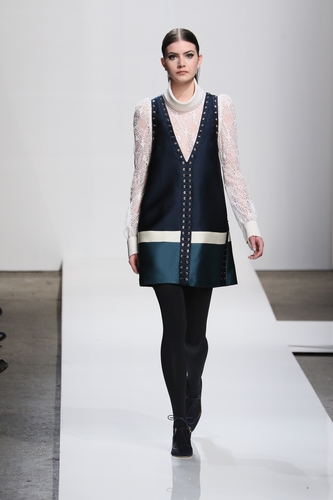 3. Tights & Long Sleeve Tees And Tops
Make room for some soft, opaque tights in your closet that will give you both the coverage and warmth you need to stay cozy and stylish when wearing a dress in winter. However, do hold some space for a pair or cream or black pairs too and indulge in polka dots, florals or stripes when you feel like it!
Now, if you have a snug fit dress that you want to wear today, make it part of an expertly layered look and impress. Add a collared oxford shirt or a long sleeve stripe tee underneath and experiment with prints and colours when the mood strikes!
4. Long Dresses and…
Wearing a long dress in winter has pretty much the same to-dos as with wearing a mini or midi dress; layer it with leggings or tights underneath, add boots or sneakers (keep heels for dressier occasions), layer a thin turtleneck underneath, and a chunky cardigan or sweater or moto jacket or fur vest on top for added warmth.
You may also top it with a scarf and blazer or toss a long-sleeve shirt under and pair with a leather jacket to add edge. Or you could double up the jackets or embrace the following success recipe: Cropped jacket + longer jacket+(faux) fur vest+chunky or coordinating scarf. Add pumps for a night out (or the office).
5. Alternative to Tights?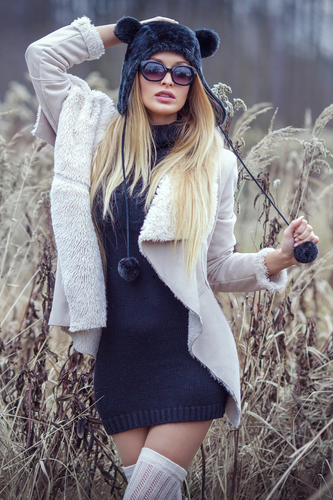 If you don't want to wear tights most of the times you show up with a dress, you can try incorporating socks into your looks. The trick is to leave just a bit of skin exposed between the bottom of your dress and the top of the sock. You can also try tall, fitted booths with cute socks, and a long coat to cover the legs. Alternatively, you might layer hosiery (matte) underneath the boots or socks for extra warmth and protection. Or go with a maxi, flowy dress and multiple layers of leggings underneath that will be of course, unseen, but keep you oh-so-toasty-warm!
Finally, a pair of sleek, black, thigh-high boots (doesn't matter if they are leather or faux suede) worn with thick, black over-the-knee socks will also look fab (don't forget to layer with a long coat or cardigan).

Other Ideas to Wear your Dress:
A tailored wool-cashmere or merino dress that hits the knee over a skinny turtleneck.

Your slip dress can be worn all year long with athletic leggings and a slim sweater over it. Feel free to mix it up and even sport yours with a skinny jean. This applies to sweater dresses as well that look great with sneakers and a long coat if the weather is not all too gloomy and cold.

Your spring dress will look great with an oversized sweater and a good pair of tights (for the mini versions).

Pair your lace embroidered dress with over-the-knee boots and a denim jacket under a leather one or suede jacket or a (faux) fur jacket to keep you warm (or any other type of coat you fancy – just follow the rest of the style).

If you cover most of your legs, wearing a dress will feel almost like wearing pants. Match it with tights, thigh-high boots (or combat boots or ankle boots), a coordinated chunky knit scarf and perhaps a long cardigan. Adding a cute pair of knit socks will give you added warmth and bonus style points too!

For a casual vibe that won't go passed unnoticed, layer your dress with a scarf, hoodie, ankle boots, and, why not, a sporty bomber!

If it's not too cold, you can wear your long dress with a leather jacket, ankle boots and mid-calf socks (matching colour with the boots or not).
See how easy it is to wear your entire closet year round? All it needs is a pinch of creativity! How do you wear your dress in the winter? What is your favourite outfit? We are all ears!