Canadas Largest Wedding Gown Preservation Facility
About Our Wedding Dress Box
Our signature Wedding Dress Preservation Boxes are made from Archival Museum Grade Preservation materials which are used by textile conservators at museums worldwide, most notably the Metropolitan Museum of Art and the Smithsonian Institute.
Love Your Dress has been selected by The Hudson's Bay and Kleinfeld Bridal as their preferred wedding dress preservation box.
Wedding Gown Box Features & Benefits
Our wedding dress boxes are 100% chemically inert. This ensures that no chemical reactions are formed, since even the slighest chemical reactions can cause irreversable damage to the wedding dress.
Our signature wedding dress box's filter out oxygen that naturally enters the box over time. Additionally the box is designed to absorb acids that have formed in the fibers of the garment over time, ensuring the dress is preserved for a lifetime without any damage to the fabric.
llustrated instructions are included in each wedding dress storage box, along with white cotton gloves to allow for the removal and repacking of the garment anytime.
Wedding Dress Cleaning Service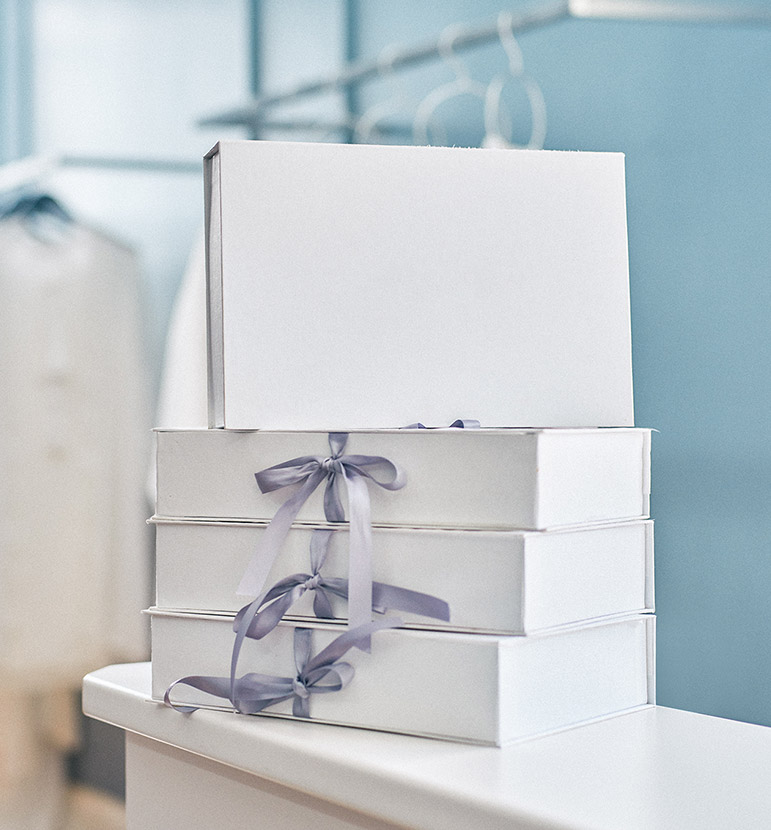 Love Your Dress offers professional wedding dress cleaning services, which ensure all harmful soil, dirt and stains are removed from your dress before it is placed in our signature wedding gown preservation box.
If the wedding gown is not cleaned professionally before being preserved it may cause irreversible damage to the gown over time. This is why we highly recommend to get your dress professionally cleaned. Learn more: wedding dress cleaning.
Dress Pick Up and Delivery Service in Southern Ontario
Love Your Dress offers pickup and delivery services across Southern Ontario. We will come to your home or office and pick up your wedding gown. We will first clean it professionally and then store in in our signature wedding dress preservation box and ship it back to your front door. Please call us to book your convenient pickup and delivery service