Why We Are the Top Wedding Dress Care Providers in Ottawa
Love Your Dress specializes in providing expert wedding dress cleaning, bridal alteration, and preservation services for all dress styles.

Experienced Wedding Dress Cleaners
At Love Your Dress, we are highly experienced in providing quality bridal dress cleaning services. We utilize eco-friendly solutions and use the latest wedding dress cleaning techniques to effective remove all stains.

Convenient Pickup & Delivery Options
We provide convenient pickup with delivery options for customers that don't have enough time to swing by our facility. Our pickup and delivery option is free, and we will have your wedding dress ready in 14 days!

100% Satisfaction Guarantee
We aim to provide complete customer satisfaction, so we provide a 100% Satisfaction Guarantee for all our dress care services. If you are unhappy with our results, we will happily reservice your dress for free!
Leaders in wedding dress cleaning, restoration and preservation
Since our inception in 1987, we have gained exceptional experience in gown cleaning and other related services that have helped us establish ourselves as a prominent specialty-cleaning center in Ottawa. Over the years we have not ceased to update ourselves with the latest technologies and advances, which help us take better care of your valuable dresses. Be it designer or silk, beaded or embroidered material, when it comes to restoring your dress to its former glory days, there is no better cleaning services in Ottawa or anywhere else in Canada than Love Your Dress.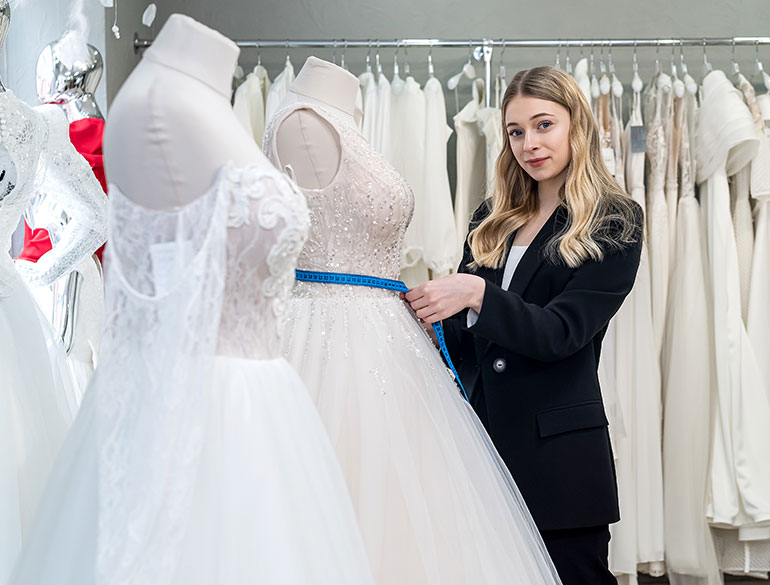 Our Ottawa Google Reviews
Read our genuine Google reviews about our dress cleaning and restoration services in Ottawa and find out the quality of work that you can expect from Love Your Dress.
Eileen Shoreman
I am so happy with my experience so far! The staff is incredibly professional and friendly and the work they do is amazing. Looking forward to bringing my wedding dress back for final alterations before the big day next summer!
Steve Steve
Got my wife's gown cleaned and preserved, looks amazing!
Rose Philly
I had my wedding dress cleaned and preserved with Love Your Dress and right from the start the service and communication has been amazing. The way they preserved my dress is beautiful and something I can cherish always. Thank you so much for the great work. And the pricing is very reasonable compared to others.
Our Wedding Dress Care in Ottawa
Love Your Dress is the leading dress are service provider in Ottawa. We provide a variety of dress care services including wedding dress cleaning, wedding gown preservation, and bridal alterations.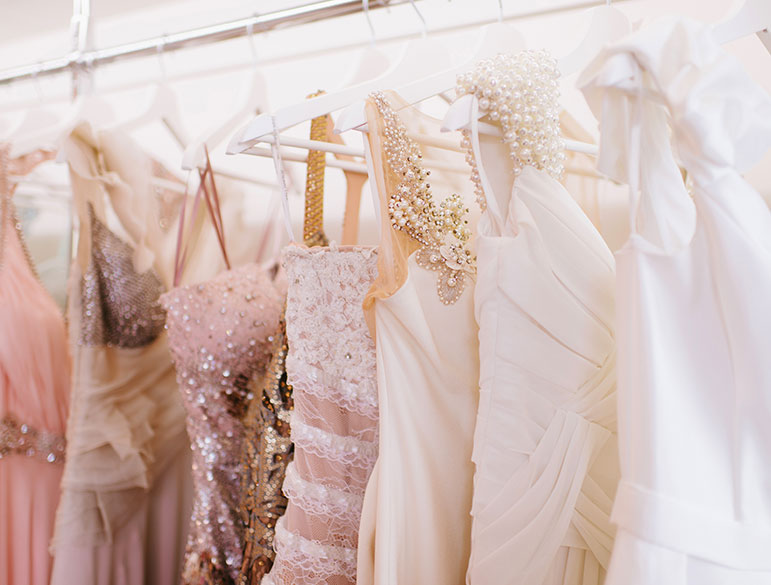 Wedding Dress Cleaners in Ottawa
Do you have a dress or a gown that needs to be cleaned? Does your wedding dress need to be altered? Do you have an old wedding gown that you need to get cleaned while keeping the gown intact? Love Your Dress is a company that specializes in cleaning, alterations and preservation of dresses and gowns of all kinds. Our facility is known for its high quality dress cleaning in Ottawa. We are Canada's biggest and most trusted dress cleaning company, recognized nation wide for being trustworthy and highly experienced in handling dresses of all kinds.
Wedding Gown Cleaning in Ottawa
If your wedding dress got stained by food or drinks during the wedding celebrations, do not worry. Our services for wedding gown cleaning in Ottawa are the best you can get to remove stains and get your dress cleaned without any damage to the fabric. Rigid stains like lipstick marks, ketchup smudges, wine stains or any other kind of stains that can stain your wedding dress during the celebrations can be taken care of by our expert cleaning services.
Wedding Gown Alterations
Wedding Dress Preservation
Pickup & Delivery in Ottawa
Serving Ottawa Since 1987
Show Room Fresh Results
Eco Friendly Gown Cleaning
Gentle on all Wedding Gowns
Wedding Gown Restoration
Wedding Gown Preservation
LOWEST PRICES 100% MONEY-BACK GUARANTEE
FREE ONLINE QUOTE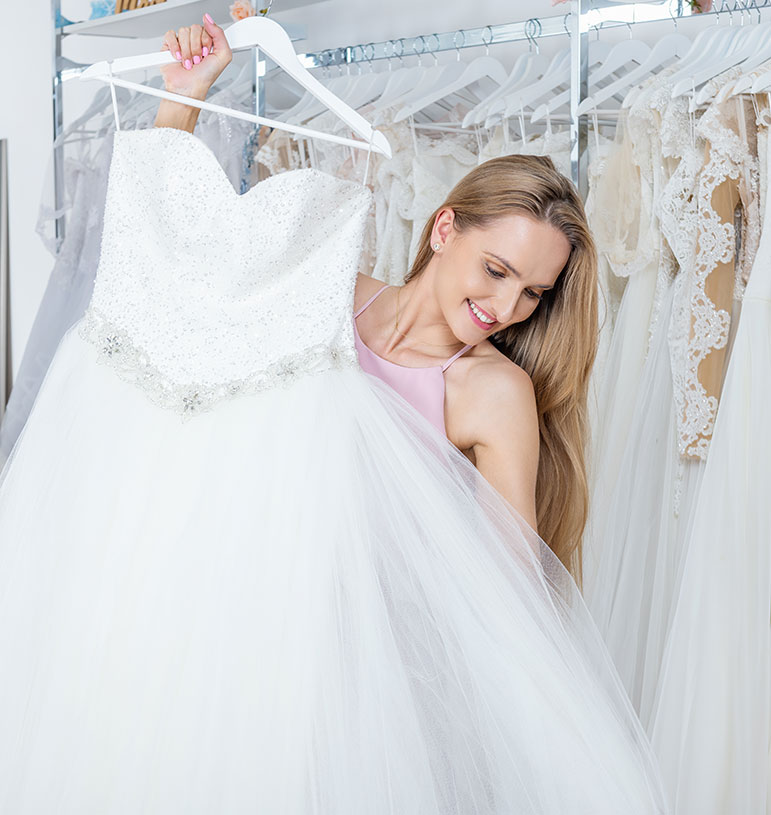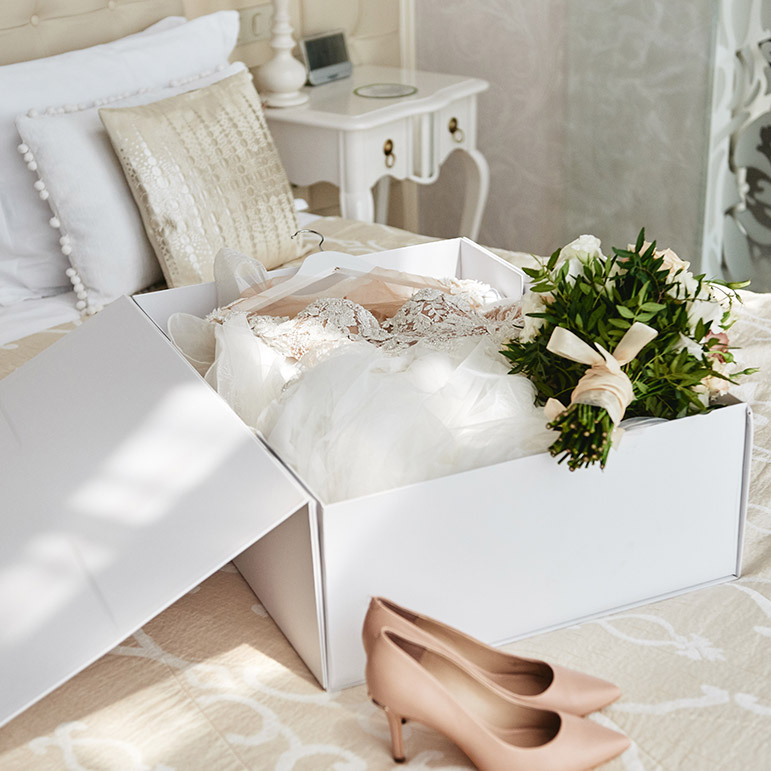 Wedding Dress Preservation Ottawa
Our dress preservation kits have been used by museums across the world, which should tell you that you have no reason to worry about the quality of our preservation services. Our services for wedding dress preservation in Ottawa are known for being one of the best in the world.
Our wedding dress preservation kits are elegant and classic, with monogrammed names and details of the dress and the owner. These kits use non-toxic materials for preservation, so that your dress stays safe. The kits prevent humidity, moisture and other natural elements from soiling your precious dress. They are also chemically inert, so that you do not have any damages on your dress due to harsh chemical reactions. More Details:
Wedding Dress Alterations Ottawa
Have your body measurements changed before your wedding? Are you stuck with a dress that no longer fits you perfectly? Do you have a vintage wedding gown that you need fitted and remodeled for your measurements? We do the most perfect wedding dress alternations in Ottawa.
You can visit our wedding dress care facility, where our expert tailors will take specific body measurements and make your wedding gown fit you like a dream come true. The alterations and repairs will be completely invisible, so you do not have to worry about ugly seams and stitches showing on your beautiful dress to ruin your perfect day.
We will carefully assess your gown and identify what types of alterations you need. Our bridal alteration services include:
Seams
Tears
Invisible mending
Touch up re-dyeing
Remodelling
Downsizing
Hemming
Sleeve shortening
Re-lining
New snaps
Buttons
Beading repairs
Panel replacement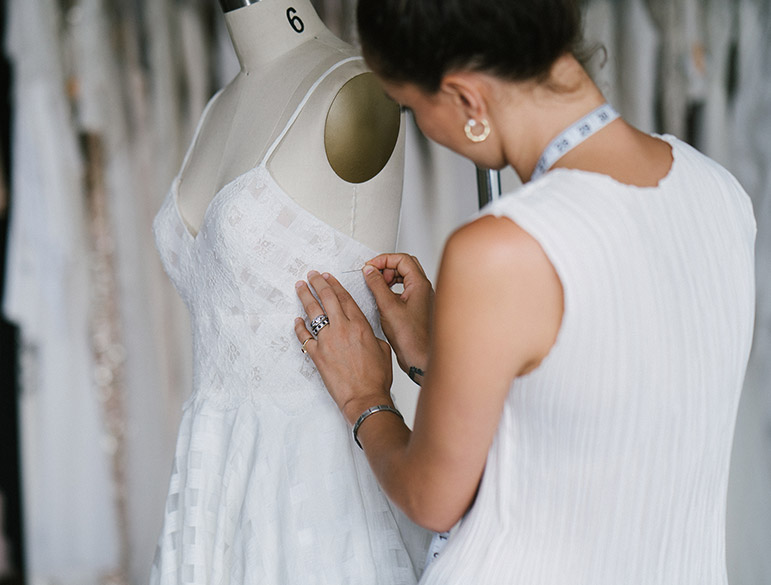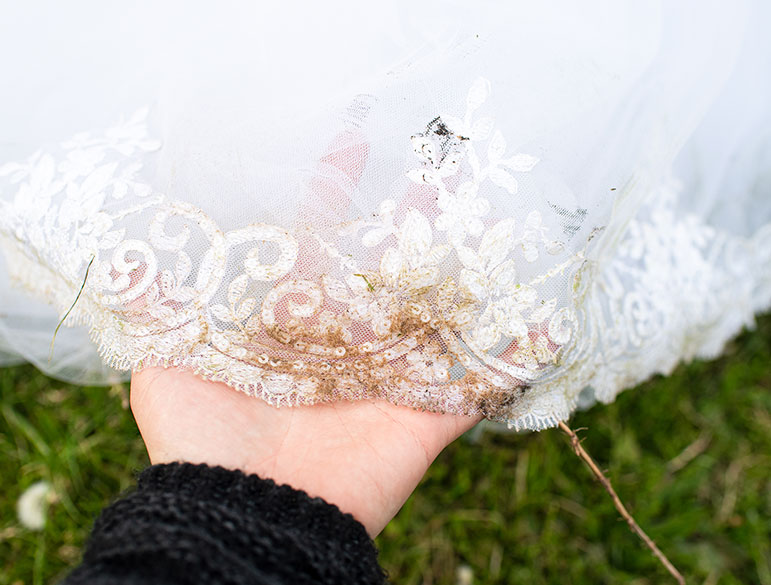 Stains Removal Wedding Dress in Ottawa
Nothing makes us happier than seeing our customers shocked and speachless when they realize that we have completely removed stains they thought would never come off. We can remove wine stains, ketchup stains, mustard stains, lipstick stains, grease stains, oil stains, wax stains, ink stains, coffee stains, ground and dirt stains, tar stains, foot prints stains, vomit stains, blood stains and just about any other stains you can imagine.
Wedding Dress Box in Ottawa
High-quality wedding dress storage preservation boxes are important in ensuring that your bridal dress remains in pristine condition throughout the years.
Our premium wedding gown preservation boxes are free from harmful adhesives and toxins and have extremely low absorption rates compared to our competitor's boxes.
Additionally, our signature Museum Grade Preservation Kits come with easy-to-follow instructions, an easy-access box, and cotton gloves to allow for the removal and repacking of the garment at any time.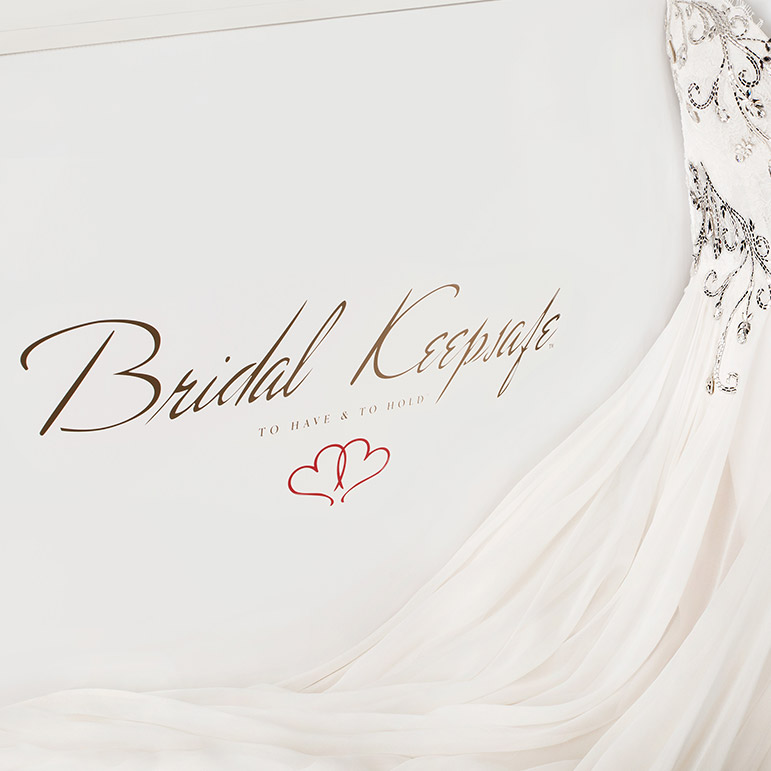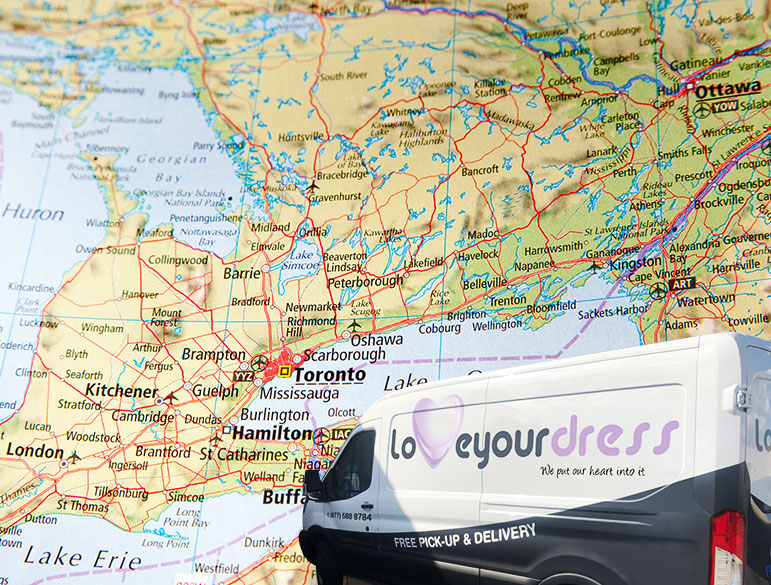 Pick Up and Delivery Service
For your convenience we offer regular weekly dress cleaning and alterations pick up and delivery services throughout Ottawa.
We come to your location in Ottawa & pickup your dress
We perform our magic and deliver to you within 14 days
EASY & CONVENIENTS THE DRESS CARE YOU DESERVE
Other Wedding Dress Care Services We Offer: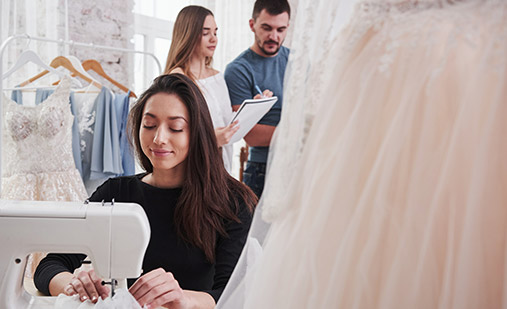 Dress Repair Services
From repairing rips and tears to addressing any form of dress damage, our professional tailors are experienced to handle all types of dress repairs. Regardless of the extent of the damage, we ensure to handle your gown delicately and provide our utmost attention.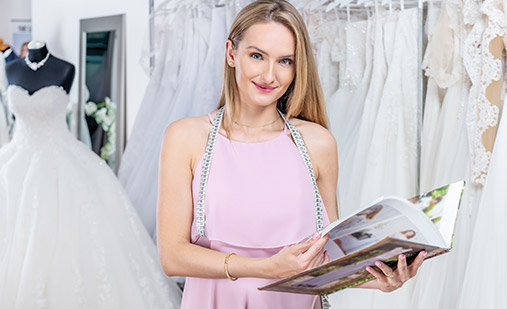 Corporate Dress Services
Apart from our expertise in bridal dress services, we also accommodate bulk orders at affordable prices. Our capable team is experienced in executing large projects involving restoration, preservation, alteration, repair, and cleaning.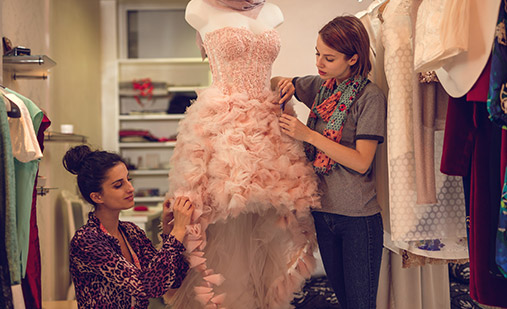 Bridesmaid Dress Alterations
With their extensive background in working on bridesmaids dresses, our team of skilled tailors has the experience and proficiency to handle various types of bridesmaid dress alterations, ensuring a perfect fit each time.

Leaders in Dress Cleaning, Preservation, & Alterations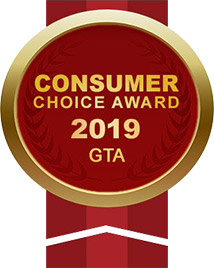 Consumer Choice Award
Winner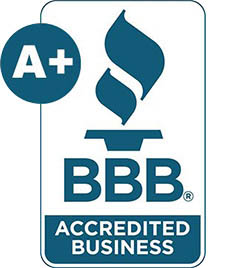 BBB Accredited
Business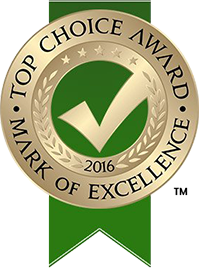 Top Choice Award
Mark of Excellence
Why Wedding Dress Dry Cleaning is Important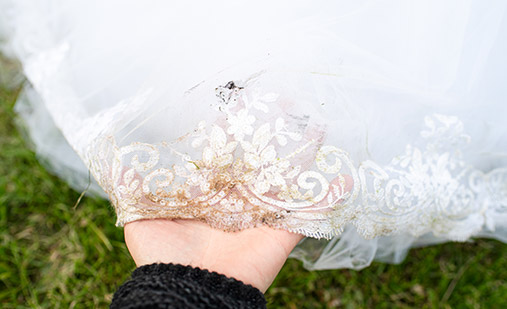 Effectively Eliminate Stains
Bridal gown dry cleaning experts can spot even the smallest stains on your wedding dress.
Following your big day, getting bridal gown dry cleaning services is best to eliminate all the stains left on your dress and keep it in the best condition.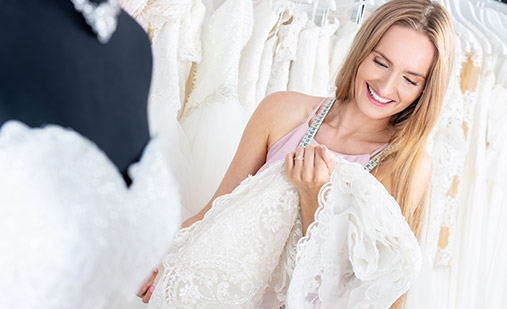 Prevent Discolouration
Discolouration is one of the top concerns of most brides. It's because white, ivory, and cream bridal dresses are at risk of yellowing when exposed to sunlight and other environmental factors.
Our professional wedding dress dry cleaning services use eco-friendly and non-toxic solutions to gently clean your bridal gown while protecting it from discolouration.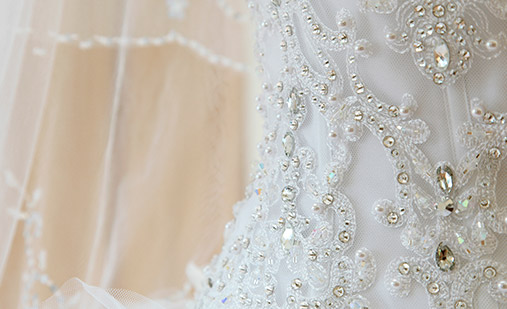 Expert Care for Delicate Fabric
Wedding dress fabric tends to be incredibly delicate; improper handling and regular cleaning methods may alter the quality of your dress.
Our bridal dress cleaning experts at Love Your Dress know the best methods and procedures to properly dry clean your bridal gown without damaging the fabric.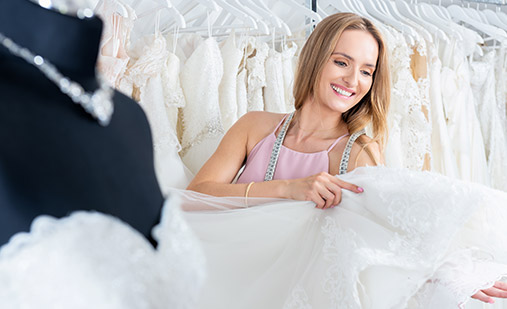 Stop Fibre from Stretching
Wedding dresses should not be stored in the same way as regular clothes. Leaving your bridal dress hanging in your wardrobe can cause the fibres to gradually stretch, tarnishing the quality.
Our bridal gown dry cleaning experts know how to handle your delicate bridal dress properly. Following the cleaning process, we will press and store it properly in our premium preservation kit.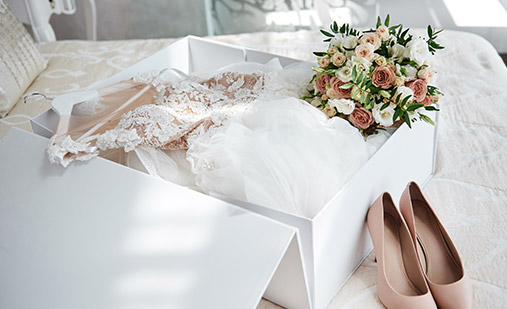 Prepares it for Preservation
Before getting bridal preservation services, it's important to ensure your dress is thoroughly cleaned and free from stains, dirt, and oil to avoid long-term damage and maintain its appearance and integrity.
Get an Online Quote for Our Dress Care Services
We provide expert wedding dress cleaning, preservation, and alteration services throughout Ottawa. Get a convenient online quote now for any of our dress care services.
Our Step-by-Step Wedding Dress Cleaning Process
Inspection
We will thoroughly inspect your gown, check for stains, and see if it needs any repairs.
Identification
We will then determine the fibre content in your gown to identify the best cleaning methods and solutions.
Removal/Security of Hardware
We will then carefully remove and secure all the important beading, hardware, and details from your gown to prevent damage.
Pre-Spotting
We will then proceed with the pre-spotting process, which involves thoroughly removing stubborn stains from your wedding gown.
Cleaning
We will then determine whether to use wet or dry cleaning methods on your bridal gown, depending on your fabric and fibre properties.
Pressing or Steaming
Following the cleaning process, we will use an acid-free storage container during the treatment process to maintain the original colour of your dress.
Preservation
Once we're finished with the cleaning and preservation process, we will then steam your dress to eliminate wrinkles and achieve a seamless and smooth appearance.
WEDDING Dress Cleaning and Restoration Reviews
Read Our Genuine
Customer Reviews


Jo-anne Cancelli
9 months ago
A true 5 star outfit. I would use your service again. And certainly refer your company to others. Thank you.


Ennio Doris
8 months ago
Many thanks for your great service. Can't believe how beautiful my dress is now that it is clean will certainly use your services in future. Happy new year.


Grant Adam
7 months ago
For sure when the time comes ill be using your service again. Dress came out like new, we were very happy with the end result.


Mandy Sala
6 months ago
Fantastic quality of service, excellent cleaning of my dress, incredibly convenient, extremely friendly and capable staff from customer service to the driver.
We Specialize in Wedding Dress Cleaning for the following brands:
Sottero – Midgley
Maggie Sottero
Stewart Parvin
Ines Di Santo
Pnina Tornai
David Tutera
Vera Wang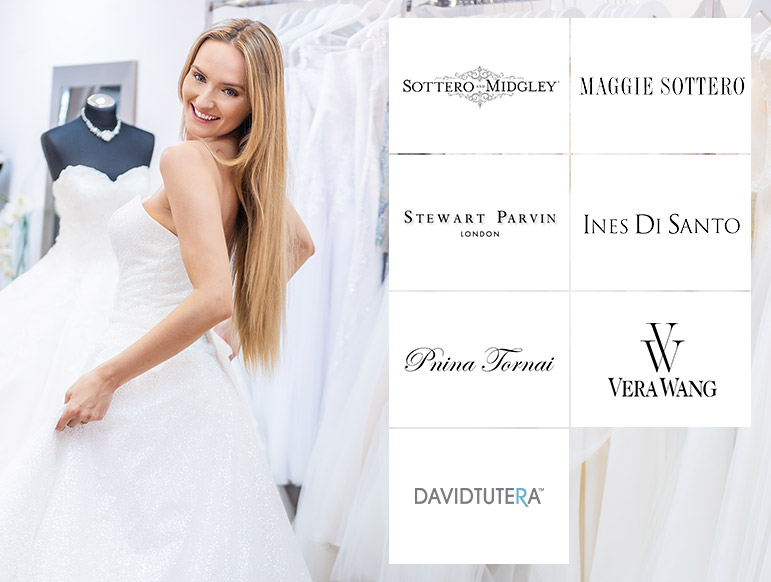 Major Cities Served
Oakville Dress Cleaning & Repair
Burlington Dress Cleaning & Repair
Milton Dress Cleaning & Repair
Georgetown Dress Cleaning & Repair
Brampton Dress Cleaning & Repair
Ajax Dress Cleaning & Repair
Cambridge Dress Cleaning & Repair
Guelph Dress Cleaning & Repair
Courtice Dress Cleaning & Repair
Lindsay Dress Cleaning & Repair
Milton Dress Cleaning & Repair
Kitchener Dress Cleaning & Repair
North York Dress Cleaning & Repair
Orangeville Dress Cleaning & Repair
Oshawa Dress Cleaning & Repair
Peterborough Dress Cleaning & Repair
Pickering Dress Cleaning & Repair
Thornhill Dress Cleaning & Repair
Stoney Creek Dress Cleaning & Repair
Waterloo Dress Cleaning & Repair
Whitby Dress Cleaning & Repair
and surrounding areas Dress Cleaning & Repair
Ottawa's Industry-Leading Wedding Dress Cleaners
Contact us to speak with one of our wedding dress cleaning experts and receive an instant quote for your requirements.
We are here to answer any questions you may have.