Premium Wedding Gown Alteration & Cleaning in Etobicoke
At Love Your Dress, we provide quality wedding dress cleaning, preservation, & alteration services for all types of dresses at competitive rates in Etobicoke.

Premium Wedding Dress Services
Your wedding day should be special and stress-free, which is why we ensure to provide top-notch wedding dress cleaning & alteration services.
Our experienced tailors are trained to utilize the best techniques and industry-grade equipment to provide quality dress alterations.

Free Pickup & Delivery
We understand how busy brides can be with their wedding preparations, which is why we offer convenient pickup and delivery services.
We will pick up your dress from your home or office and have them altered, cleaned, restored, and delivered within 14 days.

100% Satisfaction Guarantee
We provide quality wedding dress alterations, repair, and cleaning services. Experience the difference with our quality results.
We are committed to providing complete customer satisfaction. If you are unhappy with the results, we will go above and beyond to make it right at no cost!
Our Etobicoke Google Reviews
Read our genuine Google reviews about our dress cleaning and restoration services in Etobicoke and find out the quality of work that you can expect from Love Your Dress.
Jill McElwain
We were assured our daughter's wedding gown would receive detailed inspection for any necessary repairs as well as heirloom preservation.
carson pick
I had brought in my wedding dress that I bought used that had yellowed flowers and the colour just looked off. Once Luncinda was done with it it looked completely brand new. All the yellowing had been removed and it looked brand new. I would highly recommend their services. Also extremely friendly, realistic and communicative 🙂
Chelsea Moriarty
Very professional and easy to deal with. I used them to clean and preserve my wedding dress, they box it nicely to store safely. It takes some time to get your dress back but they are upfront about that and the final product is worth it... I love the box it came in - has a little window on the top to view your gown. Happy overall 🙂
Our Wedding Dress Care Services in Etobicoke
At Love Your Dress, we aim to provide premier dress alteration services to help make you feel comfortable and beautiful on your special day. We provide the following dress cleaning & alteration services.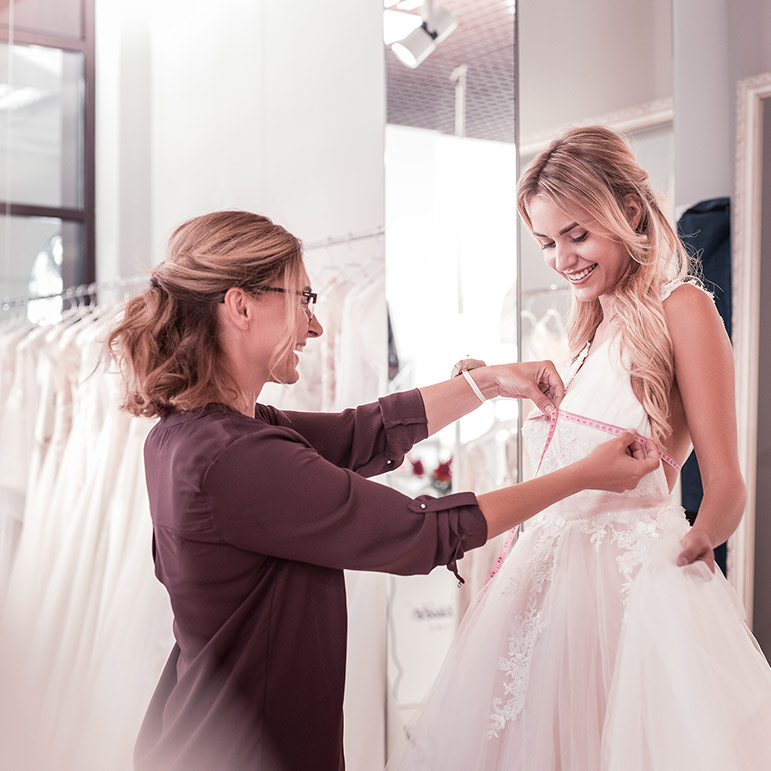 Professional Wedding Dress Alterations Etobicoke
Love Your Dress is the largest wedding gown alteration shop in Etobicoke. Our staff only consists of the most talented and experienced dress alteration tailors in Etobicoke.
Our experienced tailors have made thousands of brides-to-be happy for over three decades. You can rely on our skilled staff to exceed your expectations every time and ensure that your wedding dress feels comfortable and looks beautiful on your wedding day.
Whether your wedding dress needs hemming, seam removal, sleeve adjustments, or other alterations, our expert tailors will modify your special dress according to your specifications.
For accurate measurements, come to our dress alterations facility for your fitting. This is strictly by appointment only.
We require up to 24 hours notice to service your alteration requests properly. Call us to schedule your fitting appointment.
Professional Wedding Dress Cleaning Etobicoke
Love Your Dress has over 30 years of experience providing industry-standard wedding gown cleaning services in Etobicoke.
Our decades of experience have enabled us to develop the most effective and efficient wedding gown cleaning methods and techniques.
Additionally, our wedding gown cleaning services use eco-friendly measures to ensure that your gown is not exposed to harsh chemicals and alter its quality. 
With our advanced wedding gown cleaning techniques, we can eliminate even the harshest stains from your wedding dress. We can remove wine stains, ketchup, mustard, lipstick, grease, oil, wax, ink, coffee, ground dirt, tar, footprints, vomit, blood, and just about any other wedding dress stains you can think of.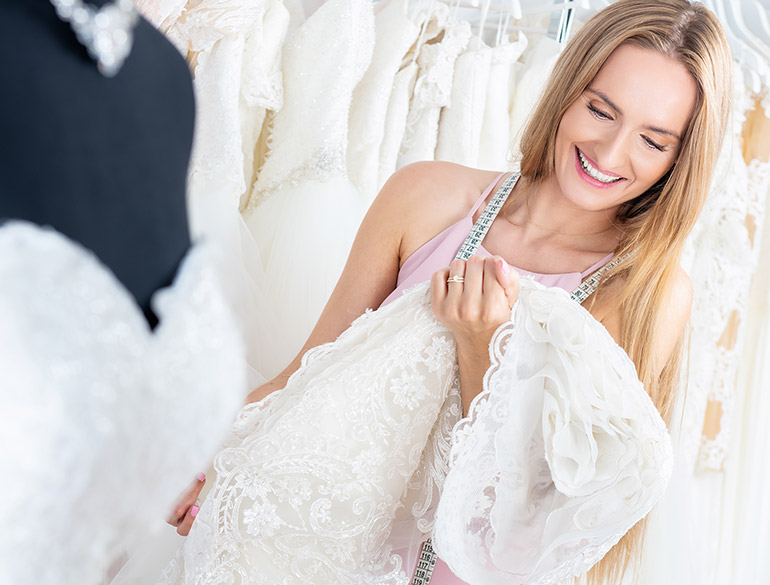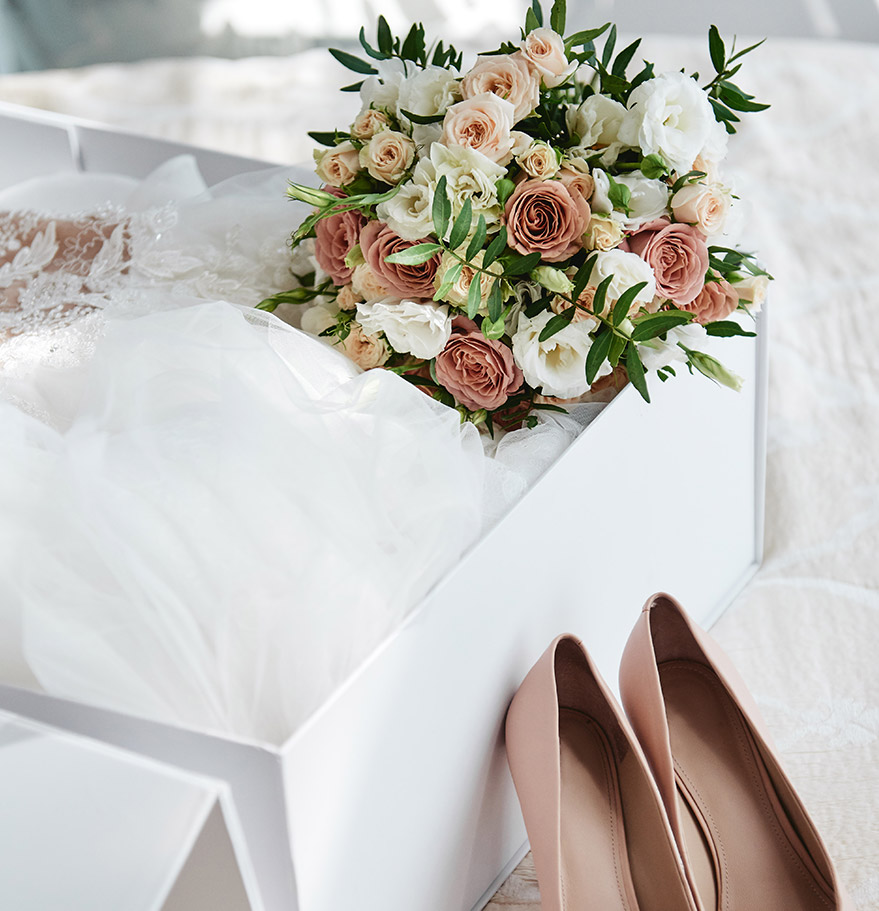 Wedding Dress Preservation Etobicoke
For some brides, their wedding gown symbolizes the joy and love they felt on their special day. This is why most brides opt to get their wedding dresses preserved.
At Love Your Dress, our bridal preservation experts understand the value a wedding dress holds for each bride. We ensure that each wedding dress is carefully packaged in a beautiful preservation kit, illustrated in the image to the left.
Whether it is your special wedding gown or a dress ideal for christenings, our wedding gown preservation services are perfect for all keepsakes.
Wedding Dress Box Etobicoke
A high-quality wedding dress box is vital in the wedding dress preservation process to ensure that the wedding dress preservation process is effective.
At Love, Your Dress, our preservation wedding dress storage box can effectively secure and protect your dress from outside factors.
Love Your Dress stands out from other companies by offering preservation boxes with an incredibly low absorption rate of 0.02% over 24 hours, preventing re-acidification, unlike competitors' cardboard boxes with a 75% absorption rate.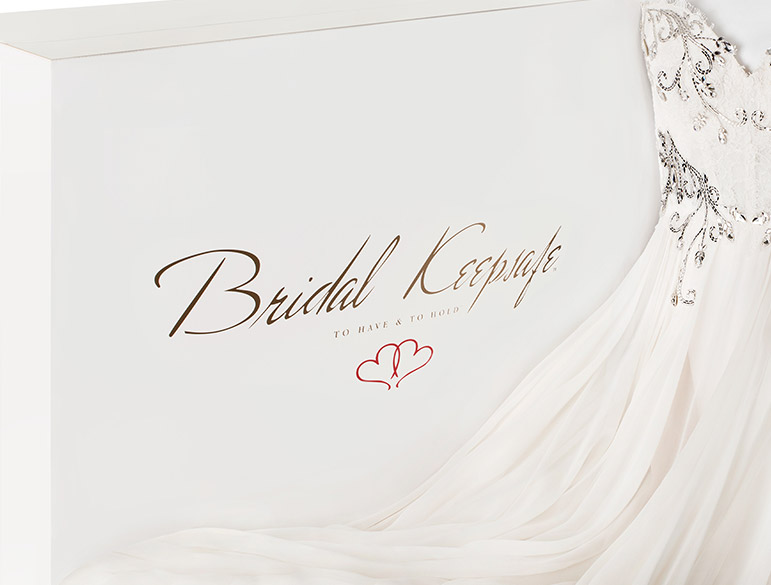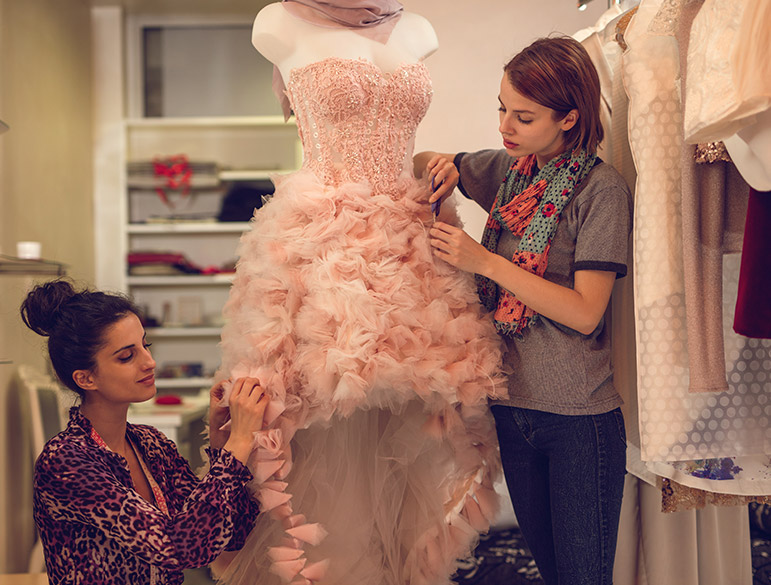 Bridesmaid Dress Alterations Etobicoke
Not all bridesmaid dresses are custom-made, and it's difficult to find a dress that fits your measurements exactly. A bridesmaid dress alteration is vital to ensure a perfect fit.
Love Your Dress provides affordable bridesmaid dress alterations in Etobicoke. We work with different types of dresses and use our industry-grade materials to ensure high-quality results. 
We also provide convenient virtual measurements; give us your exact measurements online or via call. We will pick up your dress from your location and deliver it back for free.
Commercial Wedding Gown Services Etobicoke
Love Your Dress is Canada's most prominent gown alterations expert since the '90s.
We accept large orders of damaged or incorrectly manufactured gowns and dresses, and our staff is trained to handle extensive preservation, alteration, repair, and cleaning projects.
Partner with us now and receive world-class commercial wedding gown and dress alteration services.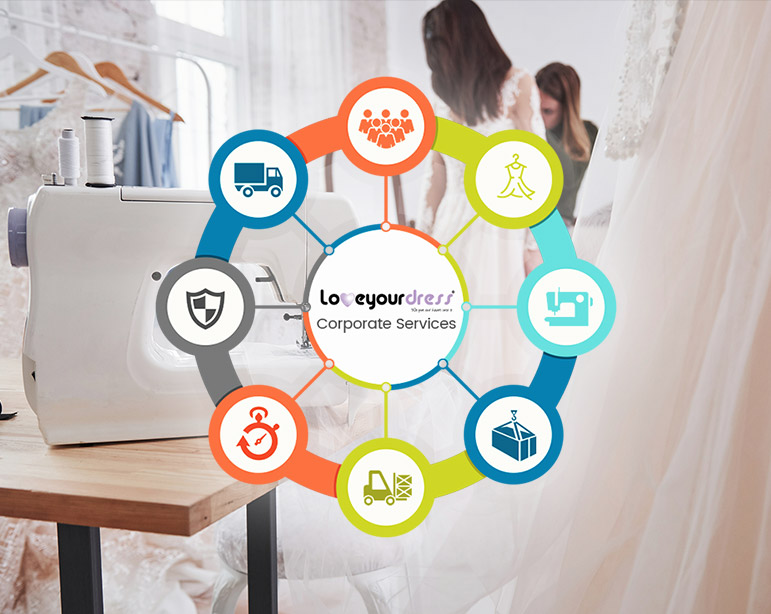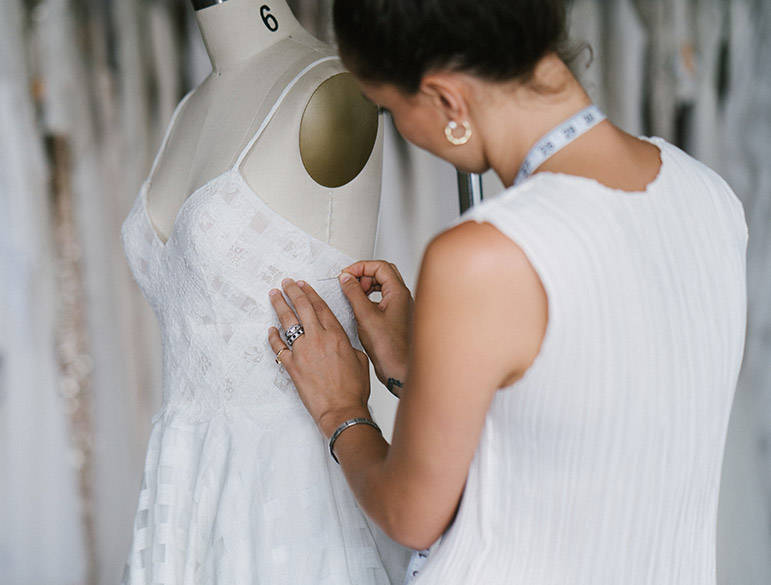 Wedding Dress Repair Etobicoke
Love Your Dress has provided bridal dress repair, alterations, and cleaning services in Etobicoke for over three decades. Our team of highly experienced tailors can repair and revitalize all types of damaged dresses and restore them to their original state or even better! 
We can repair tears, broken zippers, and discolorations, none of which have been a job we couldn't handle.
More Reviews from Our Customers


Jo-anne Cancelli
9 months ago
A true 5 star outfit. I would use your service again. And certainly refer your company to others. Thank you.


Ennio Doris
8 months ago
Many thanks for your great service. Can't believe how beautiful my dress is now that it is clean will certainly use your services in future. Happy new year.


Grant Adam
7 months ago
For sure when the time comes ill be using your service again. Dress came out like new, we were very happy with the end result.


Mandy Sala
6 months ago
Fantastic quality of service, excellent cleaning of my dress, incredibly convenient, extremely friendly and capable staff from customer service to the driver.
Types of Wedding Dress Alterations We Offer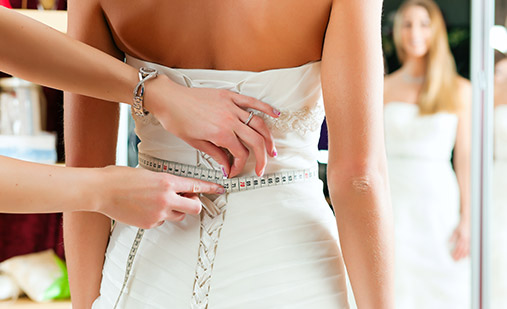 Hemming
Ensuring your wedding dress is the right length is vital for your comfort and confidence. It can be difficult to walk the aisle if your dress is too long. We provide hemming services, and we'll adjust the length of your dress to your ideal length.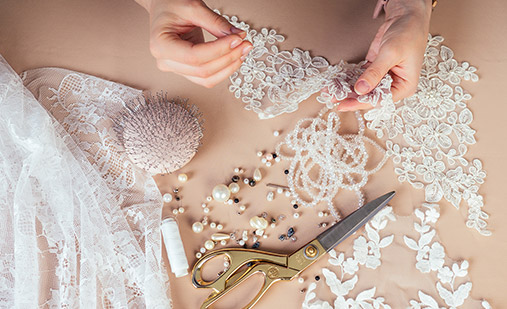 Seam Removal
Removing seams is necessary for your wedding dress to fit properly and reduce discomfort. This is usually done around the bust, waist, and hips to improve the gown's silhouette. Our tailors will expertly remove and rework your gown's seams to your unique measurements.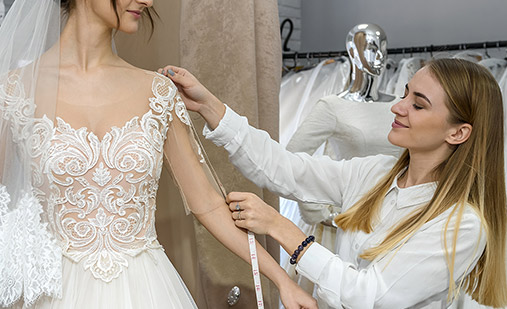 Sleeve Adjustments
Sleeve adjustments are a common wedding dress alteration service that brides get. Whether you want longer or shorter sleeves, our tailors can skillfully add, remove, and adjust the gown's sleeves according to your preference.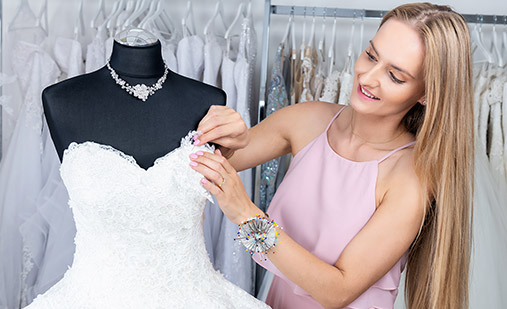 Panel Adjustment
Panel replacement is the process of replacing or adding fabric to adjust the size and improve the fit of the gown. This process requires great expertise and our skillful tailors can replace your dress's panels and match them to your preferences.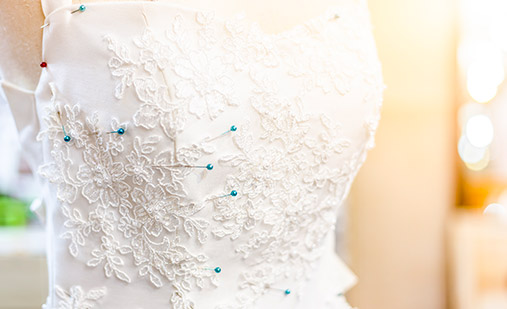 Dress Remodelling
Dress remodelling involves making significant alterations to an existing wedding dress. Our wedding dress remodelling services enable brides to make a unique wedding dress from existing wedding dresses while retaining its sentimental value.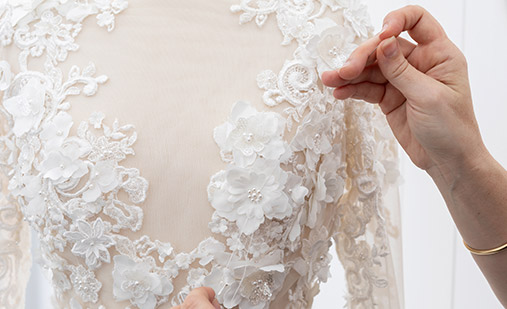 Embellishment Changes
The right embellishments can elevate your wedding gown and make it look more elegant. We offer a wide range of options, and our expert tailors are trained to know which embellishments go best with different types of gowns.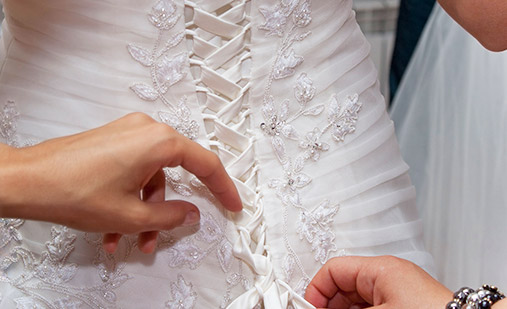 Dress Re-lining
The lining of your wedding dress serves as a barrier between your skin and the fabric of your gown. Our expert tailors can repair torn linings by carefully removing the old ones and replacing them with new fabric. We will ensure it fits properly and blends with your gown.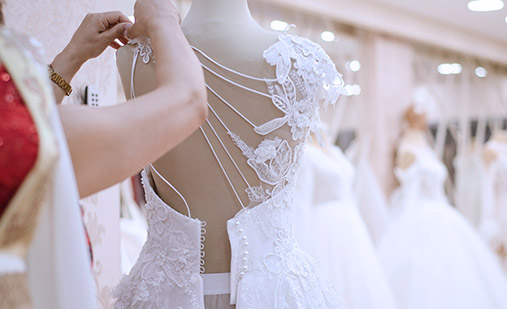 Neckline & Back Alteration
Whether you want a classic high neck with a low back or a graceful v-neck with an elegant illusion back, our expert tailors can seamlessly transform your dress. We specialize in neck and back alterations and customize them according to your preferences.
The Importance of Professional Bridal Dress Alterations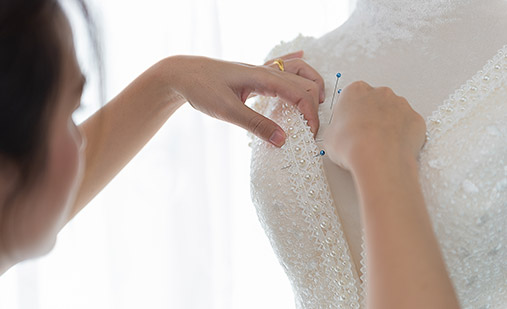 Improved Fit
The primary purpose of bridal dress alterations is to ensure that the wedding gown perfectly fits the bride's body shape and proportions.
The gown can be adjusted to highlight the bride's best features and improve her comfort through alterations.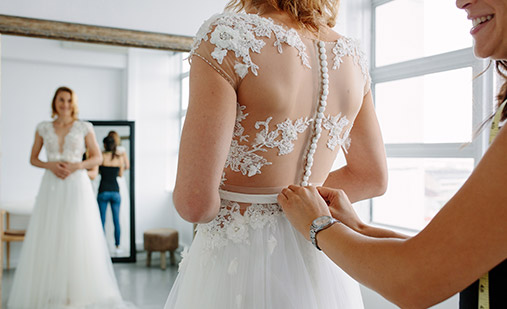 Personalized Style
Wedding dresses are often seen as a reflection of the bride's personality. Wedding dress alterations allow brides to personalize their wedding dress and materialize their vision and style.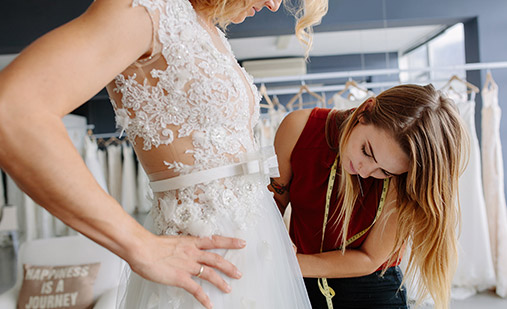 Enhanced Comfort
Weddings can last several hours a day, and wearing an ill-fitting gown can be uncomfortable. Aside from the aesthetic benefits of bridal gown alterations, it can also help significantly improve the bride's comfort throughout the wedding.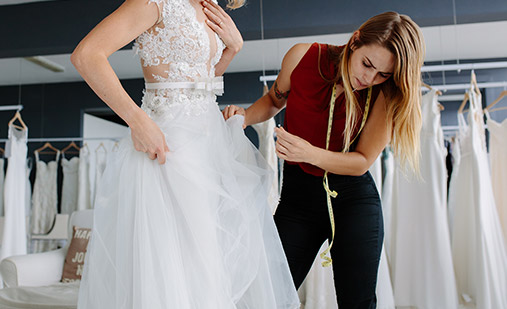 Addresses Any Body Changes
It's a normal phenomenon that a person's body changes multiple times in a span of a few months. This is no exception for brides, which is why we accommodate these changes with our professional wedding dress alteration services. We ensure your gown fits perfectly regardless of the fluctuations in your measurements.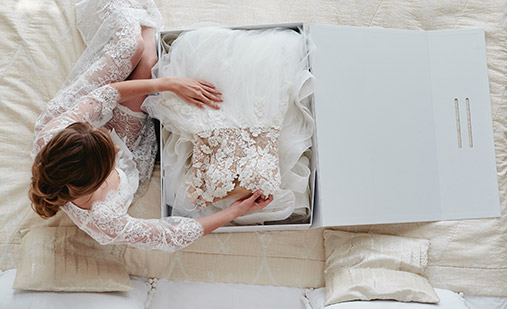 Preparation For Preservation
Most brides often preserve their wedding dresses following the wedding. Professional wedding dress alterations can also help keep the dress in ideal condition for long-term preservation, improving its durability and longevity.
Major Cities Served
Oakville Dress Cleaning & Repair
Burlington Dress Cleaning & Repair
Milton Dress Cleaning & Repair
Georgetown Dress Cleaning & Repair
Brampton Dress Cleaning & Repair
Ajax Dress Cleaning & Repair
Cambridge Dress Cleaning & Repair
Guelph Dress Cleaning & Repair
Courtice Dress Cleaning & Repair
Lindsay Dress Cleaning & Repair
Milton Dress Cleaning & Repair
Kitchener Dress Cleaning & Repair
North York Dress Cleaning & Repair
Orangeville Dress Cleaning & Repair
Oshawa Dress Cleaning & Repair
Peterborough Dress Cleaning & Repair
Pickering Dress Cleaning & Repair
Thornhill Dress Cleaning & Repair
Stoney Creek Dress Cleaning & Repair
Waterloo Dress Cleaning & Repair
Whitby Dress Cleaning & Repair
and surrounding areas Dress Cleaning & Repair
Industry-Leading Wedding Dress Alterations in Etobicoke
Contact us to speak with one of our wedding dress alterations and cleaning experts and receive an instant quote for your requirements. We are here to answer any questions you may have.