Ah, winter weddings! There's nothing quite like them – from the glistening lights, to the comfort foods, to the picture-perfect snow – what's not to love? They're basically a fairy tale come to life.
There is, however, one looming question that all winter wedding brides are faced with – what on earth do I wear? With so many dresses designed for destination weddings in warm climates, it's a legitimate concern. Worry not my friend; you've come to the right place. Here's your ultimate guide on what to wear to a winter wedding!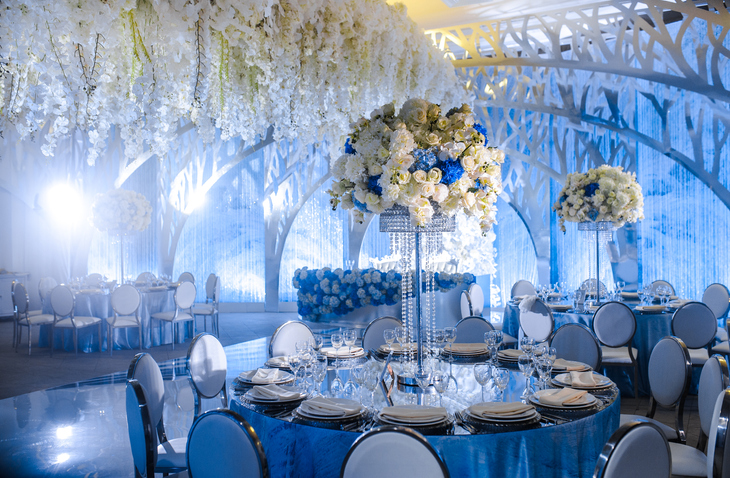 1.The Ball Gown
There's definitely a strong fairy tale aspect to winter weddings, which makes the ball gown an excellent dress option! Not only does this dress fulfill all your princess needs, but it's the perfect choice if you're worried about staying warm in that crisp winter air. After all, no one will be able to tell if you have a layer of tights on under that gloriously full skirt.
2.The Long-Sleeved Dress
Wedding dresses with sleeves are a great choice for winter weddings for obvious reasons – you're much more likely to stay warm if your arms are covered up. These dresses are also timeless and suitable for modest brides. If you want a Kate Middleton moment at your winter wedding, this is the way to go!
3.The Sparkly Dress
Going for a sparkly dress on your big day will complement the glistening lights that are so often associated with winter weddings. You'll dazzle your guests with all the crystal beading and the center of attention will undoubtedly be you!
4.The Dress with Lace Details
A classy and elegant lace wedding dress is perfect for winter themed weddings. The intricacy of the lace detailing on these dresses is also somewhat reminiscent of a beautiful snowflake. You simply can't go wrong with a lacy look.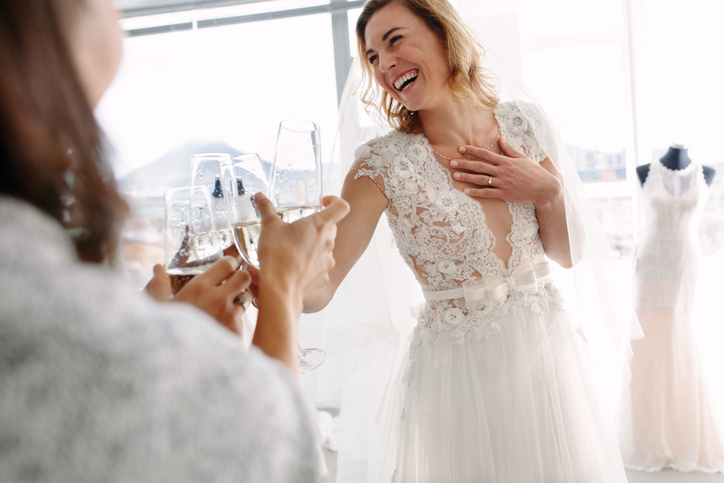 5.The Colourful Dress
One of the best parts of a winter wedding is that you're not limited to wearing a plain white dress. In fact, a winter wedding is the perfect occasion to change it up and wear an off-tone dress. Wearing a subtle blush tone or champagne coloured wedding dress will fit in perfectly against the wintery, white backdrop.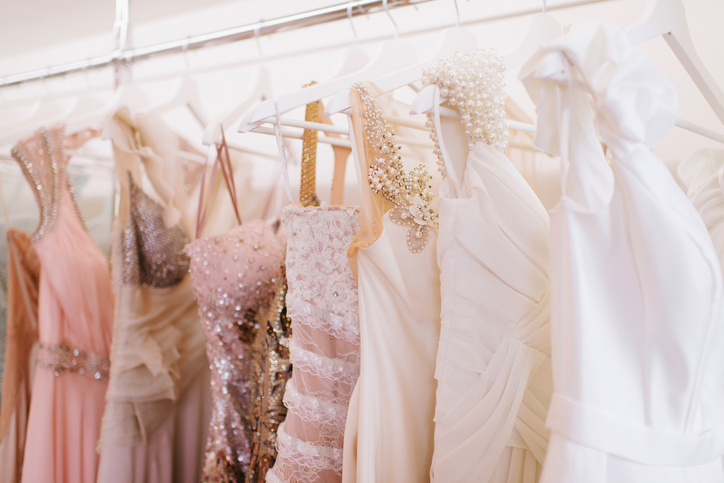 6.The Layered Tulle Dress
A dress with plenty of tulle will fit right in at a winter wedding. This soft, fine silk can make your dress look almost snow-like and you'll practically be floating down the aisle when wearing this number. It'll surely be an unforgettable moment (and dress)!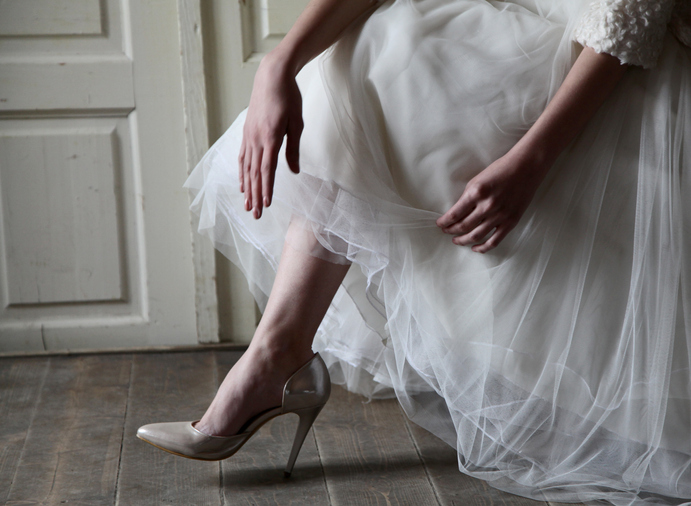 7.The Pocketed Dress
A dress with built-in pockets is an ingenious and fashionable piece to wear to a winter wedding. Pockets are great to have in cold climates because they'll keep your hands toasty warm. They can also help to create some unique wedding photo poses.
8.The Rising Neckline
A sophisticated rising lace neckline adds to the regal look of any winter wedding dress and gives you little extra coverage from the cold. Rising necklines also come in many shapes and forms – collared, v neck, sweetheart – just take your pick! Your décolleté will look fabulous and so will you!
9.The Tiara
Who said the princess look was limited to just your dress? A tiara is the perfect accessory to complement your winter wedding dress. This is also one of the few occasions where it's totally acceptable to wear a tiara so just embrace it!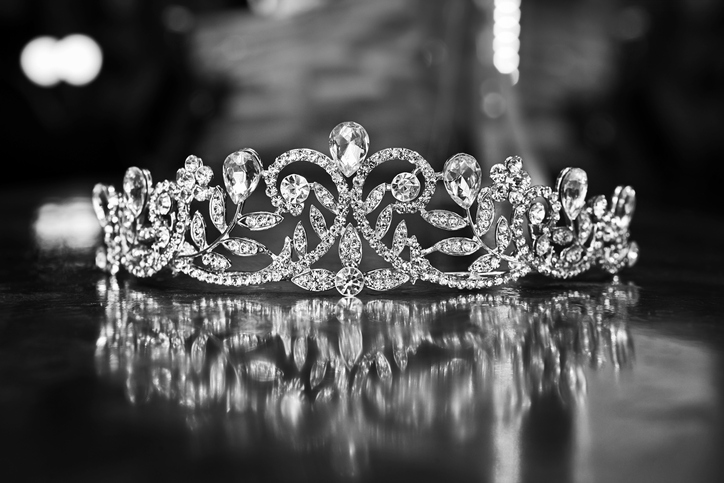 10.The Faux Fur Wrap
For the quintessential winter look at your wedding, throw on a faux fur wrap over your dress! This inexpensive accessory adds that extra bit of oomph to your outfit, plus it'll keep you warm. Ordering a couple extra faux fur wraps for your bridesmaids will make for some awesome winter wonderland photos!
11.The Wedding Cape
A wedding cape is another great way to keep warm and add to the winter wedding vibe. This majestic accessory is perfectly suited to all those outdoor, snowy photos you'll be taking. Wedding capes will also make you feel like a Frozen princess!
There you have it, all the fabulous dresses and accessories you can wear to your winter wonderland wedding. And if your dress needs a good wash after the wedding night, as many dresses do, contact Love Your Dress for all your cleaning and repairing needs. Since 1986, we've had a 10,000 square foot cleaning facility located in West Toronto of wedding dress cleaning & dress alteration, repairs and re-modelling experience! Let loose and enjoy your big day!