Wedding season is upon us and many couples are living the thrill of planning their wedding. One of the most important things in every wedding is, of course, the wedding style, which will signify a series of other choices, from the décor and types of flowers to be used at the bridal reception to the style of the wedding dress. If you find yourself still struggling with finding the perfect wedding dress, we have put together a straightforward list of style dos (and some don'ts) to hopefully help you make a decision easier and finally wear the dress that will best reflect your personal style, on one of the most beautiful and important days of your life.
The 8 Style Dos of the Happy Bride!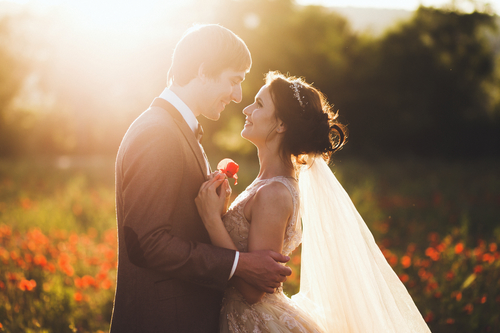 1. Tie your look to your wedding location
Harmony, as well as balance, is key, as always. So, if you are dreaming of a traditional ceremony followed by a formal wedding reception, it is best to look for a classic wedding dress style, such as an A-line, which is also timeless. You may also consider wearing a ball gown with a lovely square neckline. For more casual and somewhat laid-back-style weddings (say, you are getting married in the sand of an exotic island), you can play with non-traditional wedding attire, such as a tea-length dress. In this case, many brides choose to go barefoot. However, if you do not fancy that idea much, a pair of nice festive shoes will be just fine. As for weddings that are neither too traditional nor too casual (i.e. an afternoon garden ceremony), a strapless bridal gown is an excellent option, as long as it is made of a light material, like silk, which will make you look like a romantic fairy!
2. Consider fun footwear
There is nothing more desirable than being yourself on your wedding day. From the style of your wedding dress to your hairdo and footwear, everything has to scream YOU. It is absolutely necessary to feel comfortable in your own skin and not be taken away by wedding formalities if you are more of a cowgirl-style lady. So, if you think that you will feel your best self in a pair of boots, then go for it. Getting married in the heart of summer? Why not consider sporting a nice pair of flip-flops under your dress? Or, if you are having your wedding at a winter site next to the slopes, how about a fun pair of furry white snow boots?
3. Explore your options
Not all brides-to-be like the traditional white A-line wedding dress. In this case, there are plenty of options to choose from. From gorgeous pinks and more bold colour considerations to styles that defy tradition; it's all there! Just consult your officiant first to ensure that what you have in mind is an acceptable attire and then look for the wedding dress style and colour that pleases you.
Now, if your heart is set on a sexy dress but you have concerns about whether it is appropriate for your ceremony site, you can go with a more demure look and wear a nice, chic coverup during the ceremony, which, of course, you are free to get rid of at the reception! Bottom line, your wedding style should not get in the way of your dream of the perfect wedding gown. It is your special day, and you deserve to look and feel absolutely staggering and happy!
4. Choose the right white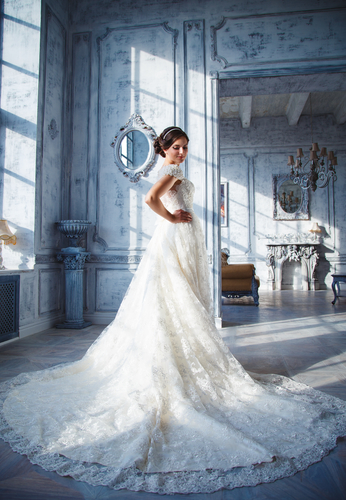 Regardless of the wedding dress style you pick, it is crucial to choose the right shade of white. The whole point is to use your gown to highlight your skin tone. Luckily, there are lots of different whites available at the moment to make sure you look your best that special day!
5. Choose your accessories carefully
Another way to let your personality shine is through your accessories. If you have selected a traditional wedding dress, you can easily give it a fun twist with a simple pearl necklace and earring, which will allow you to keep your style more polished and poised, or alternatively try large, colourful, flashy earrings to give your look a more playful vibe.
However, don't let your accessories overpower your ensemble. If you have chosen a gown with lots of details (i.e. sequins), then going minimal is probably the best way to look stylish and elegant. So, opt for simple pieces. In most cases, just your engagement ring is all you need.
6. Try many different types of wedding dress
You may think that an A-style is the perfect style for your body type. However, don't reject a gown before you try it on, unless it is completely off your style. Instead, take it off the hanger and see how it fits. When it comes to shape, try to keep an open mind. You might be pleasantly surprised!
7. Select the right underwear
Picking undergarments for your wedding day should not be taken lightly. The wrong type of product can break your appearance. So, choose pieces that flatter your skin tone (the closer they match it, the better) and do consider body-shaping products to enhance your figure, regardless of the style of your wedding dress.
8. Be as casual as your guests
If you dream of a formal wedding with all the formalities that go along with it, then do make sure you don't dress more casual than the people attending the ceremony! It is important to follow suit. So, for a black-tie, formal affair, a floor-length dress is more than appropriate, whether accessorised with charming jewelry or decorated with intricate beading.
Dos for the Wedding Guests
Like every year, from April and onwards your calendar gets quickly filled with events that require your most dazzling presence. Since dressing for a wedding can be quite challenging, here are a few pointers to consider to help guide you through the wedding season!
1. Stay away from white options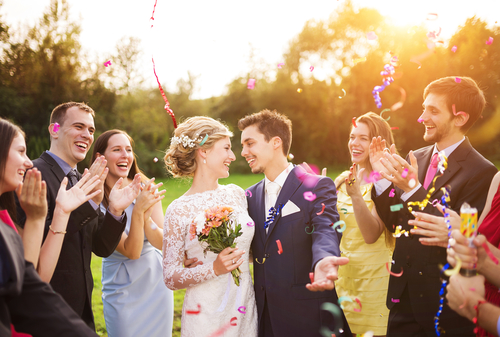 Wearing white at a wedding, as a guest, is a huge no. Although this might sound like a rule that would not need repeating, there are many women that fail to follow the wedding etiquette and prefer to sport a white, cream or beige gown. Since it is the bride's most special day, it is best to let her stand out from the rest of the crowd. Some brides feel offended by some other woman wearing white at their own wedding. So, avoid bright white and any variation of eggshell. And, to be on the safe side, it is also more appropriate to stay away from subtle prints with a white background, especially if you do not know what the bride is wearing.
2. Be elegant
There is a time and place for every type of outfit. Weddings, for example, are family celebrations. So, showing up with something overly revealing will drop your shares. If you would not wear that particular sexy dress in front of your mother or grandmother, then why should you do that in front of your friend's relatives? After all, there are ways to look sexy without exposing too much skin. You just need to know the ropes! The same goes to overly fashion-forward, sultry or edgy ensembles. There are other occasions more appropriate for them.
Tip: Romantic looks is always a safe bet. Go for ruffles, floral prints, which are a huge trend right now, crepe, and lace.
3. Make sure you are comfortable
How many times have you been to a wedding and saw women pulling up their strapless dresses every 5 minutes? It is incredibly uncomfortable and distracts you from the ceremony itself. Plus, it prevents you from enjoying the moment. Anything too uncomfortable or too tight (to the point you will need to skip a meal just to be able to breathe in it) is definitely out of the question.

4. Mind your shoes
Undeniably, you want to look put together and chic. However, you also need to be able to enjoy the night, which involves lots of dancing with the couple. Whatever shoes you choose to pair with your outfit, just make sure they deliver both comfort and style. The best dancing shoes are chic ballet flats, dressy sandals, wedges, and heels (not too high, though). Now, if you can't picture yourself with your sky-high heels, then do sport them at the ceremony and slip into a more comfortable pair later in the night.
5. Go with the couple's dress code
Some couples list a preferred dress code on their invitation. In this case, take note of the dress code and choose your outfit according to it. If there is no dress code listed on the invitation, then refer to the venue of the wedding. How dressy will it be? For instance, ballroom weddings request for a formal attire, beach weddings tend to be dressy casual, while others are cocktail attire.
Now, your turn! How did you find your perfect wedding dress? Was it too difficult? Do you have any more tips to share to brides-to-be about how to nail wedding dress style? Do share in the comments below. We are all ears!