They are irreplaceable in cool weather, and while some fashion designers let their creativity take the reigns, providing us with something fantastic and unique, others adhere to timeless classics and clean lines. Sweater dresses are becoming a huge trend this year and sport asymmetry, smooth texture, and lots of different materials (with most of them made from fine yarn) and colors. They are comfortable, versatile, make an excellent pair with shorts, leggings, and pencil skirts, as well as leather, chiffon and long-flared skirts, and can be worn in so many different situations during the day so what's not to love about them?
But, how can you wear them so that you always have a fashionable appearance? Well, sweater dresses look great with necklaces of large stones. Now, if you prefer a more casual, sporty style, jumpers will work just fine for you! However, although a sweater dress is ideal for wearing during the autumn and winter months, styling it can be more challenging that you might have imagined. You see, sweater dresses are an excellent option for casual appearances, but you can also style them up if you know how to wear them and allow them to become from day-to-night piece easily!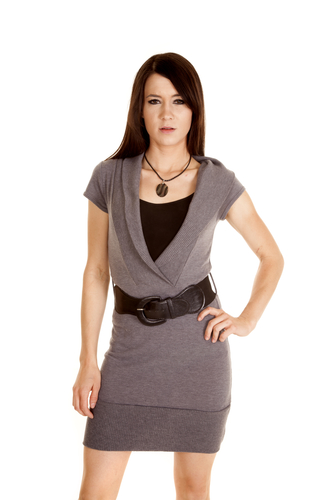 1. Belted
Cinching in the somewhat shapeless sweater dress at the waist with a fancy belt is perhaps the best way to define your silhouette and give style to the garment. Feel free to use wider belts if your sweater dress is thicker. Complete the look with loose-fitting styles.
For dressier occasions, prefer a fitted sweater dress from finer knit fabric. In this case, it might be a good idea to consider wearing some contouring shapewear underneath as fitted dresses are quite body-hugging!
2. Layered
Underneath a structured coat with a cozy scarf and thick tights (patterned or colored) is an excellent option to wear a sweater dress. Or you could pop a collared shirt on underneath the dress and a pair of knee-high socks over the tights.
As for the spring months, you can pair your lightweight wool sweater dress with leggings or get a little flirty by throwing on an extra layering piece, such as a light jacket and booties to pull off the uber-feminine vibe that strikes us when the weather gets warm!
3. With Boots or Booties
Speaking of booties, try thick-heeled, leather ankle boots that are all the rage this season and allow for a more stylish appearance. However, for an edgier take on this style, opt for boots that could be knee-high of shorter!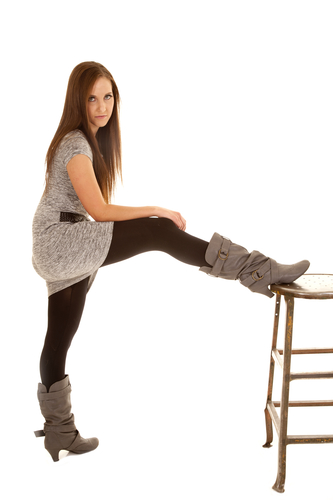 4. Accessorized
Anything from long statement necklaces, and high-shine cuffs, to drop earrings, bulky bracelets, and chic watches help glam up the dress and update your look in a heartbeat! In general, high-shine metallic accessories help add more style.
5. Shoulders Off!
Ideal for desk to dinner, below the knee hem off-the-shoulder sweater dress, accentuates your shoulders, especially if you match the dress with a pair of sparkly, statement-making drop earrings, stiletto heels, and a patent clutch. Prefer fitted designs for a chic evening appearance and throw your hair in a top knot to finish off the look.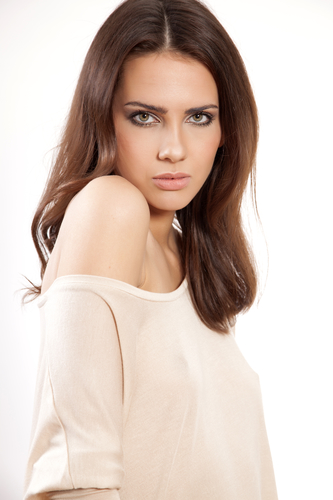 Tip: How you team your sweater dress is important. The key is to play with contrasting textures. For example, your wool sweater dress and a sleek leather jacket make a great team!
Now you  know, play with different styles and accessories and get ready to turn heads! Enjoy!