Becoming a bride is an exciting moment, but the process of planning a wedding can be quite overwhelming, especially when it comes to buying a dress.
These days, there are all kinds of places you can purchase a dress, and when finally set aside some time for your search there's seemingly infinite number of choices in terms of styles, colours, and fabrics.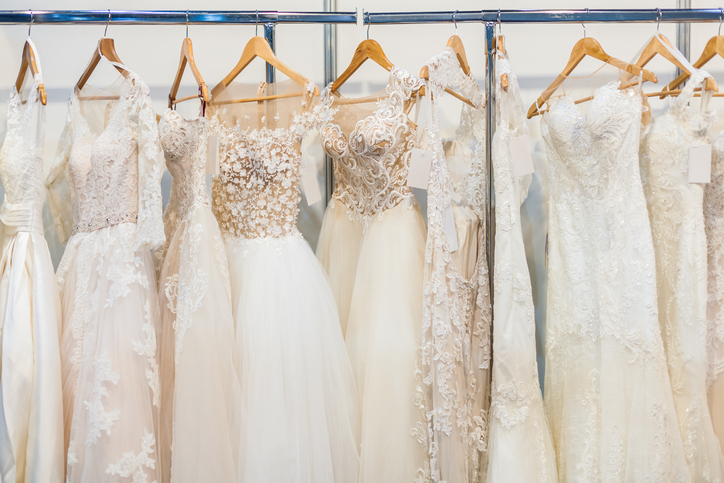 To help you with your search, below we've rounded up some of our favourite current styles of wedding dresses. These silhouettes are some of the most popular on the market, but by picking one of these, you still don't need to worry about looking like every other bride. These styles are simply the base, and come in all kinds of colours and fabrics, with lots of different types of embellishment and decoration that will make your dress as unique as you are.
We hope you can take some inspiration from the styles below as you start to narrow down your search for the perfect wedding dress.
Sheath Dress
Arguably the simplest style of dress on our list, don't be fooled by a sheath wedding gown's lack of fussiness. Defined by its sleek, tailored style, a sheath dress is easily one of the most elegant and classic-looking styles of wedding dress on the market.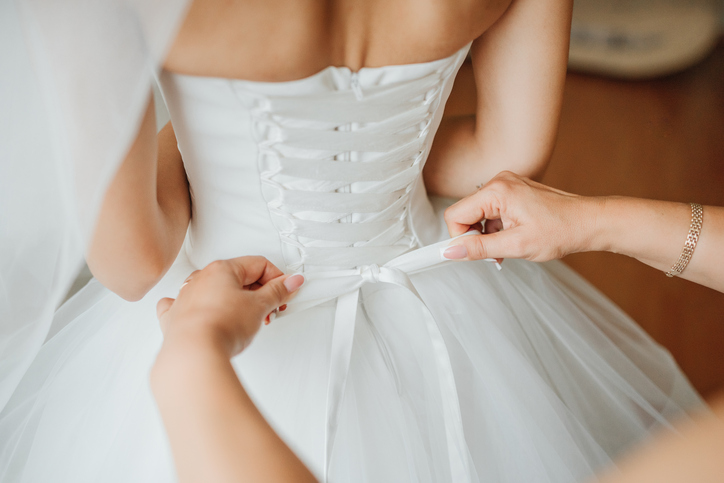 A sheath dress is generally characterized as a column of fabric that flows from top to bottom, without a defined waistline. This doesn't mean it's not tailored (the opposite, in fact), but that it doesn't have a defined line for the waist, as in other dress silhouettes. Sheath dresses often flow out into a small train at the bottom and are a particularly great look for an evening wedding, or if sophistication is a key feature of the type of dress you're looking for. The best part of sheath dresses is that they look great on all kinds of body types. Lean and tall brides will find that a sheath shows off their great limbs, while fuller-bodied brides will naturally fill out the sheath shape and accentuate their hourglass curves.
Mermaid Dress
One of the most recognizable styles of wedding gowns in recent years has been the mermaid dress silhouette. This style is defined by what's happening at the knees of the dress, where the fabric has been cut to nip in and stay relatively tight to the thighs and then flare out again over the lower half of your legs. Depending on your preferences, a mermaid dress can reach its thinnest point on your legs at or below your knees, before going back into an A-line shape.
The mermaid silhouette can be both dramatic and simple. More subtle approaches to the style are often in the tailoring itself, where the fabric is cut to thin the silhouette at the knees before flaring out into a train. For a bigger impact, some designers have taken to adding extra layers of fabric and even tulle below the knees, to really emphasize the hourglass shape of the bottom section of the dress. Depending on how big of a statement you'd like to make, if you find the mermaid silhouette attractive there's likely a dress out there to match your tastes.
Trumpet Silhouette
If you're unfamiliar with wedding dress styles, at first glance it can seem as though a trumpet dress is just a mermaid dress – but there is a subtle difference that sets the two apart. While a mermaid gown stays tight to the thighs and then flares out at or below the knees, a trumpet dress only stays tight to the body until the mid-thigh point, and then flares out from there. The same variations in drama are also available in the trumpet style of dress, as the fabric can simply flow out into a train, or be joined by extra layers for added visual impact.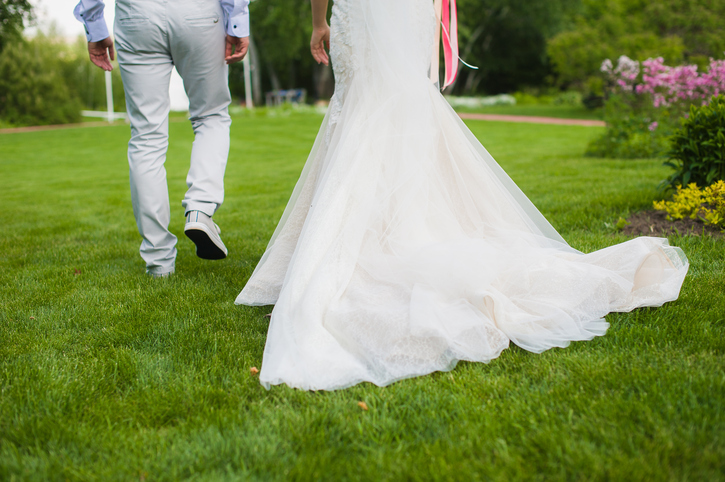 Brides may prefer a trumpet over a mermaid style gown if they love to dance and plan on doing so at their wedding, while wearing the same dress that they wore during the ceremony – trumpet dresses generally offer more mobility and are easier to walk in that a mermaid dress.
Ball Gown
A ball gown wedding dress silhouette is what many young girls dream of wearing on their wedding day. It's become synonymous with the idea of a "fairy tale" wedding ceremony, as it's the silhouette that most readily evokes the image of a Disney princess.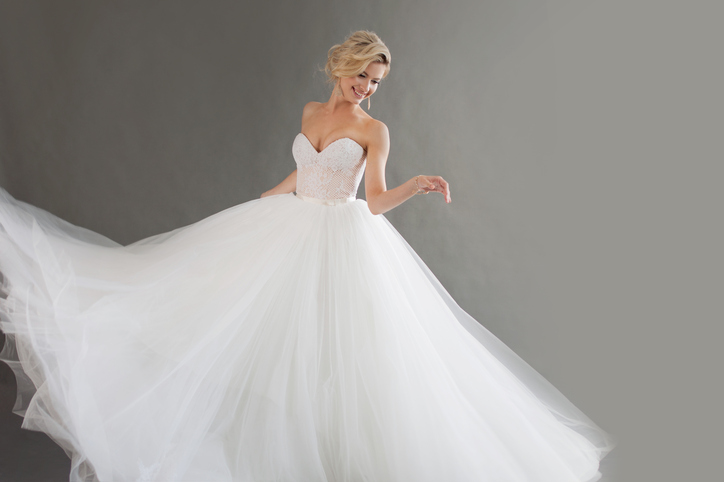 A ball gown dress generally has a short corset or bodice as its top portion, and gets thinner at what's called the "natural" waistline, which is the point at which your torso is its thinnest (generally just below your rib cage, although every woman is different). From the waist, the gown billows out into a dramatic skirt, often with several layers of tulle floating beneath the fabric on top in order to fill it out and create a cupcake-like silhouette on the bottom portion of the gown. Depending on how large the bride is looking to have her skirt, dressmakers can usually add or remove tulle below the primary layer of fabric on top, in order to achieve the bride's desired look. From there, some brides choose to go all out by adding a train to their ball gown dress (often one that can be pinned under the skirt for the reception, which makes dancing easier), and the possibilities are endless in terms of what can be added for decoration, from lace to beading and beyond.
Get In Touch
Remember that after your big day, you'll want to get your dress cleaned in order to keep it for posterity. Love Your Dress is a professional cleaning service that handles the most delicate fabrics and designs for wedding dresses, and restores them to pristine condition. Contact Love Your Dress for more information and to restore your gown to its original beauty after your wedding day.