After spending so much time searching for your dream wedding gown, and a small fortune to acquire it, it makes sense that you want to provide the best care to preserve the most expensive item of clothing you have ever had, right? After all, giving your gown a happily-ever-after, too, is more than fair!
So, now that the wedding is over, what are your options and how can you make sure your wedding gown's shape, fabric, and colour are well-maintained, be it for sentimental reasons and as a glorious reminder of an extremely happy day in your life or because it's destined to be passed on to your own daughter some day? Well, a good solution is to choose a trusted dress cleaning facility that offers dress preservation services (here, here!) and let them handle your valuable asset. They will send you a kit so you can securely ship your wedding dress.
For instance, our dress preservation and storage experts are very sought-after professionals not only for their elegant, Museum Grade preservation kits used by world-renowned heritage institutions, such as Smithsonian Institute and the Metropolitan Museum but also the extremely low absorption rate of these kits (.02%/24 hours), as opposed to cardboard boxes whose absorption rate is close to 75%! They will carefully package your wedding dress and also monogram the kit if you wish with dates and names, making the entire experience even more personal. Plus, you can be sure your wedding dress preservation kit is toxin- and adhesive-free, and prevents both bugs/ mice from causing damage and chemical reactions that could lead your bridal gown to a road of no return, with irreversible damage done to it.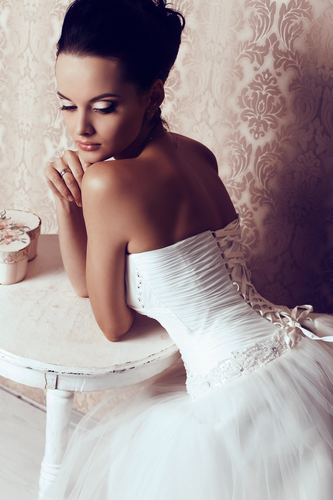 When to Send your Wedding Dress to be Cleaned and Preserved?
It's important to treat stains, even the most unnoticeable ones, as soon as possible. This is because they ones that contain sugar will turn brown over time while others will set in for good and will be much more difficult to remove (see red wine and mud).
Based on our experience, the best time to send your wedding dress to the preservationist is until after the honeymoon. Many brides that have decided to have their wedding gown cleaned years after the wedding, unfortunately, required restoration services instead.
What to Expect from a Wedding Dress Preservationist?
An expert preservationist will make sure the dress is protected against harmful adhesives, which will allow the gown to look fab for many years to come. To be able to get there, they must know where to focus on when they receive your gown. For example, any embellishments, the various materials, and different types of stains will have to be taken seriously as they will determine which cleaning process is best for the particular gown. And, after the dress is cleaned, it's carefully wrapped in tissue paper (acid-free) and then placed in an archival box similar to the ones used by museums when they want to preserve their most valuable exhibits.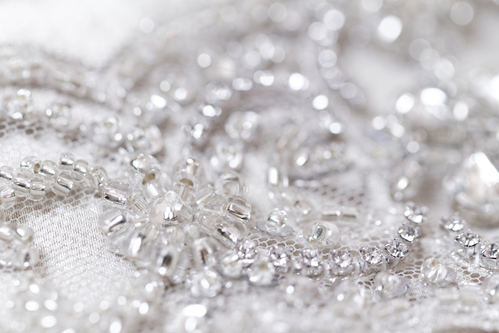 A reliable preservationist should have a noted track record. To determine that, ask as many questions as you wish until you feel 100% sure you are talking to a specialist. Attention to detail and an extensive knowledge of the construction and fabrics used to make bridal gowns are undeniably strong pluses. The type of cleaning method used is also critical. Do they hand-clean the wedding dressed? Pre-treat stains? Do they ship the gowns outside their premises to clean and package or do the work on location? Do they ask their clients to sign a disclaimer or release that says the preservationist is not responsible for any damage done to the wedding dress during the cleaning phase? Do they offer a warranty? Is it void if you open the preservation box? These are some of the questions that will help you find someone that can provide your gown with the best care possible.
You can check reviews to get a first impression.
How is a Wedding Dress Cleaned?
It depends. Some specialists use wet cleaning, which means they gently hand-wash the garment with mild cleaners and treat stains, both noticeable and unseen. Why treat unnoticeable stains, too? Because, over time, they may turn yellow due to oxidation.
Other professionals use the traditional dry-cleaning process. In short, they pre-treat the stains (usually with petroleum-based cleansers or perc) and then use a dry-cleaning machine to clean the dress, using a gentle solvent and after protecting delicate decorations with muslin. Alternatively, they may remove them (the decorations) and re-sew them onto the wedding gown after the cleaning process.
How is a Wedding Gown Packaged?
The materials chosen to preserve a wedding dress play a vital role in prolonging the life of the garment. Needless to say, everything has to be clean, and all materials (from the paper to the box) should not contain any acidic components. Once the gown is cleaned, the preservationist will carefully wrap the dress in muslin or paper and place it in a box, designed to allow the dress to breathe and provide the ideal environment so it remains in mint condition for long. Depending on the type of box used, it may have a window so you can see the garment, without opening the box. In this case, it's best the window is from acetate or a plastic with noteworthy durability.
Tip: After the gown is packaged, make sure it stays away from direct sunlight as it will cause the fabric to yellow over time.
How to Handle a Packaged Wedding Dress?
With utmost care and white, clean, cotton gloves! That is, if you decide to open the box. However, some companies prefer to seal the box to protect the gown from vermin and insects. In this case, better leave the box as it sits! And, if you do open the box, at least wash your hands before touching the garment. Nobody says that it's forbidden to open your wedding dress. It's just that exposing the gown to the environment outside its box raises the risk of causing damage to it.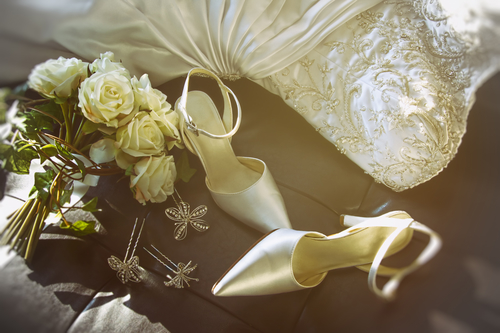 Now, if you also want your shoes and other items to be included in the box, talk to the preservationist about that. They will know how to store them properly.
How to Preserve your Wedding Dress at Home?
Don't expect to achieve the same results as with a professional preservationist but if your budget is tight at the moment, there are some things you can do at home and somewhat protect your gown from future damage. Tyvek bags are good solutions to consider. However, you should know that they will offer protection for a limited time. Also, it's important the dress is not hung for months and months.
A wedding chest is another great idea and provides more protection than the bags. Just make sure you don't use ordinary paper as it will scorch the dress. Better look for acid-free paper to use instead. Also, stay away from coloured tissue paper as well because if the box gets wet for some reason, your wedding dress will get an ugly, difficult-to-remove stain. Prefer pre-washed muslin (unbleached) to wrap the gown with, before you put in the preservation box and away from direct sunlight.
Finally, treat all stains.
What NOT to do
It's paramount that you DON'T:
Wrap the garment in plastic. You may be trapping moisture and creating the perfect environment for mildew and mold to develop.

Hang the gown on a wire or wooden hanger. A wedding dress is too heavy for ordinary hangers to support. In the end, you will stretch the weave of the fabric. Instead, use padded hangers or even plastic ones.

Try to remove a stain yourself. Wedding dresses are made from delicate fabrics that need extra care. Cleaning a stain at home may set it in the fabric.

Keep the gown in a humid (above 50% humidity), sunlit environment after you have received the packaged garment from the preservationist. Cool, dry, and dark environments, such as under your bed, are ideal. So, damp basement and hot attics are out of the question!
Final Tips:
1. In regards preserving your wedding dress, you simply get what you pay for. So, don't trust just anybody offering a bargain price to handle your designer wedding gown to. The heavier the decoration and ornamentation of the dress, the pricier the preservation services. Also, how soiled the dress is, as well as its fabric, determines the preservation price. That said, you can expect large cost variations in large metropolitan areas, so do your detective work before you trust a company.
2. A few weeks before the wedding, check the preservationist that will be cleaning and preserving your wedding dress so that, if it gets stained or even worse badly damaged prior the wedding, you or a family member (or friend) can rush it to the cleaners for you.