So, you have lived one of the most beautiful days in a couple's life and are now joint with the bonds of marriage with your significant other. Congrats! We wish your life as husband and wife is filled with eternal love, mutual respect, hunger to evolve and help one another become the best version of themselves, lots of happiness, and courage to fight the battles life will send your way as one.
Now that the dust has settled and you have enjoyed every bit of that amazing wedding ceremony and honeymoon, time to see what to do with your wedding dress, right? Like almost every other happy bride on this planet, you want to hold on to that stunning gown that's filled with loving memories and a promise for long-lasting love. Maybe, you want to keep it not only as a reminder of your most special day, but in order to pass it on to your daughter one day! Either way, the key is to make sure you take proper care of your bridal gown. Here is the first or a 2-part article we have put together to share all details about cleaning and preserving your wedding dress.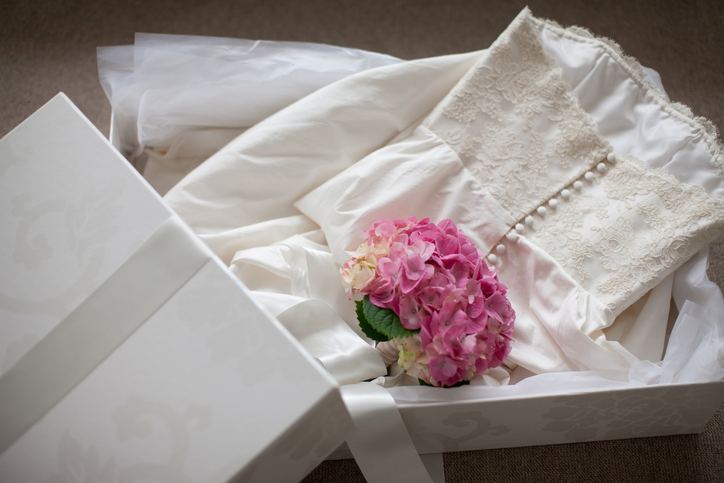 Step #1: Have it Cleaned – Secrets Revealed
Local Dry-Cleaner or Wholesale Dry-Cleaners?
Perhaps the most difficult question to ask yourself at this point is Who to Trust with something so precious to you. Your local dry-cleaner or a company that specialises in cleaning and preserving wedding dresses?
To be able to answer that, consider the dry-cleaner around the corner. Do they clean and preserve bridal gowns in their facilities or do they simply ship wedding dresses to wholesale dry-cleaners to get the job done? The problem with wholesale wedding dress cleaning is that, in most cases, it is done in huge machines along with some 20 or 30 other gowns. As you can imagine, you definitely run the risk of having your wedding dress contaminated by other gowns' dirt. Plus, in such facilities, little attention is paid to spotting or pre-treating, which is a significant step towards having a perfectly clean gown.
Finally, let us not forget that going forward with such an option means that you will need to settle with having your dress returned sealed in a small box, which does not allow you to know whether the dress was cleaned at all. The best way out of this mess is to know for sure whether your local cleaner sends bridal gowns out or does the work themselves. It is also important to know which solvent is used either by them or the wholesale dry-cleaner, depending on the case.
 
Ways to Clean Wedding Dresses
1. With Virgin Solvent
If your local dry-cleaner uses virgin solvent to clean wedding dresses, you are in great luck. This is because solvents need to be recycled due to ecological regulations. However, impurities are NOT removed from used solvent, which means that they might as well find their way on your garment and stain it. You can distinguish a wedding gown that has been cleaned in dirty solvent by the odour it will have after it's been cleaned (it will have that dry-clean smell).
Dry-cleaners that respect themselves and their clients will use virgin solvent (distilled or brand new solvent) on all dry-cleaned garments, including wedding dresses. In this case, expect no noticeable smell when it is handed over to you.
2. Wet-Cleaning
This is nothing but cleaning with water and is considered the best cleaning option for dirty hems, the majority of food stains, and sugar spills. Besides that, know that water washing removes the sizing of the fabric, which, in turns, helps protect the dress. The sizing is a substance that looks pretty much like starch. It is added to the fabric during its manufacturing and is particularly alluring to insects and mice. That aside, wet-cleaning (if done correctly) will also help preserve the dress and keep it in mint condition for as long as possible.
3. Dry-Cleaning
The most commonly-used, dry-cleaning solvent is perchloroethylene, which is great for degreasing rayon, silk or acetate wedding dresses (needs extra attention not to damage beads and sequins); yet, it is being strictly regulated the last few years mainly due to its environments impact. In some areas, the use of this solvent is not even allowed by law, which is why we now see the emergence of a variety of new solvents.
Some older dry-cleaners use harder-to-find, petroleum-based Stoddard solvent, which is a much safer option to clean bridal gowns with beads and sequins, compared to perchloroethylene. However, take note that it bears strict fire regulations so pay attention to the location of the facility.
Although less effective at degreasing, Hydro-carbon (aka Exxon DF-2000) is safer for sequins and beads than the other two mentioned above. It is among the newly formulated solvents and is a petroleum-based product with the least fire restrictions of all. Many dry-cleaners opt for this formula, and it is believed it will become the most preferred solvent in the future.
Finally, there is Greenearth solvent, which is a silicon-based formula that shares the same features as Hydro-carbon solvent. It is also the more loosely-regulated solvent; hence, safer for both the garment and the environment.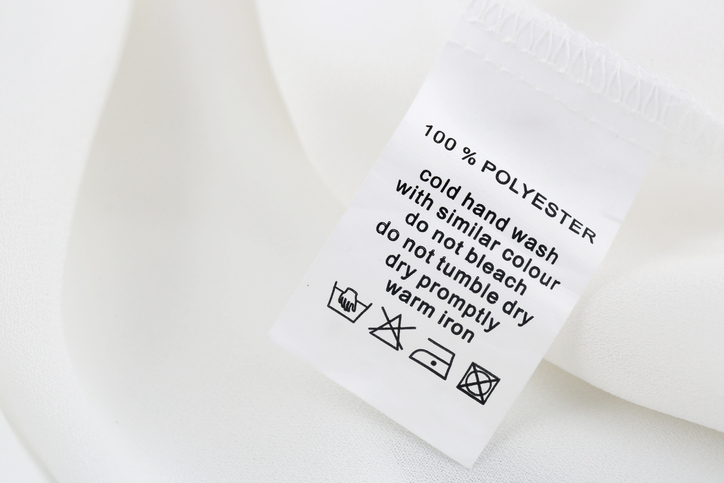 Notes:
Read the label on your wedding dress to find out details about the suggested type of cleaning. If it should be cleaned only with petroleum-based solvents, then make sure the dry-cleaner you choose uses one of the three first solvents we mentioned above.

It is up to the professional cleaner which method they choose to clean a bridal gown, depending on its trim, fabric and other aspects they look at; each case is different.

If your wedding dress is silk, then you definitely need to find an experienced dry-cleaner as it requires special handling and care. Silk is undeniably one of the most difficult fabrics to clean and press and needs skilled professionals to make sure it won't get damaged.

You may ask bridal shops for recommendations as they send bridal gowns out to dry-cleaners quite regularly and know who to trust.
11 Questions to Ask Yourself & the Dry-Cleaner
What is your wedding dress made of (fabric)?

What type of cleaning does the care label on the dress suggest?

If it should be dry-cleaned, do you also see the water-washing symbol on the care label?

How dirty is your gown? What type of stains does it have (i.e. makeup, wine, etc.).

Does it have any beads or sequins that call for extra attention during cleaning?

Are they glued or sewn (petroleum-based solvents might melt the glue).

Does the dry-cleaner clean the dress on their premises?

Which method do they use? Dry-cleaning or Wet-cleaning?

What kind of solvents do they use (for dry-cleaning only)?

Do they use virgin solvent for bridal gowns?

Are they experienced in cleaning and pressing wedding gowns? How much experience do they have?
 
All in All…
If your wedding dress is rayon, silk or acetate (this also includes the lining) WITHOUT sequins or beads, then an expert dry-cleaner that uses perchloroethylene is probably the best option. You will see impressive results if it is particularly dirty. Now, if the same dress has sequins and beads, then go for a facility that utilises Hydro-carbon, Stoddard or Greenearth formula.
Make sure you let the dry-cleaner know of any stains and spills that do not show, especially sugar stains (i.e. soda or wine) that need to be pre-treated first.
For polyester wedding dresses (and lining), wet-cleaning is the safest cleaning option. It doesn't matter if the garment has beads or not. Just check the care label to see if it needs to be dry-cleaned, hand-washed or water-washed. If you are in doubt, choose an inconspicuous area of the gown and test clean it. Most polyester bridal dresses can be safely hand-washed, with proper handling and care. However, to make sure you are on the safe side, better take it to an experienced dry-cleaner you trust and have them make the final decision.
After you have your wedding dress back to its former glory and all clean and bright, it is time to look for wedding dress preservation services to keep it in the best possible condition and protect it from mildew, mold, yellowing, light, permanent creasing, dust, and oxidation spots. Stick around for Part 2 coming up soon! Until then, you can check out our post How to Find the Wedding Dress of your Dreams and a couple more Wedding Dress Cleaning & maintenance Tips you Need to Know!
Enjoy!