Marriage and the white wedding dress traditionally go hand-in-hand. Every bride-to-be and happily married wife knows that there are 2 essential things you must look for when shopping for the dream bridal gown: a design that compliments the silhouette and enhances the figure, and a colour that not only matches your complexion but lifts it too. And, while most of us have a pretty good idea of the shape of our body (hence, which type of wedding dress flatters us the most), very little attention is usually being paid on the tone of our skin. Given that white is not just white and that there are many different shades of white to choose from, it is important to choose the best shade of white that fits our skin tone, because, according to experts, colour is the first thing people notice on a bride, be it makeup, jewellery, hair or clothing!
Why is Colour so

I

mportant?
Balance is the key. The right colours will make your complexion look clearer, your eyes brighter, and your teeth whiter! Your cheeks and lips will have a beautiful vibrancy while the overall appearance will have a lovely, healthy look, full of life; exuding happiness and glow. In any other case, you will look tired, washed out, and even sick.
Want to go the easy way? Select a brighter white if your skin tone is dark and vice versa. In general, the lighter the skin tone, the darker the white you can wear well.
Now, if you really want to reach perfection, here are some tips to help you determine your skin tone so you can have a tiny bit more knowledge under your belt!
Cool or Warm Skin Tone?
It is not as difficult as it may sound. Look at yourself in the mirror and take note of your hair and eye colour. Usually, people with a cool skin tone have black, brown or blonde hair with ash, violet, blue or silver undertones, as well as green, grey or blue eyes. Conversely, women with hazel, amber or brown eyes and black, brown, red or strawberry blonde hair with yellow, orange, red or gold undertones are warm-toned.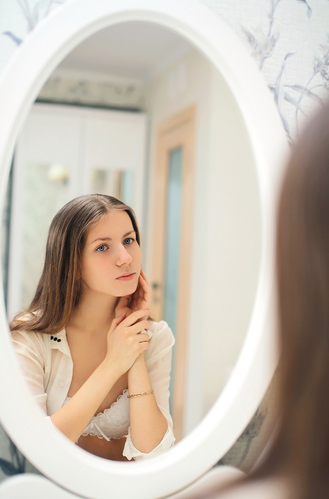 A quick trick to realise whether you are cool- or warm-toned is to notice if you look better in cream or white. If cream makes you look livelier, you are a warm tone but if white makes your face light up, you are a cool tone.
Another fail-safe method to identify your skin tone is to hold a piece of white paper next to your face and then look at yourself in a mirror. How does it look in comparison to the white paper? Red, gold or yellow? You are probably warm-toned. Bluish or pink? You are most likely a cool-toned.
Important Note: When wearing a wedding dress, always wear it in natural light because every designer's interpretation of colour can vary significantly. If you need help with picking the right colour for you or have doubt about which colour best compliments your skin, do ask the designer's expert opinion.
Is There Only One "Pure" White?
If you ask this question to a man, he will decidedly say "Definitely!". But, ladies, we all know that there is no such thing as a single one white or black. When it comes to the white of a wedding dress, it can be anything from white with blue tints to white with yellow undertones; all of which are still called whites. The white you get from each bridal designer also varies as every professional uses their own specific fabrics. This means that what they label as white could as well be ivory or cream. So, always make sure you check their whites before you order a bridal gown from them.
The same happens with ivories and creams; there are just so many shades called ivory or cream, and include countless tints ranging from buttery cream to off-white. Feel overwhelmed already? Worry not. Below, we give you the most popular shades of white to start untangling the knots!
Most Common Shades of White
1. Stark White
It is the purest, crispest, brightest white you can ever get and looks gorgeous against dark skin. Its snow-white shade is achieved with polyester, taffetas, and satin blends. It is not recommended for women with fair skin because it will wash them out.
2. Natural White
It is a shade off stark white and is the whitest you can get (for natural fibers vs. synthetics like in stark white). You may hear it referred to as diamond white or silk white and is a shade of white that flatters almost all skin tones, particularly those with yellow undertones. In photos, it will look like almost stark white.
3. Ivory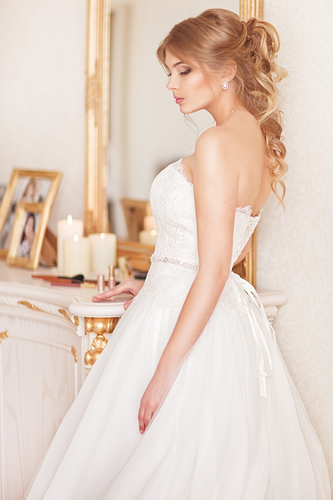 Depending on the undertone of an ivory dress, it can look creamy (if with yellow undertones) or a more subtle white. It is often referred to as eggshell while others confuse ivory with Candlelight (see below). If you have a fair skin with pink undertones, ivories with yellow undertones will look great on you (expect some nice glow and warmth to your skin). Creamier ivories also flatter medium skins with blue or pink undertones because the rich, yellow undertone of that shade of white helps prevent these skins from looking too red and flushed.
4. Champagne
This one looks almost white in photos (in low light) but has gold and pink undertones, which make it ideal for women with a dark complexion or those with olive (or sallow) skin as it adds richness to the skin and helps balance things, giving you a dewy, fresh look. Champagne white of a slightly deeper shade (many call it Rum White) is also perfect for olive skins.

5. Candlelight
Under candlelight, it will appear white (hence the name candlelight). It is a slightly deeper shade of ivory with cream-beige undertones that compliment almost all skin tones. It adds beautiful richness, especially to dark-skinned brides (not so much if you have olive undertones, though).
6. Ecru
It runs somewhere along the borders or beige and dark ivory and is most appealing to brides looking for a less traditional colour that provides some depth.
Off-White Options
There are some complexions that will look washed out by white, no matter which shade they wear. In this case, trying a colour is probably the best option. After all, there is no rule that says a bride's wedding dress should be white at all. Yes, we have all fancied the somewhat romantic notion of the 1800s that white denotes virginity and purity but it was a long time ago, and brides now choose to wear whatever makes them feel comfortable, beautiful, and happy on their wedding day, be it white or any other colour. Today, the wedding dress does not signify what people believed some 200 years ago rather than celebration and joy, and as such, it should reflect the taste of the one wearing it!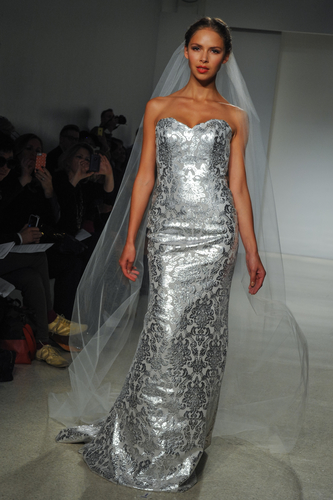 In the past few years, we have seen designers crossing the border of all-white and ivory and coming forward with bridal gowns in soft shades of rose, lavender, and even blue! Pastels, such as icy blues, sheer pinks, and butter-cream yellows are indeed a popular (and elegant) alternatives that compliment a woman's complexion.
For more sophisticated appearances, you may also choose a shimmering silver or pale gold bridal dress, which is ideal if your wedding calls for the most formal attire (i.e. an evening wedding).
We have also seen designers bringing together the traditional and the modern, which is why dresses with lace, embroidery, satin underlays, and bands, which often come in enchanting contrasts that create a visually exciting outcome, have become many brides' favourites. As far as we are concerned, this trend is nowhere near becoming a thing of the past. So, even if you do opt for a white dress, you can still skip the all-white look if that's not to your liking and have a, say, satin or silk underlay in a different colour or colourful embellishments, such as beading or sequins that comprise a luxurious, classy option.
Tip: If you feel that your wedding gown has an unflattering starkness, you may consider adding a trim at the neckline in a richer tone. That will be enough to highlight your skin and facial features (it's pretty much like framing a picture actually – in this case, your face!).
All in all…
The two important considerations that can make or break the way your wedding dress looks on you is how it looks against your skin is its colour and, of course, how the selected colour works with the style of the gown. Once you have figured out those two, and provided you have found a great makeup artist and hair stylist, you have every reason to bring your widest smile to your wedding day and rest assured you will glow!
What was the colour of your wedding dress? How did you choose the shade you eventually selected? Do share in the comments below!