In our previous post, we talked all about ways to clean your wedding dress and important things to note when deciding which dry-cleaner to choose. As promised, today, we will share tips coming from our experience as wedding dress cleaners, so that you can make sure you start your quest towards preserving your bridal gown in perfect condition for as long as possible, on the right foot.
So, following Step #1: Have it Cleaned, comes…
Step #2: Preserving your Wedding Dress
Some of the things that threaten your bridal gown's longevity are mildew and mold, yellowing, dust, light, permanent creasing, and, of course, oxidation spots. Let us see what you can do to prevent each threat.
1. Mildew & Mold
When something is in a moist and humid environment, it runs the risk of becoming affected by mold and mildew. Likewise, your wedding dress needs to be preserved in the proper environment that breathes so that it is protected against mold and mildew growth. Humidity levels in areas where fabrics are stored should ideally remain constant around the garments. This is because excess moisture can freely spread and disappear into the air rather than stay trapped in the fibers of the garment, creating the perfect environment for mildew to grow. So, if you are planning to store your wedding dress inside a box that is not the high-quality museums (and experienced wedding dress preservation experts) use, we strongly advise you to reconsider.
2. Yellowing
Many brides choose to keep their bridal gowns inside plastic bags. However, most of these bags give off fumes that damage the garment and promote yellowing. That being said, though, there are other factors that contribute to yellowing while there are also fabrics, such as silk, that will yellow, no matter how carefully you take care of them. Usually, synthetics (i.e. rayon, polyester, and acetate) are more yellowing-resistant than silk. Now, when it comes to nylon, which is listed among the synthetic fabrics, it does tend to yellow more than its other synthetic counterparts.
Tip: If you read the care label on your wedding dress and it says Wet-Cleaned Only, you have a good reason to rejoice as the gown can be whitened in case it yellows over the course of years with a fabric whitener.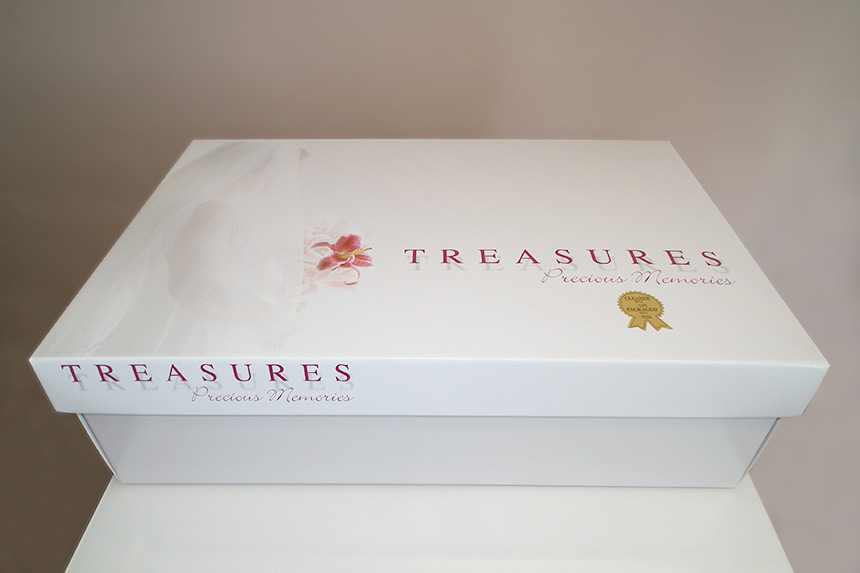 To prevent yellowing as much as possible, your wedding dress must be preserved in an acid-free environment. This includes both the wrapping and padding of your dress. Choose either cotton muslin or acid-free tissue and store the bridal dress in a box that's been specifically created for wedding dress preservation (or alternatively, you could use a preservation bag created for the same purpose).
If your dress is made of a synthetic fabric, it is best to use buffered tissue, whose agents will help protect it against yellowing from acid migration. However, refrain from doing so if your gown is wool or silk as it might damage the fabric. Instead, opt for muslin or unbuffered tissue (always acid-free, of course) recommended for these types of fabrics specifically.
3. Dust & Light
It goes without saying that exposure to direct sunlight won't do anything good to your wedding dress. On the contrary, it will probably speed yellowing and even cause damage to the fabric (it will look aged or even destroyed, depending on the extent of the damage done). Protect your valuable piece by covering it carefully (i.e. place it in a preservation bag or box as mentioned above) and keep it away from light and dust, which can set in and soil the dress.
4. Permanent Creasing
To avoid creasing on any garment, prefer to store it somewhere flat if possible. Of course, this tip alone will probably not cut it with something as big in size as a wedding dress. So, you will inevitably need to fold it so that you can store it, or alternatively hang it. If you decide to go with the first option, make sure you remove the dress out of the preservation box and fold it again into a different position. This should, ideally, be done every couple of years. If, on the other hand, you prefer to hang the dress in its preservation bag, then you run no risk of permanent creasing. So, if you have the room to accommodate this option, we strongly recommend it! Plus, you skip the every-two-years-refolding task.
Tip: Once your wedding dress is preserved and handed over to you, please do not handle it with your bare hands to prevent oils and dirt disposition from them to the garment. Better use cotton gloves and then touch the gown.
5. Oxidation Spots
It is a common type of stain caused when a stain was not properly treated. Some spills don't show, and you will need to tell the dry-cleaner you trust where the stain is. Other stains might need to be pre-treated. There are also cases when the cleaning professional might have to use a specific cleaning agent to remove that stain. If left untreated, the substance on the dress will oxidise and you will notice brown spots in the affected area. Kindly note that oxidation stains can also occur even at dry-cleaned wedding dresses because solvents used in dry-cleaning cannot remove, for example, sugar stains (i.e. from wine), which will, most likely, oxidise over time (need to be pre-treated).
To prevent oxidation stains, inspect your dress every few months. The sooner you catch a stain, the better chances you have to get rid of it once and for all.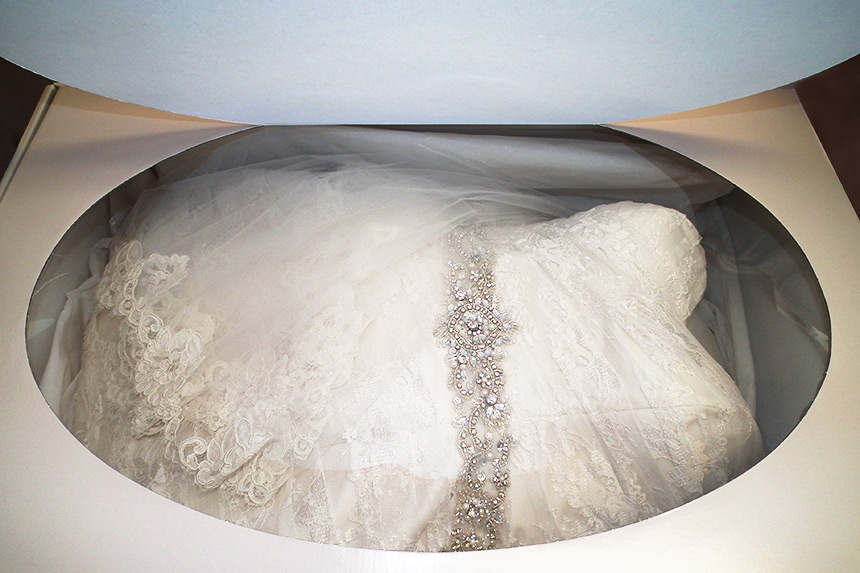 Bridal Gown Preservation Options
The most preferred types of wedding dress preservation is sealing, boxing, and bagging, although we now have lots of slight variations also on offer. It is important to note that no matter which option you choose, it is paramount to keep your garment in a climate-controlled environment after it has been preserved. No damp basements. No hot attics. Nowhere with humidity levels and temperatures going from the roof to the ground in a matter of a few days. This is pure disaster for textiles.
Another option we have not mentioned is the DIY wedding dress preservation kits. But, it might be best to let experienced professionals do this task for you as it needs specialised skills and knowledge to ensure the garment is properly and safely preserved and protected against the hazards mentioned above.
Sealing – This method relies on the concept that the bridal gown should be sealed. This is because the professionals that choose this method insist that the garment has to be protected from oxygen damage. Unfortunately, it is impossible to keep oxygen out of any container, be it a preservation bag or box. That aside, sealing the wedding dress inside the box puts it at increased risk for not only permanent creasing (since you won't be able to open it and reseal it yourself) but also mildew growth. Plus, you won't be able to catch a problem upon its root with your garment sealed in a box (inspection is nearly impossible). Nevertheless, it is a method that will protect the garment from dust and light and make storing it an easy task.
Boxing – The method used is similar to the sealing preservation. However, it bears significant differences. For example, the gown is cleaned and pressed AND THEN folded into the preservation box, with plenty of acid-free tissue on the folds to prevent sharp creases. The box can be reopened, which gives you the opportunity to refold and inspect the dress whenever you feel you must. Since the fabric can breathe freely and you can easily refold the gown, the chances for permanent creases and mildew growth drop significantly.
Bagging – Also called Hanging wedding dress preservation, it is among the most recent methods for bridal gown preservation. At least, it is new to everybody not working as an heirloom gowns and costumes preservation expert at museums. It is a much-preferred option that helps keep the garment protected from light, dust, permanent creases (it remains unfolded), and mold/mildew growth (the storage bag is made from cotton that allows the fabric to breathe). It is very easy to inspect the gown while inside the bag. You only need to make sure you use a padded hanger, especially if you are planning to store the dress for a really long time, and also add support if the wedding dress is strapless or spaghetti strapped (you can use twill tape).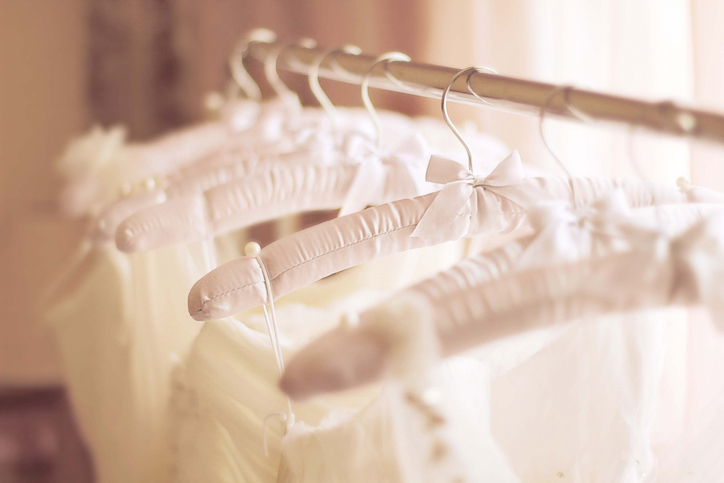 If you decide to use a bag to store your bridal gown, better choose a muslin storage bag, which is acid-free, rather than any other type of plastic bag (i.e. the dry-cleaner's wrap), which will eventually and with mathematical accuracy damage the garment. Finally, keep the dress in a closet or any other place with climate-controlled conditions.
Choose your Box Carefully: Here is Why
If you prefer to store your wedding dress in a storage box (yes, it is perfect for smaller gowns that do not need much folding), know that there are a lot of different types of boxes with varying attributes each. For example, some boxes are nothing but cardboard boxes with an acid-free coating. As you can understand, it is not possible to have the same protection and quality you can get from boxes made from real acid-free board. It is important the box you choose is not COATED with acid-free substance, but baptised in it. It also needs to be lignin-free. All "archival-quality" boxes have both features (see our museum-grade preservation kit below).
Many boxes marked as acid-free are made of wood pulp that has not been chemically processed to remove lignin and other pollutants. In this case, the boxes quickly acidify in humid or warm storage conditions. At first, everything will work like a charm. But, after a passage of time, the pH will drop to around 5.0 (7 is pH neutral) and develop acids that will "eat" the dress. This is why we always recommend our readers to choose a wedding dress preservation professional very carefully.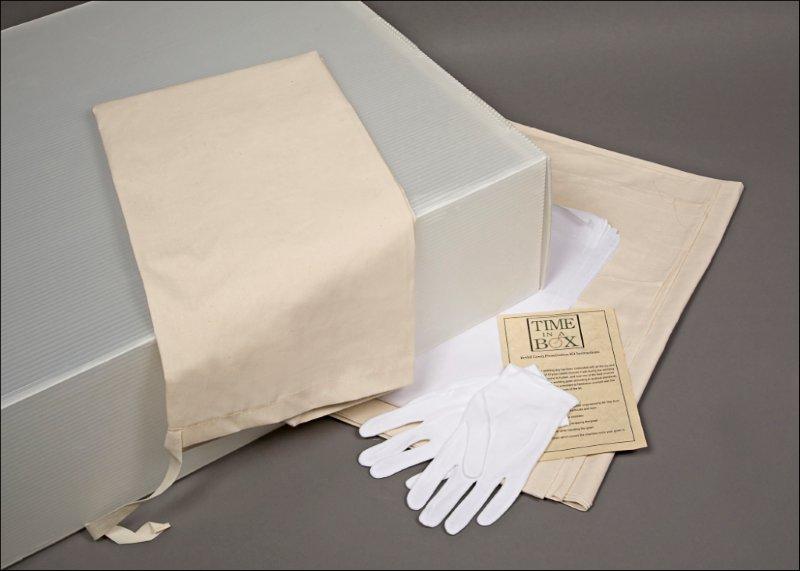 Now that you know, you are ready to make a much more informed decision and know what to look for. However, if you need any help with any of the issues discussed here (or in any other of our posts), please do send us an email or comment below. One of our experts will soon respond with handy advice and lifesaving tips!