With most gowns ranging from $1,300 to well over a few thousand dollars (even millions – see A-lists and Hollywood stars), they comprise the most expensive piece of clothing in the wardrobes of most women. However, besides being the most costly and memorable dress for many of us, it is also the only dress we will wear and use for just a single day.
Given its sentimental value and how important it is to all of us to look as lavishing as possible when we walk down the aisle, it is critical to take great care of our, perhaps, most valuable asset right before we walk out of singlehood and into marital bliss. And, although most women focus on how to preserve their bridal gowns after they get married so that they can either pass it on to their daughters or even granddaughters, or hold on to it for as long as possible, we will talk about what you can do to make sure it stays intact until the big day.
Keep Off Stains
We all know that accidents can happen at any given moment before the wedding, when everything is moving at such a super fast pace and stress is over the top of our heads. If you cannot afford to allow your thousands of dollars to go to waste, then make sure your dress stays as far away from potential sources of stain.
For example, when you go to the bridal shop or seamstress to wear your bridal gown, be very careful how you handle it (i.e. no sipping wine while spinning around with it). And, when you finally have it home, ensure it is somewhere safe and away from the reach of inappropriate hands.
In short, no drinking or eating while wearing your veil and dress and no hair products or makeup after putting on the gown. It is also strongly suggested you use a silk cloth over your face when you put the dress on or step into it.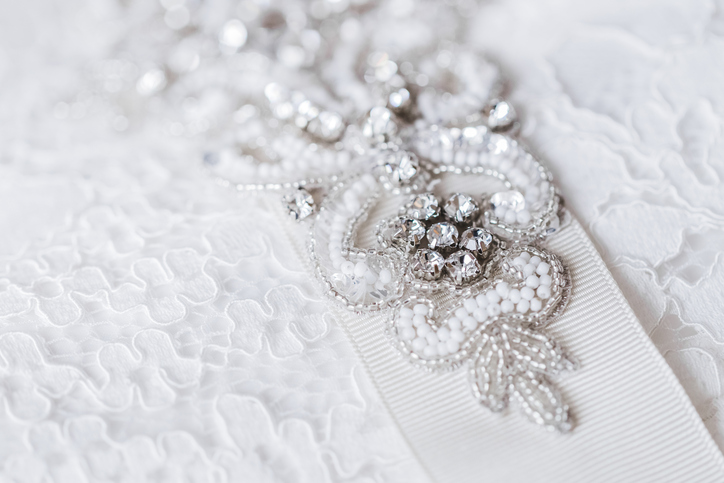 Tip: Put together an emergency stain removal kit in a small tote bag, just in case! Some of the supplies you will need are white cotton cloths or towels, baby powder (or corn starch), cotton swabs, rubbing alcohol, double-sided tape, a bar of white soap, and white chalk (or off-white, depending on the shade of white dress you have).
Wear your dress last
Never underestimate the possibility and effects that last-minute mishaps can cause to your gown or your wedding day. To prevent them from happening to your dress, it is critical to wear it last when you are ready to step out of the door to the wedding venue. By acting with this sense of caution, you will avoid makeup sprays, water, beverages, and meals from spilling on it, and hence, eliminate staining.
Treating Stains
Now, if disaster strikes and you are facing last-minute stains, it is best to take it to a trusted, high-quality dry cleaner and not scrape together the cash to save some money; this is not the time to do that.
If you cannot afford that, here are some tips to help you get rid or meticulously hide the stain. Note that stains on silk dresses are usually more difficult to remove, as opposed to gowns made from polyester or other man-made fibres.
Do NOT scrub or rub at the spot to avoid spreading the stain or forcing it deeper into the fabric. Gently scrape away any residue with a dull knife or blot up any moisture with a white towel.

Sprinkle an oily stain with baby powder and then use a white cloth to blot and absorb the oil.

Always work from the edges of the stain toward the inside (spot clean). Apply the cleaning mixture with a cotton swap and blot with white cloths.

Always test stain removal wipes in an inconspicuous area (i.e. the underside hem) to see if there is any damage or colour change.

Keep the hair dryer (if you must use it to dry a wet spot), at least, 6 inches from the fabric to help avoid damaging or melting the trim.

For last-minute rips, use super glue or double-sided tape for quick repairs.

If the zippers of the wedding dress stick, use a bar of soap and rub the teeth with it.
Note: If the stain does not come out, consider some additional beading, a brooch or lace applique to hide it. (More wedding dress cleaning tips here).

Remember, you will probably be the only one to notice the mishap or stain so try not to worry too much and enjoy your most wonderful day the best you can (and deserve).

Transport it Safely
Another way of keeping your wedding gown intact and clean before your big day is to transport it safely. To do this, it is necessary to carry it in the most appropriate, breathable, wedding dress garment bag to help reduce the chances of damaging and creasing it before it serves its purpose.
However, fabric garment bags are also perfect for storing your dress until the day of the wedding, especially if you intend to store it for more than a week before tying the knot. Giving the gown room to breathe by removing it from its plastic carrier and placing it in museum-quality bridal gown preservation bags will help save it from soiling due to the breakdown of plastic-related chemicals and the emission of gases.

Avoid Unnecessary Contact
Do your best to ensure you do not touch it. Suppress the temptation of wanting to keep on fitting the dress (out of excitement) and try to avoid removing it from its fabric bag unnecessarily. That way, you reduce or even eliminate the possibility of soiling and creasing it.
If it is a must for you to handle your gown, then you need to wash your hands and dry them well before doing so to remove the invisible natural oils from your hands so that they don't settle on the dress and attract other stains.
Pay Attention to Temperature & Humidity Changes
Where you store the gown is another serious consideration. To determine the optimal climatic conditions to store your dress in, select climatic conditions that you would find comfortable for yourself. For example, if you can comfortably live in an attic or basement, then do store the gown there. But if you cannot find those damp and musty places comfortable for you, they will surely adversely affect your gown. On the contrary, keeping the dress in a room where the temperature and humidity are not fluctuating, as well as out of contact with direct sunlight, will help prevent yellowing and premature fading.
Mind the Most Appropriate Storage Position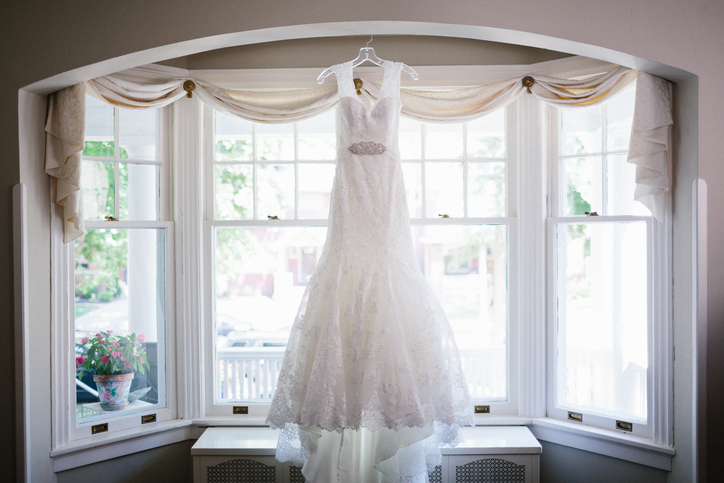 There are two positions you can store your wedding dress and still preserve it for your wedding day. You can either hang it or store it flat. Therefore, you need to pay attention to all the influencing factors that make a certain storage position appropriate. For instance, if your dress is heavy and has bulky beadings and numerous layers, you do not need to hang it. It is only appropriate to store it in a hanging position if it is made of lighter materials such as silk or satin. For a heavy dress, store it in a horizontal position wrapped in a cotton sheet. Remember, you should also store it away from high human and pet traffic in the house to avoid damage.
Buy a Pair of Gloves
If you want to preserve your bridal attire, invest in a pair of quality gloves (preferably white) to help keep the gown sparkling white should you find a reason to touch it prior to your big day.
Deal With Every Wrinkle
A couple of days to your wedding, take the wedding dress from where you stored it and hang it safely so that every wrinkle and crease can drop. If it has stubborn wrinkles, you can carefully hang it in your bathroom when the hot shower is running. This way, it will be easier for the wrinkles to disappear because the heat will soften the material. However, be cautious so that the dress does not contact water and get wet. However, if you don't achieve satisfactory results using this method, then you will need to get the help of an expert to steam it.
Ask When You Are Unsure
If you do not know how best to preserve the kind of gown you have or the type of material it is made of, do not shy from asking the seller. These men and women have handled these dresses for long and they know how to preserve them both before and after your wedding.
You can also ask them questions regarding the color, the beading, and age of the attire so you are in a better position to know how to care for the various components of the bridal gown. So, do take some little time and ask all the necessary questions that will sharpen your gown preservation skills and proficiency.
Preserving a bridal gown before the big day entails simple but critical processes of giving it that much-needed special cleaning and packaging that will enable it to retain its magnificence and beauty on your blissful day. Mind how you handle and store it, and do consider giving an expert the opportunity to preserve it; they will assess its various embellishing components, materials, and any hidden stain that could tarnish it and ensure you look beautiful in a spotless, dazzling wedding dress.
For more wedding dress preservation tips, feel free to browse through our blog! Have any tips to offer that we have not included here or not know about? Great! Do share!