Undeniably, the sheath dress is super flattering, versatile, and timeless, regardless of your body type. With its simple, form-fitting cut it is an excellent option for the office. However, it is a great choice for almost all occasions and seasons, as long as you know how to wear it. For the savvy style mavens out there, here are some handy tips to wear sheath dresses and be uber stylish!
1. What to Look for!
Length – The most flattering hemline is either a few inches below the knee or just above it. Anything shorter than that will take the ladylike air away from you. The same applies to mid-calf hemlines.
Fit – If the dress squeezes at your armpits or pulls at the seams, then it is too small. The dress should be close to the body but not extremely tight. Maybe you could consider investing on a good quality sheath dress and make any alterations required to be able to wear a staple piece for many years to come.
Style – If you are looking for a great starter piece, then we suggest a lightly-textured neutral fabric. Plus, you can play with so many fun colors and expand into it! Besides that, a sleeveless sheath dress with a classic neckline, back vent and tapered skirt shape that fits the waist beautifully is a superb option for any occasion. For a more professional setting, make sure yours has a concealed zipper and is above knee length (no higher than 2 inches, though).
A slit – Whether in the back or on the side, a slit will make you fee more comfortable when walking in that slim shape. So feel free to snip yours open if it's sewn shut!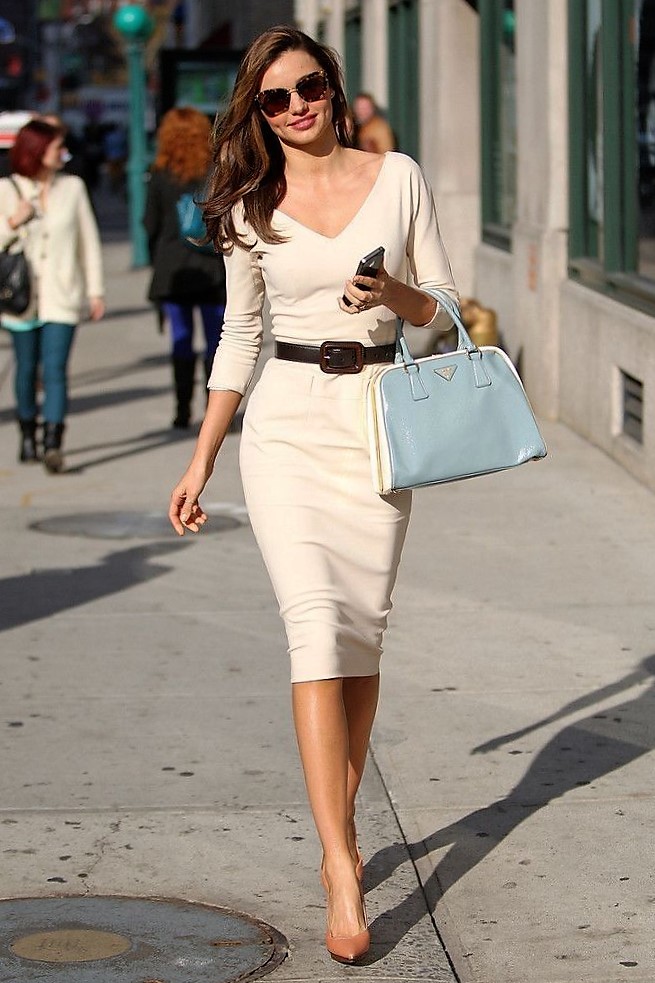 Image: lovethispic
2. Decide Based on the Occasion
Will you be in a plain casual setting? Business casual? Business formal? Will you be mostly sitting down? Walking around? Will the weather be wet or do you expect drastic changes in the temperature? All these questions should be taken into consideration before you wear your sheath dress. For example, if you expect temps to drop, layering is a must, while for a business-formal occasion you may need to pair it with a blazer and closed-toe shoes (keep it on the short side; no higher than 3-3 ½ inches).
3. Play with Color
You can start with a neutral base and add different colors (up to 2, unless the added colors are in a similar color family). Complete the look with a statement accessory or a mix of textures or even a print or pop of color to add visual interest. Your work-appropriate outfit is ready to let you shine during weekdays!
4. Layer it
If necessary, layer your sheath dress and transform your look. For instance, a sleeveless sheath dress is such a lovely option for the summer months but it can also become a great transitional piece for the colder moths as well. You can try throwing on a jacket or cardigan over, which are pretty common tips, or a turtleneck (or collared shirt) underneath for something different.
Depending on the dress codes you want to meet, you can choose a combination of a couple of layers (under and over the dress – see below).
Categories
| | |
| --- | --- |
| Layer Under | Layer Over |
| Turtleneck Top | Denim Jacket |
| Button-up Dress Shirt | Blazer |
| Long (or Short)-Sleeved Tee | Sweater or Cropped Top |
| Thin Sweater | Leather Jacket (could be faux) |
| Printed Top (or Striped) | Button-up Blouse |
| Silk Blouse | Vest |
| Chambray Shirt | Swing Jacket |
5. Play up Accessories
Classic pumps, a silk scarf, belt, brooch, ladylike handbag, eyewear, and tights are some of the simplest accessories that can help keep things corporate. For a fun night out, you can team your dress with statement jewelry, strappy stiletto heels, and a compact clutch. Now, if you are heading for a picnic or an outing, a sheath dress in a summery color matched with a straw tote, floppy hat, and some flat sandals will work beautifully. Just make sure you don't over-accessorize. One or two of the items suggested are enough.
Some Ideas to Pair a Sheath Dress!
Treat the sheath dress as a base to work a variety of different looks, be it for work or play. You can easily dress it up or down and look elegant and stylish each and every time!
1. Casual Weekend
A sheath dress paired with a long-sleeved turtleneck underneath and a pair of pumps in eye-catching colors would be ideal for the office. You can easily transform it into a comfy, casual outfit if yo just add a cropped denim, a hands-free bag and replace the pumps with booties or flat boots.
2. Business Lunch
A stripped tee with long sleeves and a waist belt and maybe a swing jacket (depending on the weather) will look great with a monochrome sheath dress, especially if you fancy less conservative business formal attire. Match the color of the pumps with the color of the belt and play with a jacket in neutrals if your dress is on the dark side, and you are good to go. For everyday business casual, simply remove the jacket.
3. Business Formal
Layer the dress with a silk blouse or replace it with a floral print scarf if the temps are rising or if you are expecting temperature changes throughout the day. A blazer, accent color belt or handbag (same color as the blazer – i.e. bright red or neon yellow!), and neutral heels are all you need! However, if you will be attending more conservative meetings or workplaces, it's best to stay away from too bright colors.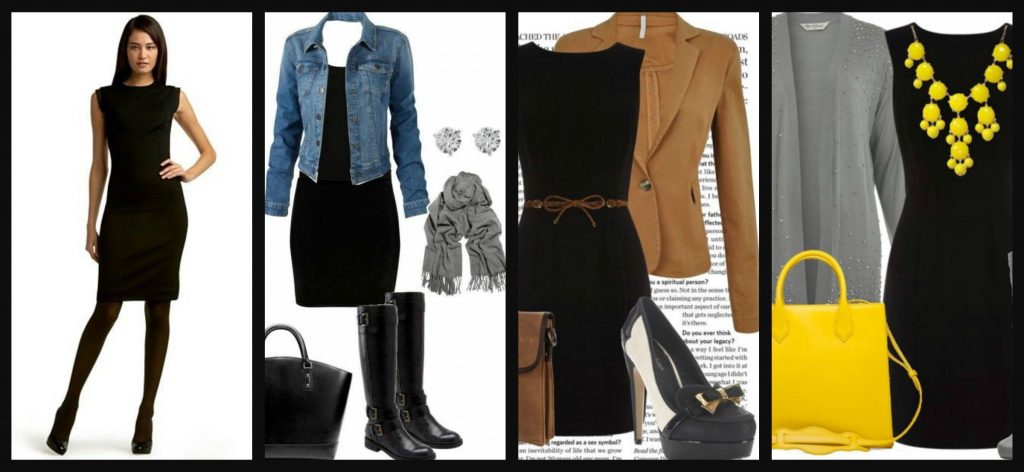 Image: toocheapblondes
4. Business Casual
If you have a floral blouse or peplum shirt that is slightly loose (yet, not too long), you can layer it over the dress. In this case, make sure the blouse is an opaque one so that the dress' print or color won't show from underneath. Also, if you notice that the necklines of the dress and blouse don't match up entirely, use a necklace to hide the issue! A thin waist belt will help define your waistline. Complete the look with same-colored pumps and tights. However, when it comes to colored tights, you should be careful unless we are talking about tried navy.
5. Night Out
If you are planning a night out, a mixture of fun prints and textures can save the day. Just keep it monochromatic. For example, a black cropped top and a black moto jacket over a gray sheath dress paired with ankle booties, printed belt, and patterned tights (in the gray-black area) will make you look stylish and ready for some drinks with your friends!
Final Tips:
1. Pick a Print – Choose a dress in bold geometric or floral print for a fun twist of the classic style. All things printed are in the heart of the fashion world for some time now so don't fear!
2. Change the Figure – The column-like design of the sheath dress may not be flattering to every silhouette. Use accessories and layering to change things up (i.e. a shapely jacket or a skinny waist belt). Or you could accentuate your figure and wear items that cinch in at the waist if your dress is a bit shapeless (too straight up & down).
3. Wear the Sheath Dress that Best Highlights your Best Body Parts – For example, if you are busty, subtle darts in the bodice will help take the eye away from the bust and give you some extra room. For a pear-shaped body, you can open the slip zips and trick the eye. Petite figures and plus-size women look great in an above-the-knee hemline (will elongate the legs) and stretchy fabrics (also, stealthy color-blocking will help make you look slimmer) respectively.
4. Take Note of the Fabric – Choose flattering, clingy fabrics that will enhance your curves. Mid-weight fabrics are also a safe bet, but we can't say the same about thicker fabrics that may make your look somewhat squarish.
5. Switch up Shoes – Although you can team your sheath dress with ballet flats and pumps, you can also go the extra mile and try a wedge heel or strappy sandal or even edgy ankle booties, depending on the weather and season.
Without a doubt, a sheath dress is a must-have. As it can take you through a wide range of different occasions, it is definitely the workhorse of your all-season wardrobe. Let yourself be creative with accessories and impress with stylish appearances all year round.
Have you got more tips on how to wear this staple? Give us a hint!