Looking great in your clothes is not as hard as you might have imagined. Today, we'll prove that you only need a few tricks to look at least 10 pounds lighter and always be a sight for sore eyes, without needing a big budget. Plus, you will give the impression that you have gained tons and tons of new outfits!
1.

Try

Stretch,

High-Rise,

Dark-Colored

Pants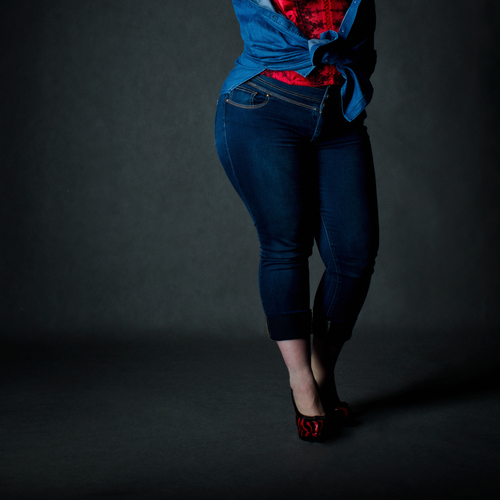 High-waisted jeans and pants will help battle the belly bulge as they are cut to allow you to suck it in and create a lovely waistline, rather than turning all attention to your pain point. Of course, it is paramount to choose outfits that actually fit you nicely and make you feel comfortable. Just because you probably can squeeze into a smaller size does not necessarily mean you should because chances are you will look rounder than what you already are.
Another good idea is to buy jeans that hug the body, especially if you are wider in the thighs and hips and have a smaller waist. Stretch jeans made with a combination of polyester, spandex, and Lycra will give you that perfect fit you are looking for. Just make sure the jeans you pick are not too tight. They need to snug to be silhouette-flattering.
Now, if you fancy skinny jeans, you can surely try them on, because their cut with the slender fit that hugs your behind can actually be very flattering and make your body look toned and lifted, especially if you are top heavy and thinner at the bottom. No matter what type of jeans you choose, just make sure it is higher quality denim. Its weightier fabric will help highlight the curves you fancy and flatten out the ones you would like hidden.
Finally, opting for a dark pair of jeans is always an investment worth making. Those with extra pockets, embellishments, and washes should best be avoided.
2.

Go for

A-Line Shapes
Be it a dress or skirt, A-line shapes with a boxy upper will give the illusion of a more petite waist. Their roomy bottom not only help conceal wider hips and thighs but also make the legs look longer and more sensual.
3

.

Flounce to Look more Slender? Indeed.
Many women are in love with voluminous skirts but feel intimidated to wear them out of fear they will look rounder in them Although this concept has a speck of truth in it, there is no reason why not to wear something you really like. The secret is in the way you combine flounce. For example, with a fitted tee or any other balanced top, you will turn all eyes away from the parts of your figure you don't want to showcase, such as a wider midsection, and look absolutely ravishing. Alternatively, you could place flounce right above the natural waist to make the area appear thinner.
Now That I Remembered: Speaking of tees, it is best to skip statement ones and go for smaller-print patterns and solid colors to look thinner. Otherwise, you run the risk of having bolder repeats look stretched in the wrong places.
4. Play Down your Bust
Although for some women having a plethoric bust is not something they want to try to minimize, for others a heavy top half makes them feel uncomfortable. Since the idea is to turn the focus away from the problem areas and direct it to the areas we want to highlight, picking bold colors and playful patterns on your bottoms and plain ones for your tops is a great way to achieve that.
5. Elongate your Legs
Unless you have mile-long legs, wearing strappy shoes won't flatter you. Sandals and pumps with ankle straps just cut the legs off and make you look shorter and rounder. If it's time to impress with a thinner version of yourself and make your figure look longer, go strapless on shoes. Needless to say, nothing can surpass the uber flattering effect of heels. They may be difficult to manage, but once you do, results are just marvelous.
6

.

Give More Height (for Petite Figures)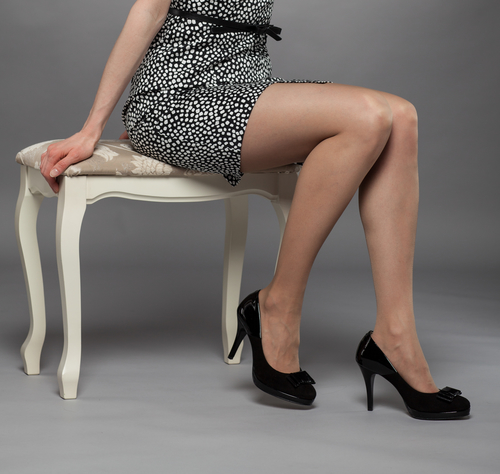 Petite silhouettes look amazing with mini dresses and shorter skirts. Cropped jackets also look great on women with a charming, tiny figure. So, stay away from maxi, full-length coats, and large prints that will make your outfits appear exaggerated and overpowering.
7. Choose Cocktail Dresses Wisely
Cocktail dresses can be your best item in your arsenal if you want to look thinner. A slim-fitting piece will help play up your curves, particularly a design that hugs your body around the butt and hips areas. That way, you can enjoy the illusion of a smaller-looking upper body and a juicier rear. But, if you want to distract eyes from your fuller hips, you can always select cocktail dresses with detailing at the upper body, wider necklines, light color bodice or full sleeves.
8.

Statement Handbags
Resist temptation and don't buy a purse or bag because it is cheap. Instead, purchase one statement bag in a shade that works with the majority of your outfits. For example, a neutral tan, brown, oxblood or black bag will look far more stylish and refined than a bunch of inexpensive (hence, low-quality, easily worn out) options.
9.

Honoring your Figure
What's important is to feel great into our own skin. Honoring the shape you have with the right clothes will help you feel even better with your body.
For example:
Hourglass or apple shapes will look fab with the proper bra. It should provide enough support to the breast so that the top looks perky and not overweight. Flared pants can also help towards that direction as they help balance a bulkier upper body or wider shoulders. You may also toss a shawl, sweater or light jacket across the shoulders to make them look smaller and shed some pounds, too.
Turn all focus to your great legs with bold-hued pants and bright tights.
Pencil skirts flatter women with a wider behind and hips as they create curves. Paired with a looser-fitting tee or blouse will help highlight a gorgeous figure. They may also choose a jacket (i.e. a blazer) that comes in at the waist and then widens below. It will help hide an ample backside or hips. If you want to accentuate your backside, though, just pick a jacket that ends at the waist.
If you want to elongate the neck, wearing a cross-front dress is probably the best idea. The fact that you show a bit of skin is what creates the illusion of a longer, more elegant neck.
For pear-shaped figures or women with shorter legs, slightly flared or straight-leg pants will make them look svelte, as opposed to skinny jeans and flared pants.
To minimize your middle, you can try layering an oversized crop top over a tank top.
10. Take Proper Care of the Fabrics
This includes everything from washing like with like to hanging them on helpful hangers.
Residual running is one of the problems many of us are called to address. Save yourself the trouble by washing lights with lights and darks with darks. Even after multiple times of washing, a fabric can still run.

Speaking of washing, delicates, such as bras, should be handled with extra care. If you can't hand-wash them, place the in a delicates bag and wash on the gentle cycle. That should be enough to protect them and help maintain their shape.

It is critical to wash garments as per the manufacturer's instructions (see the tags on the clothes). Otherwise, we run the risk of turning a fine piece into something completely unwearable.

Whenever it is possible, it is suggested to air-dry your clothes. It will help maximize their lifespan and reduce wear and tear significantly.

Hang your clothes on flocked hangers. They help keep your pieces looking their absolute best and prevent straps from sliding off. Plus, they allow you to fit more pieces in your wardrobe thanks to their thin profile.

The way you fold and store your clothes also plays a vital role in keeping them in shape and prevent lumpy shoulders and prevent creases. So, always fold your sweaters (instead of hanging them) and store without forgetting to place dividers to keep them in shape. Unseasonal items will have years added to their life if stored in a cool, dry place, always unwrinkled and clean, of course.

When it comes to removing stains, don't try to rub them out as it might ruin the fabric and cause the stain to set in and damage the threads. Instead, blot out spots.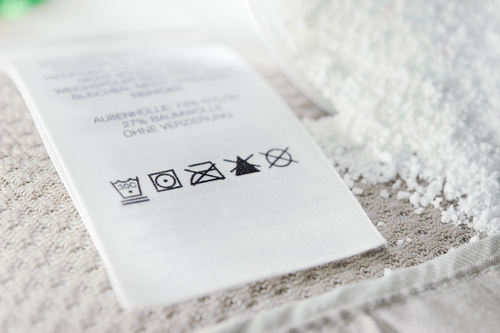 Needless to say, having a tailor or seamstress make alterations to a piece (even everyday ones) so that it fits you perfectly is a powerful asset you should definitely benefit from. No wonder fashion experts and designers swear by having one!
11. Stay Simple
Over-embellished, inexpensive pieces should not be your first option when buying clothes. If you want to purchase, say, distressed denim, it is better to spend a little more to get a better quality piece. Also, when accessorizing, understated studs and smaller zirconia will help give a more realistic look that won't shout faux.
12. Pick the Right Bag for your Body
Depending on your body type, there is a best bag to wear. For example, if you are:
Tall & Slim – Rounded, slouchy bags will complement you.
Short with a Heavier Build – Tall and rectangular bags, and perhaps long and sleek.
Petite – Small bags kept close to the body.
A Woman with Large Hips – Pick bags with short straps that you can easily tuck under the arm (i.e. hobo or shoulder bags). Just make sure they end well above the hips.
A Woman with a Large Bust – If you want to turn eyes away from your bosom, choose a large-sized shoulder bag with a long strap.
A Curvy Woman – Again, a shoulder bag will look great on you as long as it ends just above the waist. Also, pay attention to the size of the bag you wear. Too small or too big ones might look unflattering.
A Plus-Size Lady – Any bag that's not too small and comes with short-to-medium length straps will do. The secret is to wear a bag whose size is in proportion to your body size.
When you choose the right bag per your body shape, remove excessive hardware and any extra straps to turn them into more refined and sophisticated pieces. And, don't forget to replace handles, change closure clasps or attend minor repairs immediately (see your local shoe and bag repair store) to prolong their lifespan and have them looking great for long.
Of course, the same applies to sunglasses, too.
13. Shop Smart
Perhaps, one of the key things that can make or break an appearance is your posture. So practice good posture (shoulders back and head high) to look fab in your clothes. It is also important to look for items that you know work well alongside the type of textile that lies properly on your body (i.e. those that mold to your figure and drape close to the body rather than just lay flat). This will allow you to shop smart. And, remember. Shirtdresses will never go out of style and flatter almost all body types while they can appear both polished and casual at the same time.
As for shoes, slightly pointed ones (rather than square) will make your feet look thinner. Also, pay attention to the portion of the shoe that cuts across the base of your foot (aka vamp). To elongate and slenderize your feet, look for shoes with a low-cut vamp.
Final Tips to Look Stunning: It's all in the Details.
Over-washing your clothes will make the fabrics fade quickly. For most pieces, there is no need to wash every time you wear them. Instead, try spot cleaning with a sponge.

Don't neglect your handbags. Keeping them in proper shape is essential. So, treat scuffs and scratches (or take the bag to a shoe store for a spa treatment every once in a while) and make sure you moisturize your leather totes.

Embracing a single shade will help make you appear thinner. Monotone is modern and nothing but boring.

Cuff your jeans before you tuck them in your boots. That way, you will avoid having an aesthetically not pleasing and unflattering bulk in your boots.

Black is an all-time classic color for a good reason. Clothes in darker hues look great each and every time (and more expensive). Plus, you can hide imperfections and wear far more easily with black shades.

Your hairdo should not distract. This means that if you want a look to feel united, the hairstyle you choose should be complementary so that the outfit looks pulled together (i.e. don't go at a special event with messy hair).

Don't forget the mani that can help make or break a look. A put-together look looks impressively polished with a clipped mani.

Invest in a nice jacket as it is the key component of so many outfits, especially in the colder months.

Cut away pounds by wearing clothes with midline zippers. They will turn attention to the center of your figure.

Vertical stripes always add the illusion of height and make you look leaner, as opposed to horizontal ones that just widen the silhouette.

To make your legs look longer, you can match a shorter dress with skin-tone shoes.

Use a steamer to blast out wrinkles instead or ironing your delicates. This will help protect the fabrics.
What's your secret to looking great in your clothes? How do you pick outfits, bags, shoes, and accessories to complete a look? Give your tip a shout out in the comments below!