What is Halloween without a costume? No matter where you go on Halloween night or the weekend before, everyone knows that you will look odd without a costume. With people constantly asking you "What's your costume?" "Who are you dressed up as?" you have to make sure that you will have an answer.
But, with life getting in the way and hundreds of other things on your mind before Halloween, it can be tough to come up with clever idea for a costume, let alone spending the time and money to go to a Halloween store to buy an overpriced and often cheaply made costume that you will only wear once before it lies in the back of your closet for years.
Therefore, unless you are as crazy as the Joker this Halloween season, you want to make sure that you have a quality costume without spending too much time or money. So before you make a misguided trip to the store, look into your closet and assess what you have. Most of the times, the best Halloween costume ideas come from the most ordinary places and by combining ordinary items, such as a little black dress; a wardrobe staple for everything from cocktail parties to brunch with your friends. This year, start with this as a base to build on your costume and look into your closet to see what you can do. Below are some ideas to help you!
Celebrity Costumes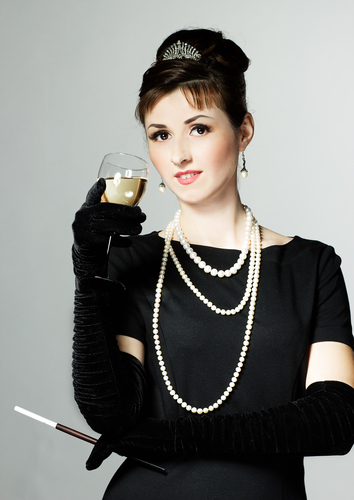 One of the easiest things to think of and one of the most hassle-free, too is dressing up as a well-known celebrity. With your LBD, jewelry, some hair die, a pair of cute shoes and one or two accessories to sell the particular celebrity, you could dress up as anyone from Audrey Hepburn to Taylor Swift. The best thing to do here is just to make sure you have the right colors and some sort of accessory that marks you as your celebrity, for instance with Taylor Swift, wear her trademark red lipstick, blonde hair, and maybe a copy of one of her albums.
Another easy one with a black dress is dressing up as Emma Stone's character from Easy A/Hester Prynne from Scarlet Letter. Do something as simple as cutting out an "A" from some red construction paper and type it to the dress. Just make sure you do a little research and maybe watch the movie before, in case anyone asks!
Animal Costumes
Another quick and easy idea for a costume, although it is often a little too common and won't help you stand out, would be to dress up as animals. We've all seen the thousands of "Sexy cats" and a hundred mouse ears each year, but if you would rather be a little more creative, think of an animal that isn't as common. Some good ones could be a bat, a panda or a dog. For these, you will need ears, probably also need a tongue accessory (for the dog), perhaps a beanie (for the panda costume), and if you're good at creating stuff with your hands, you can cut wings out for the bat costume with some extra black fabric.
Monster Costumes
Another excellent idea to use the LBD is to as the base of dressing up as different Halloween monsters. A witch is often the easiest as all. It requires are some high heeled boots, a pointed hat, and maybe a wand if you have the motivation to snap a small stick off a nearby tree. If not a broom will also do just fine.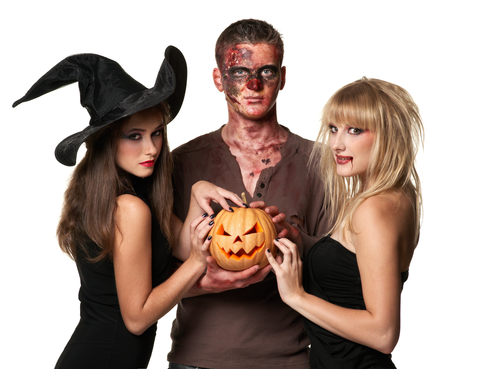 A vampire is another easy costume. All you need for this are the easily recognizable vampire teeth and maybe a little make up on your cheeks and neck that looks like blood. A black jacket, especially one with a hood can also be a useful accessory for this costume.
Although not a monster with the typical definition of the term, she is certainly "monstrous" for her actions (but also somewhat funny, too). We are talking about Cruella De Vil. So, you can easily become another Minnie this Halloween or be a tad more creative with the mouse costume, add a little red to it, and be dog-hater Cruella. Don't forget the white furry coat! Before you go out the door, also pour some baby powder on just half your head to complete the look.
Speaking of odd characters that work well for Halloween, we could not leave out Wednesday Addams from The Addams Family! Your black dress paired with black leggings or stockings and black shoes and a white collared shirt is all you need to recreate the character.
Now, when it comes to real monsters, some will require a bit more effort and makeup (see skeleton or mummie). While it will most likely demand lots of your time (and some serious effort) to cut strips in your dress or tape white fabric or paper on it to look like bones, you can always use some face paint to paint your face like a skull or wrap yourself up with bandages. While the bandages will cover up most of your face, this costume will certainly make you stand out.
Miscellaneous Costumes
Less common costumes are also possible too. Grab a white apron and a feather duster, and you can be a maid in less than sixty seconds. Or, put a black and white striped shirt under your dress and a bowler hat and you can be a mime. For extra points on this one wear some white gloves as well, and see how long you can go without talking! A white collared shirt can also get you a long way. Wear it under your LBD with some knee high stripped socks or tights paired with oxford shoes and a bow and be a creepy doll. Add some makeup as well and you can make it funny, gruesome or blood-curdling depending on your preference.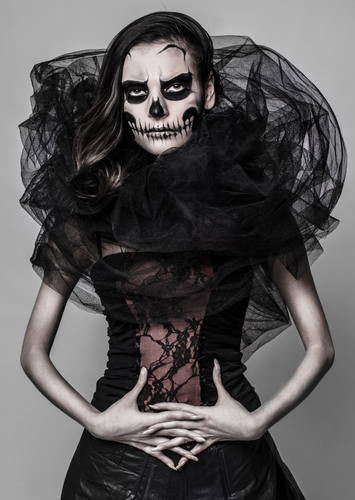 Requiring a bit more accessories but definitely more creative than your basic "sexy cat," being a masquerade ball attendee or a flapper takes no time at all. For the masquerade ball costume just put on some sparkly jewelry, bright shoes, long gloves, and a mask and you're in business. With the flapper costume, put your hair into curls and add a sparkly headband with a feather along with some long gloves, a boa, and heels and you would fit right in at a party with the Great Gatsby.
Coming up with a Halloween costume right before the holiday may seem like a daunting and worrisome task. But if you take a moment to look over your closet, use your accessories wisely and trust in your little black dress you can have a costume that is up to snuff in no time. Make sure you do a bit of quick research, stretch out your creative muscles, and you will have the best costume whether your trick or treating with the kids, at your neighbor's party, or out for a night on the town. Sometimes, all you need is something simple, such as a tiara, a pair of sunglasses, black pumps and bloody makeup to look scary enough this Halloween and every Halloween!