Are those wedding bells we hear? If you're an engaged bride-to-be, congratulations!
While your upcoming nuptials will no doubt be a time of love and happiness, we know there's also a lot on your to-do list, including finding that perfect dress to walk down the aisle. Wedding dress shopping can be overwhelming and a bit intimidating, so we've gathered together some of our best advice for finding your dream gown for the big day.

1.Get Properly Measured
Your first experience shopping for a wedding dress may come with a bit of a surprise in terms of sizing. In general, wedding dress sizes tend to run smaller than the average dress size, so it's important to have a sense of what your measurements are before you start shopping. Having your true size in mind will make it a lot easier to shop in a bridal store, and will help reduce stress by ensuring that you don't have to try on multiple versions of the same dress (which is much more involved process when it comes to wedding gowns with corsets and complex fastenings).
If you're feeling comfortable the day of a bridal shop appointment, ask the sales associate to measure you properly before they start pulling dresses for you to try on. Alternatively, you can ask your tailor to take measurements for you, and you can bring these along with you to your appointment, or you can follow a guide to taking your own measurements at home.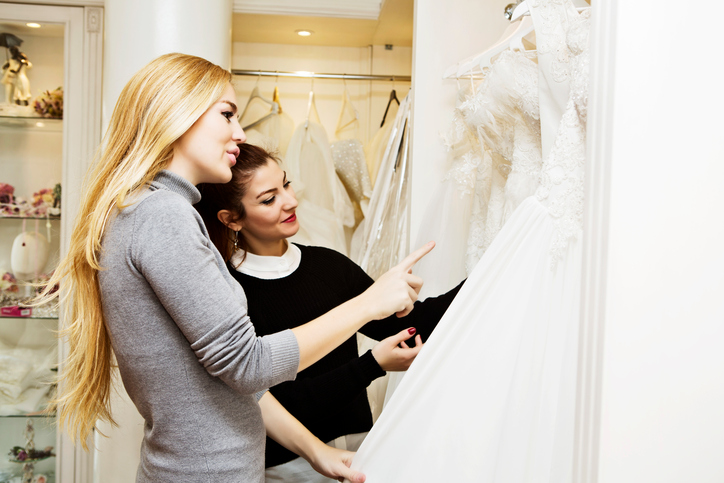 2.Create an Inspiration Board
Research is another very important thing to do before you start properly shopping for your wedding dress. You might not have an exact picture of your dream dress in mind, but you'll want to start looking online at different styles so that you can familiarize yourself with what's out there. Even if you're planning to hit up multiple stores, it can be very overwhelming to start trying things on if you're not sure of what you're really looking for.
We recommend collecting inspiration and taking note of your preferences in the following categories:
Silhouettes

Take note of what the general names of styles you like are called – "mermaid" gowns, for example, gather the skirt of the dress at the knees before flaring out again; an "A line" dress is most fitted at the waist, before flaring out in an A shape to the floor, and so on. You don't need to be an expert on the subject before shopping, but it will make it easier to communicate with a sales associate or find what you're looking for online if you know some of the general dress lingo.

Colours

You'll also want to have a good idea of the colour you're looking for since "white" for a wedding dress can fall within a wide spectrum of hues. Brides who are planning a wedding with vintage style decor might choose to have an off-white or ivory dress to evoke the sepia tones of old black and white photos, while brides looking for a more modern look might prefer a bright white.

Fabric

Take a look to see what appeals to you about the fabric of the dresses you're looking at, whether it be lace, chiffon or satin. Are there any decorative features of the dresses you tend to gravitate towards, such as beadwork or other embellishments? Also, take note of any fabrics you're not a fan of – it will be easier for a sales associate to eliminate categories of dresses to show you if you're aware of any of your no-go styles.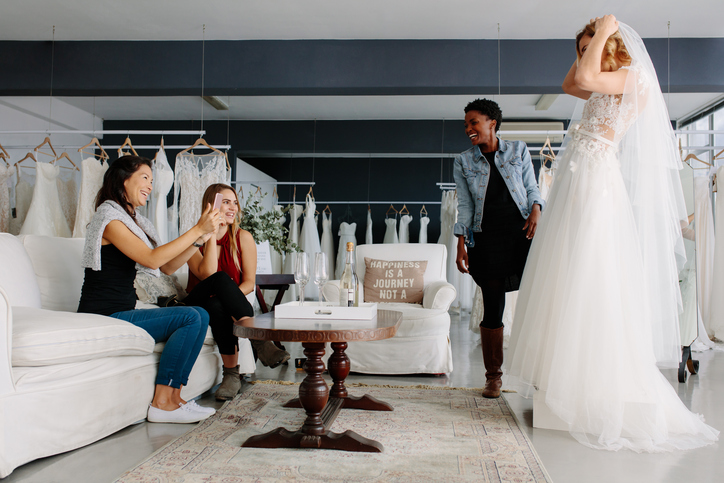 Since the Internet has an infinite supply of photos, we recommend collecting all of your inspiration photos and links in one place. Pinterest is a great place to store what you find since you can create as many inspiration boards as you like for your wedding. Creating a cloud-based album on your phone of photos you want to save from your internet searches is another good option – if your phone is synced to your laptop or desktop, you'll be able to access your collection of wedding dress inspiration no matter which device you happen to be using.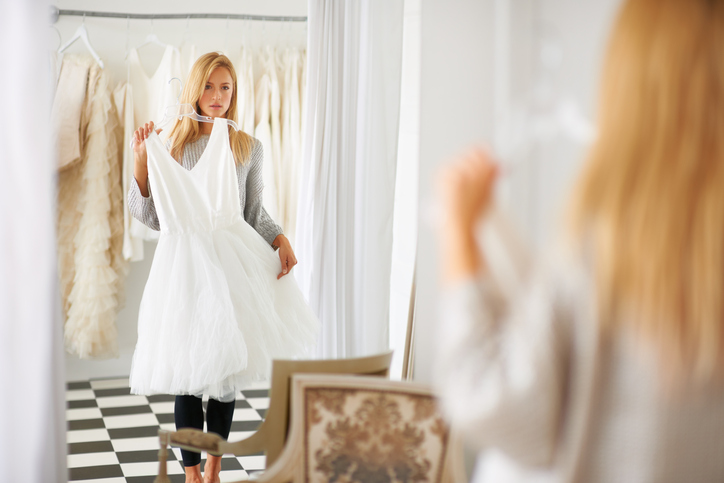 3.Give Yourself Time
One thing we can't stress enough is the need to leave plenty of time to find your dress before the big day arrives. It's not unusual for brides to start looking for a wedding gown 18 months in advance of the big day, especially if you're living in a major metropolitan area with a large number of people to create demand for wedding services. Here's why you need to leave yourself an adequate amount of time:
Less Stress

The more time you have to mull over a wedding dress purchase and search around for what you like, the less stressed out you'll be. And the clearer head you have, the more likely you'll enjoy the process of finding your dress!

More Stock and Shipping Options

The farther in advance you begin, the more likely it is you'll have one or even two full seasons' worth of new stock to choose from. And if your dress is really popular or you want to have a custom version made (perhaps adding or removing a particular feature), it's more likely the designer can accommodate your request if they have the time to do so.

Alterations and Fittings

Depending on which dress you choose and any major alterations you want to make, it can take several weeks, and sometimes months, to get the fit of a wedding dress just right – especially if multiple fittings and alterations are needed. The sooner you begin the process, the more of a time buffer you'll have. And, since your alterations won't be on rush order, you'll likely pay the base amount for any changes instead of taking on any extra fees.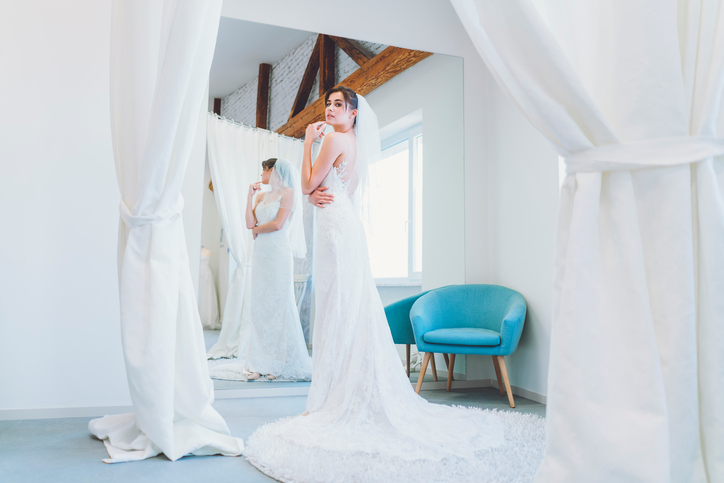 Get In Touch
Remember, too, that Love Your Dress offers custom alteration and fitting services for brides, to help make sure that your day is as close to perfect as possible. And, once the big day is done, we also have the Greater Toronto Area's largest wedding dress cleaning facility, which specializes in the removal of all kinds of tough stains (including red wine, dirt, and grass). We also offer wedding dress preservation services, to ensure that your dress remains as beautiful as it was on the first day of your marriage for years to come.
Contact Love Your Dress today!