Most women cannot even imagine having a stylish and on-trend appearances with just a 42-piece wardrobe with staples they can mix and match to their hearts content and make a loud statement with their unique, personal style. The truth is that you can look fab in every occasion with much less than you imagined!
The 42-Piece Wardrobe Essentials
TOPS: (1) Tee (stripped or not), (2) Silk shell, (3) Chambray, (4) Sweater (could be turtleneck, cable-knit or else), (5) White blouse (or t-shirt), (6) Black Flannel, (7) Cream Flannel, (8) Cardigan (long sleeves), (9)Plaid, button-down shirt, (10) Gray V-neck Tee, (11) navy-based plaid button-down shirt, (12) cami top.
BOTTOMS: (1) Above-knee shirt, (2) Jeans (dark wash) – could be flares, too, (3) Boyfriend jeans (medium wash), (4) Pencil dress or skirt, (5) Skinny pants (black), (6) black leggings.
OUTWEAR: (1) Parka (utility jacket), (2) Blazer, (3) Sweatshirt, (4) Steel dust shearling vest (could be quilted),(5) denim jacket, (6) open cardigan.
Alternatively: (1) trench coat, (2) biker jacket, (3) wool coat, (4) denim jacket, and (5) tuxedo jacket.
SHOES: (1) Leopard flats, (2) colorful sneakers, (3) brown ankle boots, (4) wine flats, (5) black boots (knee- or above knee-high), (6) red flats, (7) metallic heels, (8) black lace-up flats, (9) neutral sneakers.
ACCESSORIES: (1) Statement necklace (i.e. a silver or gold pendant or a chain bib necklace), (2) watch, (3) stud earrings, (4) knit scarf, (5) statement earrings, (6) dressy purse, (7) woven scarf (lightweight), (8) Neutral handbag (a crossbody bag and satchelscan fit more styles), (9) sunglasses.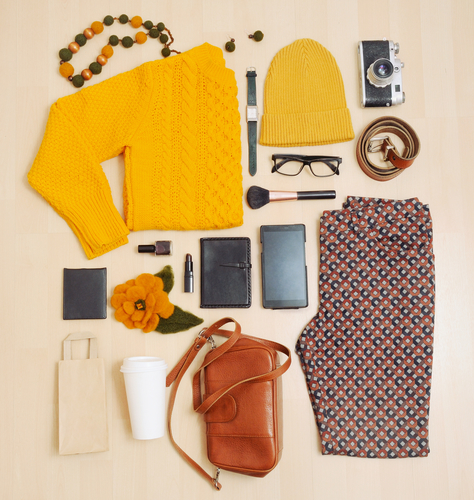 Notes:
Since the idea is to find ways to express yourself and reflect your personal style with your outfits, you can swap items to tailor the list of staples more specifically to your lifestyle. For example, if you are not a friend of plaid, you can consider polka-dot button-ups and a cherry popover shirt. If you work at home or have a job that does not require formal attire, you can trade the blazer and black skinny pants for some more colorful skinny sweatpants of jeans paired with a track jacket. On the other hand, if your outfits need to be business professional, swap the plaid button-up shirt and metallic pumps with a silk blouse, black heels and blazer.
It's all About Layering
When you only have a few items in your wardrobe, layering is the key to look great at all times as it significantly boosts the number of potential combinations you can try while creating texture and interest. The trick to use layering as a means to stretch a limited wardrobe is to choose the colors of your pieces wisely. They should be complementary. For instance, a color palette that consists of metallics, brunt orange, dark red, leopard, and olive green is a life savior as these colors play well with other colors. Also, it is paramount to have a decent amount of neutrals or as close to neutrals as you can.
Another trick to make the most of a wardrobe that is not packed full with clothes is to stick to a single metallic. It can be either silver or gold but not both because you need your items to be worn in a rich variety of ways and combined with many different outfits. So, focus on purchasing items that suit your lifestyle and fit you perfectly.
Although more and more girls tend to find themselves loving super simple, minimal styles, some women find it rather boring and dull. For those that like touches of color injected into their daily activities, as well as those into more basic outfits, one thing is for sure; it's all about finding the style the best reflects who you are and being creative with the way you can use the pieces you have. Start today and you will be impressed by how many different combinations you will come up with in a short amount of time!
Is there are piece you just can't imagine living without? Perhaps, a staple not here but still very essential and versatile? Have you tried limiting the items in your wardrobe? Was it difficult? Do share in the comments below!